CBD brands have had more than a year to sort out their novel food applications, but only three have made the grade so far. What's going on?
Despite first being notified more than 12 months ago, it appeared much of the UK CBD market was caught short this week by the deadline for tighter regulations.
It was in February 2020 that the Food Standards Agency first warned products containing cannabidiol – a non-psychoactive ingredient derived from cannabis plants – could be pulled off shelves if they failed to secure novel food status by 31 March 2021.
With the ingredient already infused in food and drink products from soft drinks to confectionery to cereal bars, the new rules were designed to create a recognised regulatory framework for the burgeoning CBD industry, one that would assure both stockists and consumers of a standardised level of safety and quality.
Yet despite this lengthy notice period, a list of products with validated novel food applications published on 19 April contained just three brand names: Pureis, CBDex and 4MP.
So, what's the short and long-term impact of the regulations on the £450m CBD sector?
The absence of so many CBD brands on the FSA's initial approved list doesn't necessarily indicate they will be removed from shelves any time soon, according to Fergus Marshall, strategy manager at CBD manufacturer Dragonfly Biosciences. That's because, though the initial deadline for validated applications had been set at 31 March, the FSA indicated last month it would take what it called a "pragmatic and proportionate" approach.
Faced with a flurry of last-minute applications, the government body agreed to allow all products with a submitted application to remain on sale, with validation and authorisation to be applied later.
Dragonfly submitted its application in early February, and "has passed the early stages of the approval process" but is yet to complete full authorisation, says Marshall.
That many brands are in the same position points to a long and complicated process in achieving novel food status. "We've been working hard on our novel food applications for over a year now," says Marshall. "They require a clear understanding of a company's full supply chain, with significant detail required at every stage of the process. For example, every application requires lots of compositional data and analysis, over five batches of the novel food. This demands consistency in process and quality."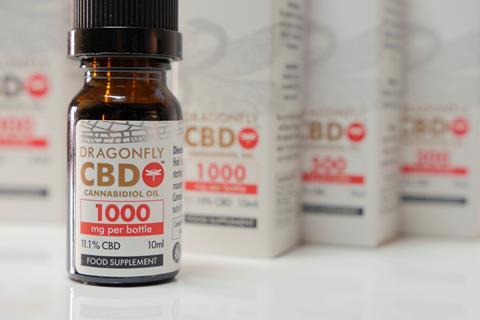 Complicated process
For Pureis, one of the three brands to secure validation within the deadline for its 11 CBD capsules, drops and sprays, it has been a "complicated" process, agrees co-founder Chanelle McCoy. "In order to submit a validated application, CBD companies are required to conduct a series of safety clinical studies," she explains. "Over the course of 18 months and an excess of £1.5m investment, we completed a full suite of clinical studies necessary to meet the FSA and the European Food Safety Authority (EFSA) evidence." For the EFSA application alone, the company evaluated in excess of 120 dossiers, she adds.
The new hurdle has undoubtedly put brands without regulatory expertise and experience on the back foot, says Dan Rowland, cannabis and policy advisor at CBD-infused tea brand Gibson's Goodology. Having established its first cannabis company in Canada, "We cut our teeth on self-regulation and government regulation in our first cannabis company in Canada, so we were well versed at representing and implementing the highest standards of compliance with the cannabis plant," he says.
Nevertheless, "ensuring we were covered under novel food regulations took thousands of pounds, and months of the best cannabis regulation minds in the UK and North America.
"The brands that would have had challenges were those without enough capital or expertise to navigate and fulfil the novel foods application," he adds. "We know of some of our friends in the CBD drinks industry who are closing their companies because of the high novel food application hurdle. It has not been easy for anyone."
Read more:
However, while they might involve burdensome processes, the new CBD regulations won't deter existing or new entrants to the market, believes Duncan Reed, partner at UK law firm TLT. On the existing deadline "everyone in the industry I've spoken to has been very aware of it, so it's not one of those situations where it takes established brands by surprise," he says.
"Given that the application process has been widely publicised, the regulations are unlikely to deter new brands or investors from entering the market."
As a result, he doesn't expect the tighter rules to hamper growth. Currently, UK CBD is expected to be worth £1bn by 2025, according to the Centre for Medicinal Cannabis, representing more than a doubling of its value within five years.
The forecast corresponds with growing consumer demand. Research by CBD marketplace Alphagreen in October 2020 projected 50% growth in sales from 2019 to 2020, with more than eight million British shoppers trying a CBD-infused product.
"The regulations are unlikely to deter new brands or investors from entering the market"
In fact, many within the industry expect the new regulations to fuel additional growth as the tighter standards imbue both retailers and consumers with greater confidence.
"The new standards are great news for the industry," says David Shaw, MD at Good Hemp. "Regulations ensure quality of product to consumers, and all quality CBD manufacturers will have taken the necessary steps. We believe the new regulations will unlock the growth potential of the sector within the UK. As always, the consumer will put their faith in the brands they trust, and any regulations that drive the overall accessibility and trust of hemp is good news."
From a retailer perspective in particular, "there's comfort in the safety of a product that is FSA-registered," adds Reed. This could improve availability of CBD outside specialist stores as mainstream retailers feel more confident with listings.
"Once novel foods applications start to become validated and approved, we predict a huge upsurge in the availability of CBD products, in both the on and off-trade, with mainstream stockists gaining confidence in stocking CBD due to the certification that these goods will now have," echoes Rowland.
Plus, "CBD products have always been risky investments, but there's even talk now of some significant IPOs which would give the market a boost," says Reed. Only in February, Kanabo, which has three proprietary CBD formulations among its broader medical cannabis range, became the first legal cannabis company to launch on the London Stock Exchange.
UK CBD at a glance
700: The estimated number of CBD companies currently active in the UK market*
£150m: The amount spent by UK consumers on CBD products in the first four months of 2020*
50%: The growth in consumption of CBD from 2019 to 2020*
8%-11%: The proportion of UK adults that have tried CBD either as a dietary supplement, vape or edible**
74%: The percentage of UK consumers that support the decision by the FSA to regulate the CBD market more closely, according to a 2020 poll***
45%: The percentage of UK consumers that said they were not currently 'confident' CBD was properly labelled or tested***
Source: *Alphagreen; **YouGov; ***Association for the Cannabinoid Industry
Legitimacy
McCoy hopes too that the legitimacy provided by approved status could help CBD brands and manufacturers operate more easily, and remove some of the stigma still associated with the ingredient. "Some banks refuse to open a bank account for us as CBD is banned on their compliance list," she says. "CBD is also restricted from advertising on Twitter, Facebook and Instagram and we are unable to accept payments using PayPal or Stripe on our website.
"Novel food approval is a positive step in the right direction for breaking the stigma around CBD in the market. A regulatory framework provides a much-needed roadmap for other companies to enter the market, create competition and weed out bad actors. Clear and consistent regulations strengthen consumer confidence – helping to fuel the further expansion of the CBD market."
In the long term, new regulations could be just what CBD needs – even if full enforcement comes later than planned.