Growth in frozen food has frozen solid this past year. Value hasn't budged an inch; volume sales have crept up a measly 0.3% [Kantar Worldpanel 52 w/e 29 January 2017]. Only ice cream, desserts and veggie protein dishes have shown any significant growth out of the major frozen food categories. Why?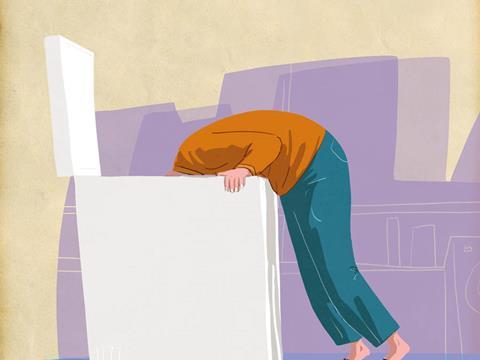 We've quizzed more than 2,000 shoppers to find out why frozen food is being left out in the cold, with the help of Harris Interactive. In this, the first in an exciting new series of digital features, we lift the lid on how attitudes change with age, areas ripe for NPD, consumption habits and more. Plus, we've teamed up with branding agencies to come up with solutions to the problems frozen faces. Read on to discover what shoppers really think about frozen food and what you can do about it…
---
Video: Brits' attitudes to frozen food
---
Demographics: Who rates frozen highest?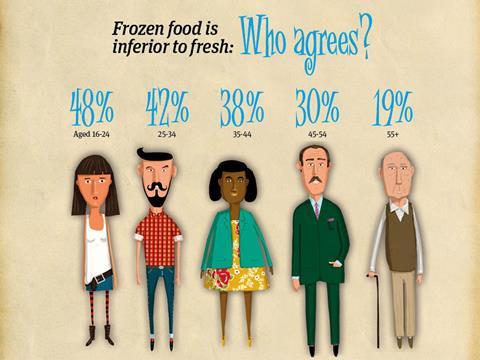 "Stupid, middle-class people think chilled is better," proclaimed Iceland chief executive Malcolm Walker last year as the retailer opened a new 'posh' outlet in well heeled Clapham and stepped up its Power of Frozen marketing campaign. "I'm trying to remove the prejudice against frozen food."
Our research doesn't account for the stupidity or otherwise of frozen food shoppers, but it does support the idea that class influences people's attitudes to frozen. Twenty eight per cent of shoppers in social grades D and E believe frozen food is generally worse quality than fresh food, versus 36% of those in A and B. However, as the below shows, age has a far greater influence.
There's good news for Walker and pals, however: when we asked consumers about their attitudes to frozen food a year ago, 53% agreed that its quality is generally on a par with fresh. That figure now stands at 60%. What's more, 60% of those polled have seen Iceland's Power of Frozen campaign, with 17% saying the ads have made them appreciate frozen food's quality more.
---
Food for thought: How to freshen up frozen
Creative agency Path designed an exclusive frozen concept for The Grocer
So, here's the problem: many younger, more affluent (and 'stupid' according to Malcolm Walker) consumers think frozen food is beneath them. These foodie types would much rather eat fresh. It tastes better, is higher quality and there's a much wider choice, right?
Wrong. According to creative agency Path, whom we've challenged to come up with a concept that shouts about the benefits of frozen and appeals to a more highfalutin consumer, frozen food is often viewed as little more than a commodity. It's easy to see why: stacks of frosty sacks viewed through misty freezer windows is hardly playing to frozen's strengths.
"This challenges the perceptions of frozen food by putting the ingredients on display, leaving them visible for the first time, available for all to devour with their eyes," explains Tim Bousfield, Path group creative director. "By doing this we have de-commoditised frozen food, turning it from anonymous to visible."Enter The Arctic Deli Company – a rustic, market-type display counter with deli-style frozen produce. Path's concept allows shoppers to choose the exact ingredients and quantity they need, from a selection of premium exotic foods packed with herbs and spices for maximum flavour.
This concept would add a human element to shopping the frozen aisle, with produce served from behind a counter. The produce is pre-washed, chopped and prepared, ready to use straight from the freezer, and is also available with mix & match options to create meal boxes in customisable quantities.
Bousfield adds that because produce is frozen, not fresh, it would keep longer, allowing retailers to stock more unusual and exotic ingredients that perhaps don't have the rate of sale of more common frozen fare. Arctic Deli would be about much more than fish fingers, chips and frozen peas.
"The range is designed for foodies with sophisticated tastes, looking for provenance cues and usual food experiences," adds Ben Sillence, Path strategy director. "It challenges consumer perceptions that frozen food is usually mass produced, of poorer quality in comparison with fresh, and comes either as basic ingredients or already prepared and processed meals."
---
Frozen food: Do you get what you pay for?
Some parts of the supermarkets' freezers are more commoditised than others, of course. So which types of frozen food do shoppers feel are worth paying slightly more for? Harris Interactive put that question to the public for us. Here's what they found: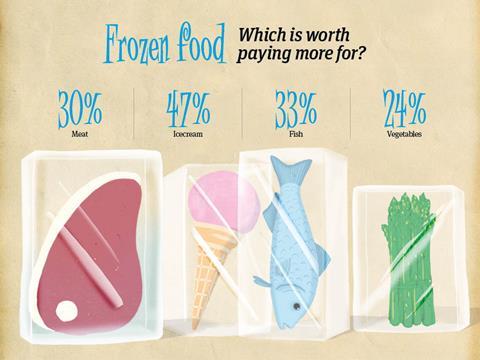 "Consumers are most willing to trade up to better quality ice cream or frozen fish than they are other frozen food categories," says Lucia Juliano, research sector head at Harris. "This is a clear positive sign to frozen fish and ice cream brands to keep innovating and give shoppers a reason to keep coming back to the category. It seems that shoppers are looking for better quality products in these areas and are willing to pay more for them – especially younger shoppers."
---
Revealed: How (and where) Brits eat ice cream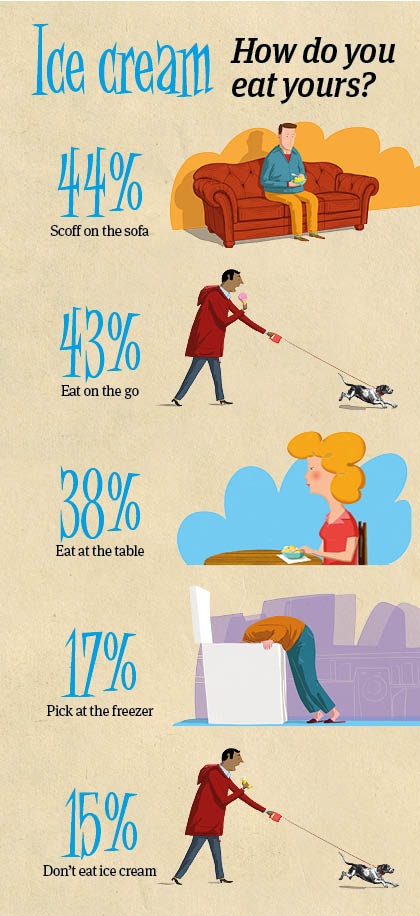 Brits are getting stuck into ice cream – it's one of the few areas of frozen in growth, with sales up £25m [Kantar]. But the way it's enjoyed is changing. How and where is most ice cream eaten? And what could ice cream manufacturers learn from Brits' ice cream consumption habits?
More consumers get stuck into tubs on the sofa than at the dinner table and nearly a third of handheld ones are scoffed on the couch, according to our Harris Interactive poll. "We are a nation of couch potatoes, where the majority of consumers eat ice cream on the sofa in front of the TV," says Juliano.
Forty four per cent, to be exact, versus the 38% who more often eat it at the table. That just over a third don't even bother to put their ice cream in a bowl reflects the trend for sharing that's influencing everything from bagged snacks to confectionery.
"It's clear that tubs and share-at-home products are driving growth within the ice cream category," says Phil Shaw, general manager for Mars Ice Cream. That's why both Mars and Magnum, stalwarts of the handheld ice cream category, are venturing into tubs.
Our research presents a tantalising opportunity for ice cream brands to develop products for foodies looking for something sumptuous to serve at dinner parties.
"The challenge is on for ice cream brands to bring ice cream back to the dinner table!" says Juliano. "Each time a dessert is consumed at the dinner table, ice cream brands are losing out. Can they take inspiration from the Continent where ice cream based desserts are more commonplace and firmly positioned as an after-dinner dessert?"
---
Food for thought: Dinner party ice cream
Challenge accepted! With ice cream today more commonly scoffed on the sofa and traditional dessert-style offerings faltering - Viennetta, for example, saw sales slide by 6.9% in 2016 [Nielsen 52 w/e 18 October] - we decided it's time for a premium ice cream that any self-respecting foodie would be proud to serve at their dinner party.
Enter Occasions, the brainchild of creative agency Team Eleven, who we asked to come up with a premium, social ice cream concept. These "melting mouthfuls of deliciousness" consist of a crunchy outer shell with an ice cream centre, with flavours tailored to specific occasions.
"Occasions gives the category a change to break new ground," says Nik Margolis, Team Eleven managing partner. "You wouldn't get a big tub of vanilla ice cream out after a sophisticated dinner party but you might share some after dinner chocolates. This is where Occasions comes in."
The line-up includes Apple Pie, Chocolate Fondant and Strawberry Gateau. But the format allows for new variants to suit seasons – Mince Pie & Brandy Butter at Christmas, for example. "Ice cream is hugely competitive so it's important for us to go beyond the traditional tub and create a product that doesn't directly compete with Ben & Jerry's or Häagen-Dazs," Margolis adds.
Women are the key target audience, as Team Eleven notes they are the primary purchasers of ice cream, with a premium, sleek design and marketing campaign. Social media is a key component of this, and would allow shoppers the chance to get involved and help come up with the latest flavour.
It might just be time to wave goodbye to the after dinner mint, and embrace the after dinner ice cream.
---
Thanks to our partners

Harris Interactive is a full-service, digital consultative custom market research agency that combines sector expertise with award-winning research design and industry leading technology to deliver critical market research solutions at top speed.

Through continuous monitoring, advanced analytics and tailored solutions, Kantar Worldpanel inspires successful decisions by brand owners, retailers, market analysts and government organisations globally.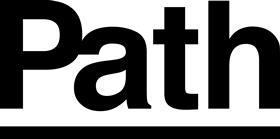 Path is an awardwinning, independent creative consultancy. We specialise in strategic brand innovation and design. We believe that a brand is more than a logo or a name; it's the promise of a tangible and emotive journey. We partner with brands to develop, build and execute their whole journey using our strategic thinking, creative conviction and technical insight.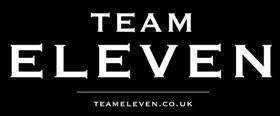 Team Eleven is an advertising agency built on a whole new model. Breaking away from the traditional agency model, each brief has a specialist team comprising relationship experts, project managers and strategists who have access to a global network of strategic, creative, technology and production talent. The members at Team Eleven have a vast amount of agency experience. This has led them to believe in people and how the right team will have the desired outcome for their clients.