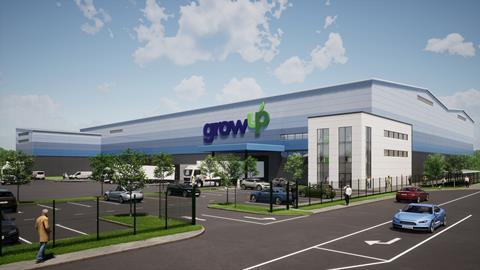 Vertical Farming operator GrowUp Farms has secured £100m from US green investment firm Generate Capital to fund the construction of a major new facility in Sandwich, Kent.
GrowUp, which describes itself as a "pioneer in controlled environment farming", previously supplied salads to wholesale, Foodservice and the likes of Wholefoods and Farmdrop via its now defunct urban farming ventures, The GrowUp Box and Unit 84.
The investment will help deliver the low-emission Kent farm bring "fresher, longer-lasting leafy salads to supermarket shelves year-round", grown using GrowUp's proprietary "high-efficiency renewable energy system", the company said.
The facility is said to use 95% less water than conventional growing methods, while the salads grown on the farm could save up to three million lorry miles per year by avoiding imports.
The site is expected to begin delivering its first harvest of ready-to-eat salad leaves by the end of the year. The crops are grown without pesticides or chlorine washing and are powered directly by renewable energy.
GrowUp said the facility would be the first in a series of large, low-carbon indoor farms planned by the business that would service the retail and wholesale markets in the UK.
"Our farms can deliver fresh, long-lasting salads consistently, and withstand the mounting environmental and economic pressures from inflation in transport, labour and commodity costs that have challenged the fresh produce sector," said GrowUp co-founder Kate Hofman.
The business said it had spent nine years building its expertise and developing the "industry-leading" technology used in the new facility. That tech drove down the cost of vertical farming, while also cutting down on food waste in both the fruit & veg supply chain and at home, it added.
"A great salad is the original plant-based meal, but for a long time it's been hard to get shoppers excited about what's out there," said Kate Hofman, GrowUp co-founder.
"We're passionate about getting people to rethink their salads and excited by this opportunity to deliver healthy, affordable, British-grown food to more customers, with a lighter environmental footprint and a more resilient year-round supply chain," Hofman said.
"Our team has worked hard to solve the challenges that kept vertically farmed salads from being cost-competitive and sustainable," added GrowUp MD Marcus Whately.
"We partnered with Generate Capital because of their long-term focus on both sustainability and economic efficiency, and together we can now bring this model to scale."
Generate Capital is a US Public Benefit Corporation that builds, owns, operates and finances over 2,000 sustainable infrastructure projects globally. As part of the £100m investment package, it will also support a series of vertical farms that benefit from GrowUp's expertise and renewable energy model.
"We're thrilled to partner with the expert and innovative team at GrowUp to accelerate sustainable vertical farming infrastructure in the British market," said Dr Erich Becker, head of Generate Europe. "Low-carbon vertical farming is a much-needed development and we are pleased to be working to accelerate it across Europe and North America."
"As we expand in Kent and at other sites, we look forward to becoming a long-term supply partner across multiple categories – helping supermarkets solve environmental and supply chain problems," Whately added.
GrowUp plans to extend its range beyond salads and is developing future crops and products at its R&D farm at the Agri-Epi Centre at Harper Adams University.
Vertical farming is a growing sector in the UK with the country soon to be home to two of the world's largest facilities, respectively owned by JFC in Gloucestershire and Fischer Farms in Norfolk.