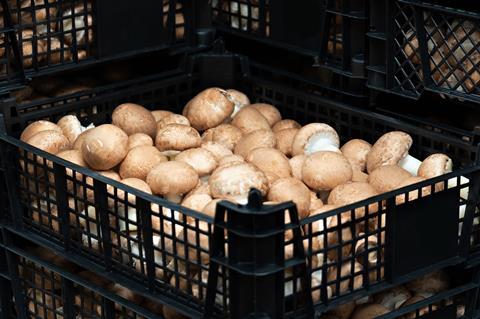 Mushroom sales are booming as consumers look for foods with added health benefits during the Covid-19 pandemic.
Volume sales soared by a fifth during the lockdown [Kantar 24 w/e 9 Aug 2020] and demand has remained strong since, with value sales up 15.4% year on year in September [Kantar 4 w/e 6 Sep 2020].
"We have noticed an increased consumer demand for products such as mushrooms due to their additional nutritional benefits," said Noel Hegarty, MD of trade body UK & Ireland Mushroom Producers.
Sainsbury's saw the biggest value sales growth among the big four, up 18% over the last year [Kantar 52 w/e 4 October 2020]. Flat (up by a third) and button (up 19%) mushroom varieties performed particularly strongly at the retailer.
Tesco also saw a double-digit rise, with overall value sales climbing 10% off the back of strong growth (up 16%) for closed cup mushrooms.
UK & Ireland Mushroom Producers MD Noel Hegarty put the success of the fungus down to its health credentials.
Mushrooms were "an easy and accessible way to ensure the population is getting enough vitamin D in their diet," added Hegarty. "Enriched fortified and functional ingredients, such as mushrooms, allow customers the freedom to make healthier choices while doing a food shop."
He pointed to a survey by Opinion Matters from June, which found shoppers were looking for products with 'health halos'.
Of the 2,000 British shoppers interviewed by the insight firm, 36% said they had proactively purchased more foods with added health benefits since the start of the Covid-19 pandemic.
The trade body also suggested the sales boost for mushrooms could be down to the growing trend for plant-based products.