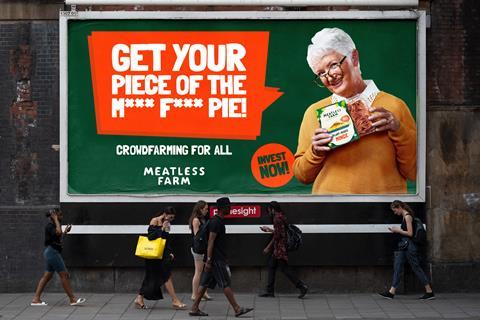 Meatless Farm is mounting a £5m crowdfunding campaign to accelerate its global growth.
The campaign, which kicks off on 22 June, will offer consumers the chance to buy into the plant-based brand from £10, it said.
Investments will take the form of convertible notes, which will turn into shares offered at a discounted price during its next corporate equity round.
The brand would put the funds towards its ongoing innovation and expansion, including working towards "complete vertical integration as part of a commitment to regenerative business growth", it said.
Its plans would involve investment at every stage of the supply chain, it said.
This will be Meatless Farm's first public fundraise, but it is no stranger to fundraising, having netted approximately £38m over the past three years from private and family office investors, including Channel 4.
Cornerstone investment for the upcoming round will be provided by Bridford Investments.
The Danish brand initially launched in the UK in 2018, when its soy-based mince and fresh burger patties hit shelves at Sainsbury's.
It is now available in 20 countries and has recently partnered with Pret, Leon and Itsu to provide meat alternative meals to go on on the UK highstreet.
Meatless Farm founder Morten Toft Bech said "people power" would bring plant-based protein into the mainstream.
"We want to help accelerate this through the retail and foodservice relationships we have, the countries we operate in and the range of products we offer," he added.
Sales of meat alternatives and plant-based dairy products have roughly doubled over the past five years [Nielsen 52 w/e 5 September 2020].