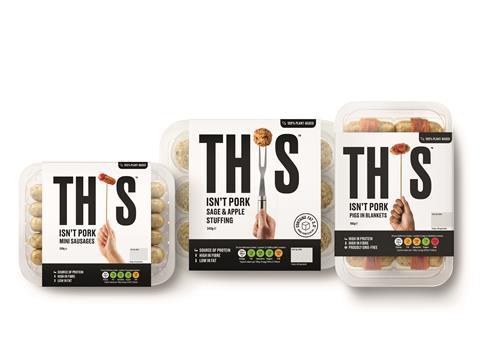 Plant-based producer This is readying what it hopes will be the biggest-ever crowdfunding campaign for a vegan brand as it seeks to supercharge its growth.
The campaign on the Seedrs platform will launch at the end of the month, with pre-registration opening this week and the public able to invest from a minimum of £10.
This – launched in 2019 by Andy Shovel and Pete Sharman – is aiming to raise at least £4m from the round but expects to overfund and beat the €5.4m (£4.6m) raised by Spanish brand Heura last month, which is the highest total raised from the crowd in the category up to now.
Meat-free brands are one of the most in demand businesses on crowdfunding platforms, with Heura raking in €4m in just four hours from 3,000 investors in 2021, Meatless Farm bringing in £3.3m last year and vegan ready meal business Allplants raising £4.5m in 2020.
This also bagged £4.4m in a 2020 campaign, which, at the time, was the fastest ever to hit the £1.5m mark. It also secured £11m last summer in what it claimed as the largest series A fundraise for a meat alternative brand in the UK.
The brand will use cash from the new round to fund further innovation and new products, ramp up marketing efforts and push overseas for the first time.
"The growth we've experienced in such a short space of time is ridiculous," Shovel told The Grocer.
"We know we wouldn't be where we are without all the meat-reducers, veggies and vegans loving our food. So, it feels like the right time to give them the opportunity to own a chunk of This. By continuing to build an incredible R&D resource in the company, and keeping up our disruptive and funny marketing, we can eventually force the world's livestock into retirement."
Annualised revenues at the company have now hit more than £17m, with retail sales quadrupling last year to £11.3m, according to The Grocer Top Products Survey [Nielsen 52 w/e 11 September 2021].
This' products are available at more than 10,000 stores nationwide, across all the major supermarkets, as well in foodservice operators such as Caffé Nero, Ask Italian, Prezzo and Pho.
The range, which includes the likes of This Isn't Bacon rashers, Isn't Chicken goujons and Isn't Bacon Lardons, is marketed as a "hyper-realistic" meat alternative and aims to closely mimic meat products.
Its latest innovation, Fat 2.0, is a patent-pending fat made from olive oil, used to create succulence and more closely resemble the mouthfeel of real meat.
The fat is used in This' newly launched sausages and will feature in seven new products planned for 2022.
Part of the crowd funds will back a new innovation centre set to open in West London this summer, which will act as the company's research engine for NPD.
Supermarket sales of meat-free products surged 16.3% to £659.9m last year, making plant-based one of grocery's fastest-growing categories, according to The Grocer's latest category report [Kantar 52 w/e 8 August 2021].
Last month, Seedrs also unveiled a new partnership with plant-based investment marketplace Vevolution to boost early stage investment in UK vegan start-ups.