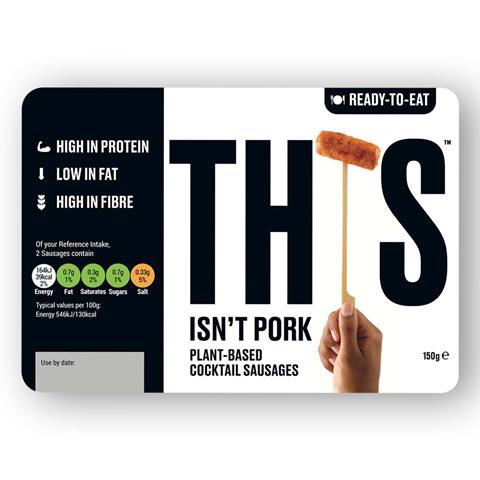 Fast-growing plant-based start-up This has secured £11m in what it claimed as the largest series A fundraise for a meat alternative brand in the UK.
This plans to use the cash to support the rapid growth of the business, expand its R&D capabilities and bring to a pipeline of new products to the market.
The business, which was launched in 2019 by Andy Shovel and Pete Sharman, said it had grown at a rate of 530% in the past year, although no financial figures are yet available.
It registered retail sales of £2.5m last year [The Grocer Top Products Survey/Nielsen 52 w/e 5 September] and predicted 2021 would be "a bumper year" on the back of record signups to Veganuary.
The £11m round at This was co-led by investment firm BGF and Lever VC, which specifically invests in start-ups in the alternative protein space.
Prior to the latest investment, This raised £8.7m in seed funding from VC investors and also raked in £4.4m from the crowd on the Seedrs platform last year.
Shovel said: "We are absolutely thrilled, as we are now in a position to lease an office with windows. The team were losing their sense of humour over our current neon-lit home.
"In addition, this investment will unlock the most exciting new product development schedule. We've got some wacky plans for new tech and a huge line up of plant-based products, which will make eating plant-based food that bit easier for consumers."
This was set-up to launch plant-based foods that replicated the taste and texture of meat and could "fool carnivores".
Its range of pea and soy-based products include Isn't Bacon rashers, Isn't Chicken goujons and new Isn't Bacon Lardons.
This has been stocked in all four of the major grocers, including most recently rolling four lines into 445 Morrisons stores, taking its overall UK market presence to 3,000 outlets. The products are also used in 300 restaurants throughout the country, including the likes of Prezzo, Pho and Honest Burgers.
The team plan to increase innovation four-fold this year, developing all recipes in-house at a "Willy Wonka" style R&D centre in London. It has also submitted two patents to-date for its use of high moisture extrusion technology.
BGF investor Daina Spedding said: "With our long-term investment approach and national network of expertise, BGF will support the highly-ambitious management team at This to scale and expand further."
The BGF was set up in 2011 by Barclays, HSBC, Lloyds Banking Group, NatWest and Standard Chartered as the Business Growth Fund, with the aim of providing growth capital for SMEs in the UK and Ireland. It has since invested around £2.5bn in more than 400 companies.
Lever VC managing director Nick Cooney said: "We've never seen a plant-based meat company grow its sales and its store count as quickly as This has. We think the company is well on its way to being a category leader in the UK and beyond, and we're delighted to back This's stellar team and support their expansion into new products and new markets."
Investor demand for plant-based brands continues to be strong, with the latest fundraising following the announcement earlier this month of a £5m crowdfunding campaign for Meatless Farm and Heura securing €4m (£3.4m) in just four hours from the crowd.