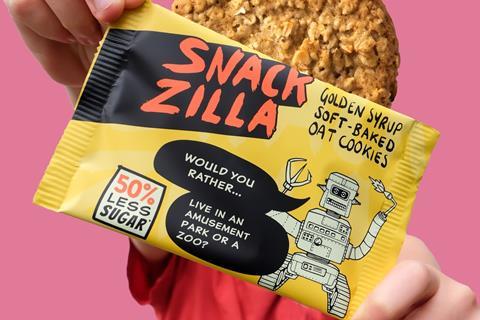 Dozens of "healthier" food brands and investors have written to PM Boris Johnson, accusing him of "pulling the rug" under their development of healthier food products after the government's backtrack on plans for a clampdown on HFSS promotions.
A raft of companies making products including low-sugar and low-calorie snacks, biscuits, dairy products and sweets said "forward thinking" suppliers were being punished by the decision, which ministers blamed on the cost of living crisis.
The letter claims the decision will lead to major food brands "swamping" the public with unhealthy food.
At the weekend public health minister Maggie Throup confirmed restrictions banning multibuy deals on HFSS products – including buy one get one free, three for two, and restrictions on free refills for soft drinks – would be delayed for a year.
Restrictions banning HFSS ads on TV before 9pm and paid-for adverts online will also be paused for a year, meaning they come into force in January 2024.
However, campaign groups have expressed fears the year-long delay may lead to the plans being jettisoned altogether, despite the government going ahead with a ban on certain in-store location promotions from October.
More than 25 challenger brand investment companies and suppliers have backed the call, including Impact on Urban Health, Young Foodies, The Collective Dairy and Vala Capital .
"We recognise the importance of affordable and healthy food for all, in line with the government's original, world-leading obesity strategy," says the letter.
"Scrapping regulation on multibuys and junk food advertising undermines emerging innovation in our industry, while delays to these commitments enable big food and drink to continue swamping the public with unhealthy options, rather than setting the stage for healthier products and brands.
"By delaying and potentially scrapping the originally ambitious and evidence-based plans to improve the health of the food industry, you are allowing unhealthy brands to profit and flourish and worsening the obesity crisis. You have an opportunity to level the playing field, put healthier foods in the spotlight, and provide an incentive for more brands to innovate.
"The challenger brands we've invested in have worked really hard for the opportunity to get listed and the new rules coming in have given them an opportunity they have never had before to be listed in the major supermarkets," said Andria Prada, brand strategy director at Mission Ventures, which said it had invested £1.8m in a range of brands. "Now they feel they have had the rug pulled from under them."
Mission Ventures has invested in companies including Snackzilla (healthier cookies), Insane Grain (healthier puffs made from sorghum), Scrapples (apple crisps) and Naturelly (healthier jelly snacks).
Prada added: "This is the future of food, and if the government doesn't support this, then these brands will struggle to lead the way in creating a healthier society."
Rebecca Sunter, programme director of the Childhood Obesity programme at Impact on Urban Health, said the delay was "devastating news" and a "real step back for children's health".
However, the FDF was among industry groups which welcomed the delay to the measures.
"We welcome the UK government's pragmatism during the cost of living crisis," said chief scientific officer Kate Halliwell.
"At a time when both families and our manufacturers are struggling with high inflation, it makes sense to delay the restrictions on volume promotions for everyday food and drink products, including breakfast cereals, ready meals and yoghurts, as it risked further stretching already-pressed household budgets.
"We also welcome the delay to the start of advertising restrictions, given the time it will take our industry to prepare for the change in law."