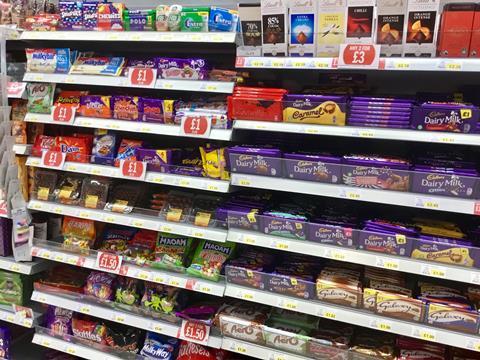 The government's voluntary sugar reduction programme was plunged into crisis today after a report revealed many food categories had made "little or no progress", while some had seen massive increases in sugar levels.
A report by Public Health England showed overall sugar reduction for 2019 based on a sales weighted average across all food categories, from a 2015 baseline, stood at just 3%. The target is a reduction of sugar across key sectors by 20% by 2020.
Some categories, such as chocolate and sweet confectionery, had seen sugar levels virtually unchanged, while increased sales had led to a massive increase in the volume of sugar in the category, said the body.
PHE, which is due to be scrapped in the new year, revealed there had been good progress in reducing the overall levels of sugar in some categories, such as yoghurts and fromage frais (down 12.9%) and breakfast cereals (down 13.3%) compared with the sales weighted average target.
But it revealed overall there had been a 2.6% increase in the overall amount of sugar sold from the product categories included in the programme from 2015 to 2019.
PHE said sugar levels in chocolate and sweet confectionery were "relatively unchanged" while product sales had increased, growing 16% and 7% respectively.
Its report also shows average calorie content of food products likely to be consumed on a single occasion had seen "hardly any change", with the puddings category seeing a 9% increase, while the average calorie content for cakes and morning goods had also increased.
Progress had also stalled in the out-of-home sector, which saw "hardly any change" in the average sugar content of food from its baseline of 2017.
The largest decreases were 17.1% for breakfast cereals, 6.8% for cakes, and 3.9% for biscuits. However, the average sugar content for chocolate confectionery in the sector was up by more than 10%.
PHE has admitted real levels may be higher because of lack of quality data for the sector.
Read more
Public Health Minister Jo Churchill said the government was ready to take further action if its plans on obesity, which also include a proposed ban on HFSS promotions and a 9pm advertising watershed, did not succeed in bringing down sugar levels.
"On sugar reduction, particularly in products like breakfast cereals, yoghurts and ice cream, we have achieved some much-needed progress," she said. "This will make it easier for everyone to make healthier choices, but it's clear more can be done.
"Covid-19 has highlighted obesity and how important it is to tackle it. Our recent announcement of the obesity strategy includes world-leading measures such as a TV watershed for advertising food and drinks high in fat, salt and sugar, and consulting on how we can introduce a ban online. If more action is needed to support individuals to lead a healthy life, we will go further to help them."
However, the failure of the programme was slammed by campaign group Action on Sugar.
"Apart from the sugary drinks levy, it's abundantly clear that the government's voluntary sugar reduction programme is simply not working, after reporting a dismal 0.1% reduction in sugar between 2018 and 2019," said chairman Graham MacGregor.
"Food and drink companies that want to do the right thing are crying out for a level playing field, which can only be achieved by setting mandatory targets for calorie and sugar reduction. The soft drinks levy has shown that this approach is both best for business, and best for everyone's health, including people from more disadvantaged groups."
"Whilst the government gets to grips with the current Covid-19 pandemic, it mustn't ignore that the situation is fuelling the UK's other pandemics – obesity, type 2 diabetes and tooth decay – all linked to high sugar intakes, which the food industry is largely responsible for. It's imperative that whichever organisation takes over from Public Health England, they implement comprehensive and compulsory reformulation targets across the whole of the food and drink industry to gradually reduce the amount of sugar and excess calories in food and drink."
Dr Alison Tedstone, chief nutritionist at PHE, said: "We've continued to see some progress in reducing sugar in a number of everyday food and drink products and this shows that success is possible through reformulation.
"Yet overall progress remains too slow. Faster and more robust action is needed to help us consume less sugar, which will help us become healthier and lower the economic burden of obesity and preventable pressure on the NHS.
"PHE will continue to provide expert advice to government on the potential levers to address excess sugar consumption. The government is committed to further action if progress is not made."
FDF COO Tim Rycroft said: "Today's report from PHE shows that food and drink manufacturers are continuing to reformulate and change portion sizes in order to remove sugar from the nation's diet.
"Particularly notable is the great progress made by manufacturers to slash sugar in milk drinks, showing once again voluntary action by industry works when realistic goals are set. As expected, we continue to see varying results in food due to the many different roles sugar can play in food and how acceptable changes are to our shoppers and consumers.
"FDF's members have been fully engaged with the programme and have been working hard to reduce sugars in products, where practically possible. Compared with just four years ago, FDF members' products now contribute 11% fewer calories, 11% fewer sugars, and 14% less salt to the average shopping basket.
"It is now vital that the UK government do not take away the ability of manufacturers to make shoppers aware of these healthier options.
"FDF have long said that PHE's sugar reduction guidelines and timeframes are ambitious and won't be met across all categories. The report's data is from 2019 and therefore it is not reflective of the products on the market currently where further progress may have been made. As PHE have themselves pointed out, reformulation takes time – it can't happen overnight."