Unilever is getting set for the summer months with host of NPD launching across its ice cream brands.
A total of seven SKUs have begun rolling out across the mults already, spanning handheld and tub formats and tapping into demand for indulgent flavours.
Unilever said the launches, which come from brands including Wall's, Magnum and Ben & Jerry's, would "brighten up freezers across the nation" with a range that is "not only better for consumers, but better for the planet too". Here's what's coming to stores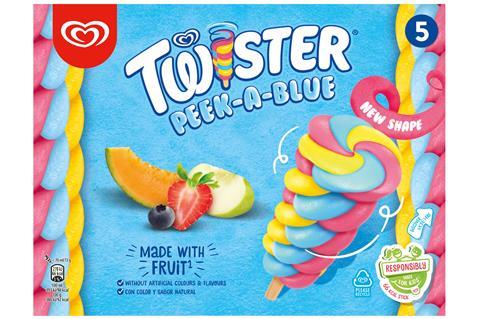 Twister Peek-a-Blue
Rsp: £1.10/70ml or £2.79/5x70ml
Bringing a new flavour and shape to the Twister range, Peek-A-Blue combines melon, strawberry-lemon and apple-blueberry flavours. It joins Unilever's 'Responsibly Made for Kids' range of products with 66 calories per stick.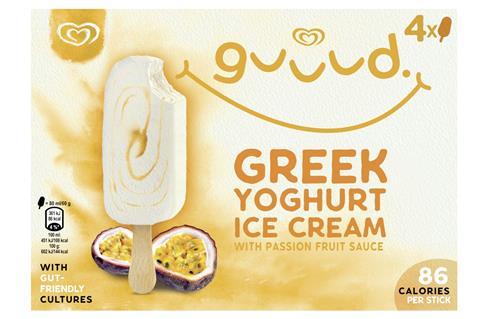 Guud Passion Fruit
Rsp: £4.50/4x80ml
Gut-friendly Guud made its debut last year and this spring a new Passion Fruit flavour joined the range. Made with Greek yoghurt and "gut-friendly cultures" the latest addition features a passionfruit sauce and comes in at 86 calories per stick. It has launched exclusively at Sainsbury's.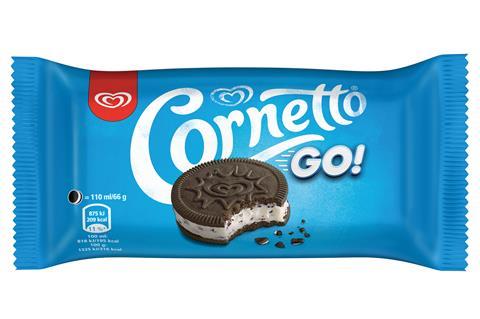 Cornetto Go
Rsp: £1.40
Inspired by the growing love for ice cream sandwiches, this handheld ice cream under the Cornetto brand comprises a smooth vanilla ice cream with pieces of cocoa cookie, sandwiched between two cocoa biscuits. It will launch on 15 March exclusive to the impulse channel.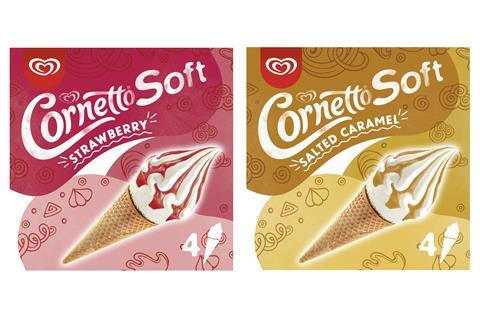 Cornetto Soft
Rsp: £1.60/140ml or £3/4x140ml
Bringing the ice cream van experience to grocery, Cornetto Soft is a Mr Whippy-esque soft ice cream which is promised to remain soft when stored in a home freezer. The range has launched with three flavours: Salted Caramel, Strawberry and Chocolatey, with the latter an impulse-exclusive flavour.
They feature the waffle cone complete with Cornetto chocolate tip, topped with soft ice cream and either caramel, strawberry or chocolate sauce.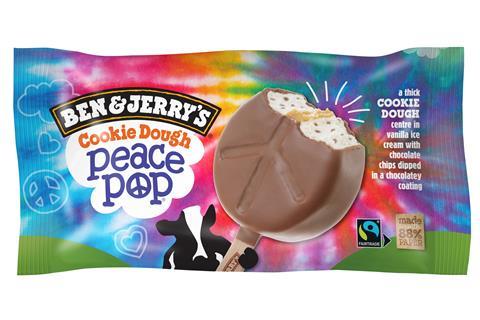 Cookie Dough Peace Pop
Rsp: £2.20/69g or £3.99/3x69g
Peace Pop takes Ben & Jerry's popular Cookie Dough flavour into a handheld stick format. It consists of vanilla ice cream with chocolate chips, a peace-shaped cookie dough-inspired centre and a thick chocolate coating.
It comes packaged in what Unilever claimed was a "first of its kind" tie-dye wrapper, which is made with 88% paper and is "widely recyclable".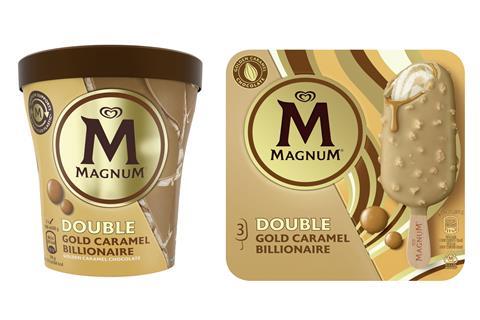 Magnum Double Gold Caramel Billionaire
Rsp: £2/85ml-£4/440ml
Billed the "most indulgent Magnum yet", Double Gold Caramel Billionaire takes inspiration from Millionaire's Shortbread. It features a swirl of two ice creams in pecan and biscuit flavours, a caramel sauce filling and a gold caramel chocolate coating studded with biscuit pieces. It has launched in stick and tub formats, as well as in mini sticks, which are exclusive to Ocado.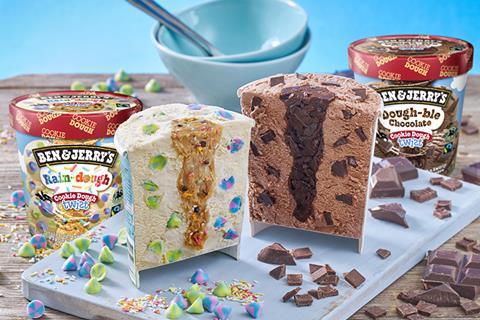 Cookie Dough Twist
Rsp: £5.49/402g
In honour of Cookie Dough's 30th birthday, Ben & Jerry's added two flavours – Rain-dough and Dough-ble Chocolate – each featuring a cookie dough 'twist' centre, with added chunks scattered throughout.
The Rain-dough flavour is made with Fairtrade vanilla ice cream and features a rainbow sprinkled cookie dough core with colourful tie dye chunks, while the Dough-ble Chocolate flavour comprises Fairtrade chocolate ice cream, a chocolate cookie dough core and chocolate chunks.