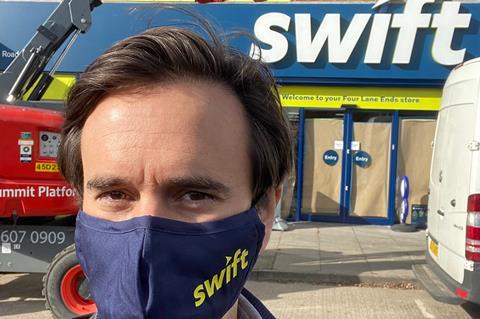 Iceland is launching a new convenience store format called Swift, with the first branch to open this Thursday in Newcastle.
The store, in a 1,700 sq ft converted Iceland unit in Longbenton, will get double the number of lines of the branch it replaces, at about 3,000. The range will cover "the full spectrum of grocery" from frozen and fresh to food-to-go, alcohol and tobacco, a spokeswoman said.
The new concept is "entirely new" and "designed to provide a simple, easy-to-shop food store with the watchwords: fresh, fast, local", the spokeswoman added.
Iceland has revealed few further details but the limited information provided points to a convenience and food-for-now or tonight focus, along with a possible streamlining of the checkout process.
Iceland head of space & format development Matt Downes said: "This is a really exciting trial of a completely new concept that we think will be ideally suited to this high-traffic location.
"We believe the much wider range on offer, Swift's commitment to faster and easier shopping, and the leveraging of group buying power to ensure great value, will all make this a convenience store with outstanding customer appeal."
Iceland registered the 'Swift' trademark last year, leading to speculation the frozen food retailer was planning a new rapid delivery service.
The fact it is a new store format emerged this morning as Shopfloorinsights.co.uk published details of Iceland's planning application. The plans suggest the shopfloor has gained an extra aisle along with new features in the checkout area.
The store would have a "novel layout" that "breaks down the traditional barriers between frozen and chilled food to provide a complete range of meal solutions, with great breakfast, lunch and dinner meal deals on offer every day", the spokeswoman said.
Iceland MD Richard Walker also this morning tweeted a picture of himself outside the first store, saying: "Exciting week ahead."
An exciting week ahead… pic.twitter.com/eJ0XbxD0lY

— Richard Walker (@icelandrichard) March 15, 2021
Swift already has its own twitter account, @swiftstoresuk, although it has yet to tweet and the profile currently only says "Coming soon".