Online feedback allows for legitimate complaint, fishing for freebies, and outright trolling. How do you differentiate between them? And what's the best way to respond?
At 2am one night a few months ago, a former customer of online butcher Wild & Game posted a rant about the company on Facebook. The brand's pies were "dire", she told her followers, warning them off the company's "unpleasant" products.
The late-night poster didn't have a genuine grievance but was instead "fishing for a freebie", says Luke Angus, e-commerce director for Wild & Game.
As unfair as it may seem, it's far from an isolated incident. While social media can be a powerful promotional tool, it also exposes brands to instantaneous negative feedback – and, in the worst cases, trolling.
On some platforms – like TrustPilot or third-party marketplaces – unfair reviews can be contested, with evidence, and are taken down. Facebook allows page-owners to 'ban' certain words from appearing in comments. But these protections are limited, and a snarly slam can quickly gain ground when left unchecked.
So how should brands navigate an online arena with an infinite potential for damaging comments? What's the best way to counter the attacks, without running the risk of being 'cancelled'?
The 2am diss experienced by Wild & Game highlights some important lessons in dealing with negative posts. Although the reply didn't come that swiftly – the comment was "hard to contain because of the time she posted", says Angus – it hit the right note.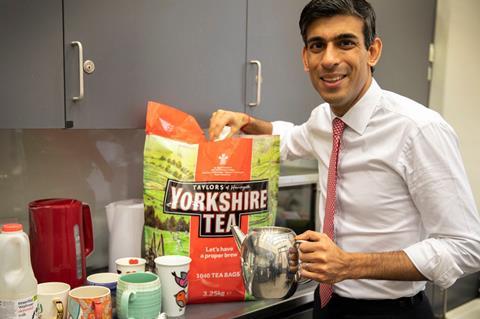 The company responded noting its 100% satisfied or money back guarantee, pointed viewers to other reviews, thanked supporters for their positive replies, and "as I'm in a good mood" offered a 10% discount code – in the form of the original poster's name.
Crucially, the tone made Wild & Game seem human. That's a winning tactic, says Mark Smith of food social media agency Double Up. "People don't like dealing with brands – people like dealing with people. The more you can humanise your brand and responses, the more positive your efforts will be."
Laurra Davis, founder and creative director of social media agency Brilliant, also believes "many comments can be lessened simply by replying in a human way".
Another savvy move was the use of humour, which tends to win people over. "Humour is always a good way to show how stupid the comment they are making is," says Scott Powney, digital director at agency Quiet Storm.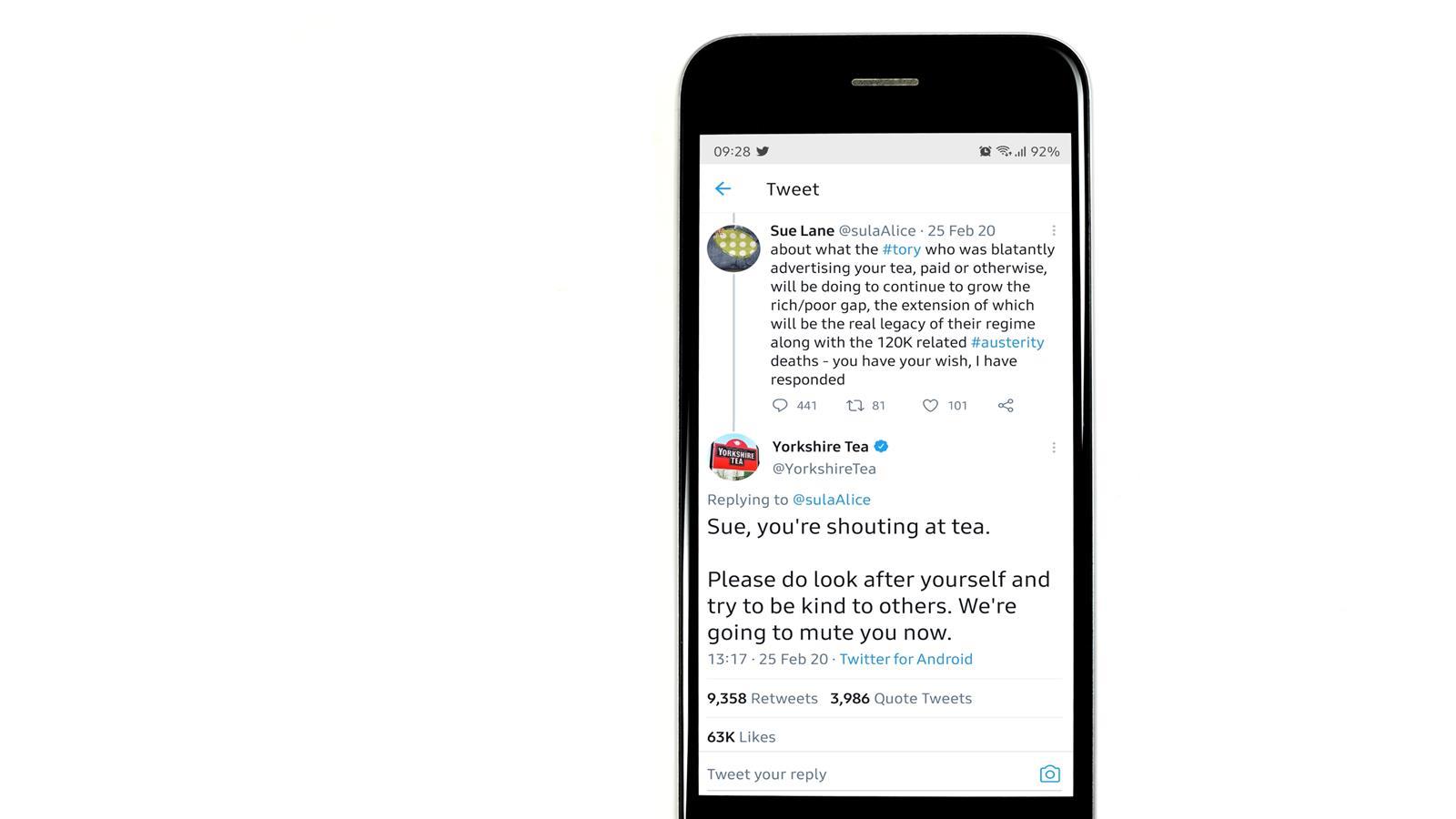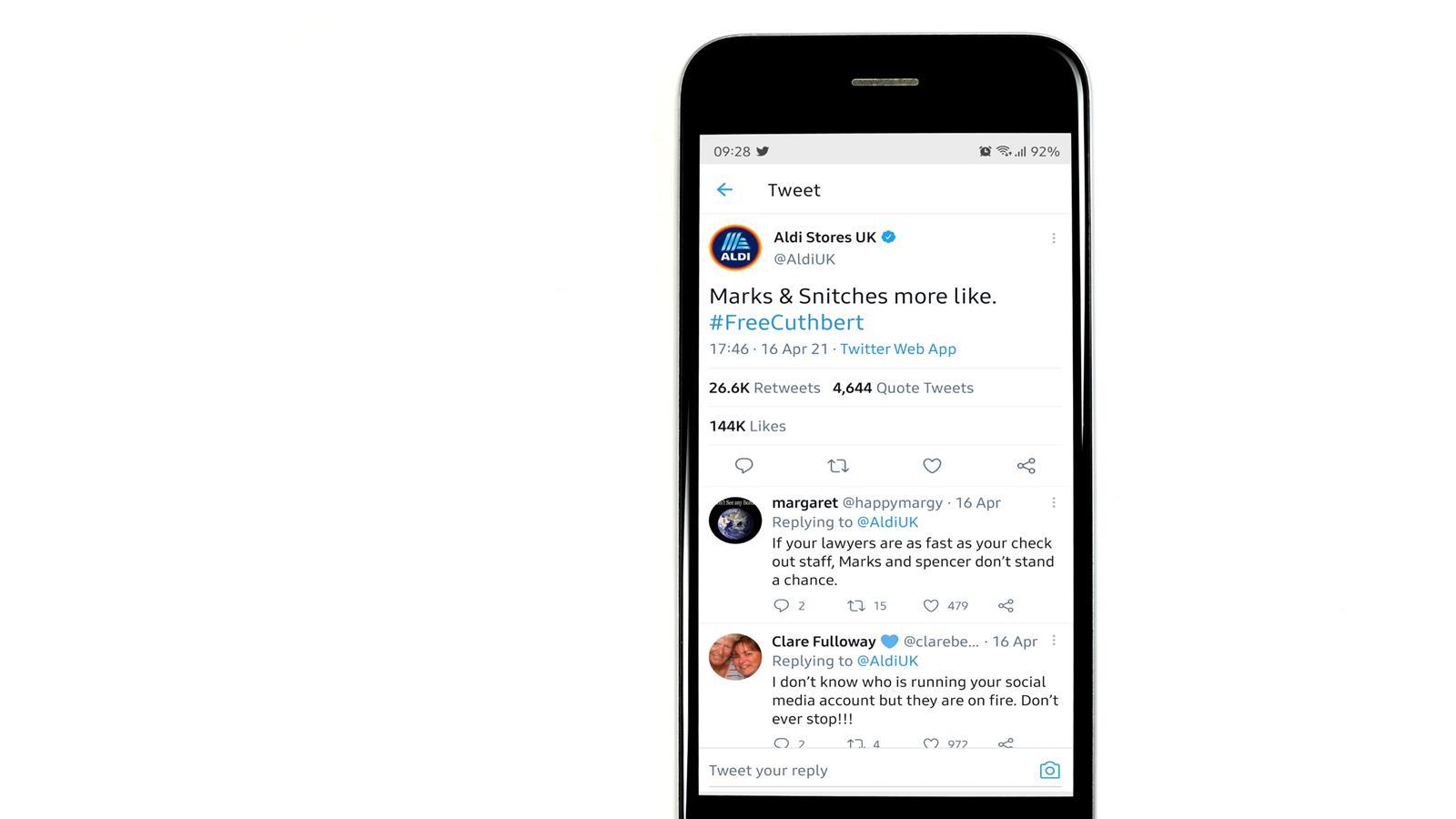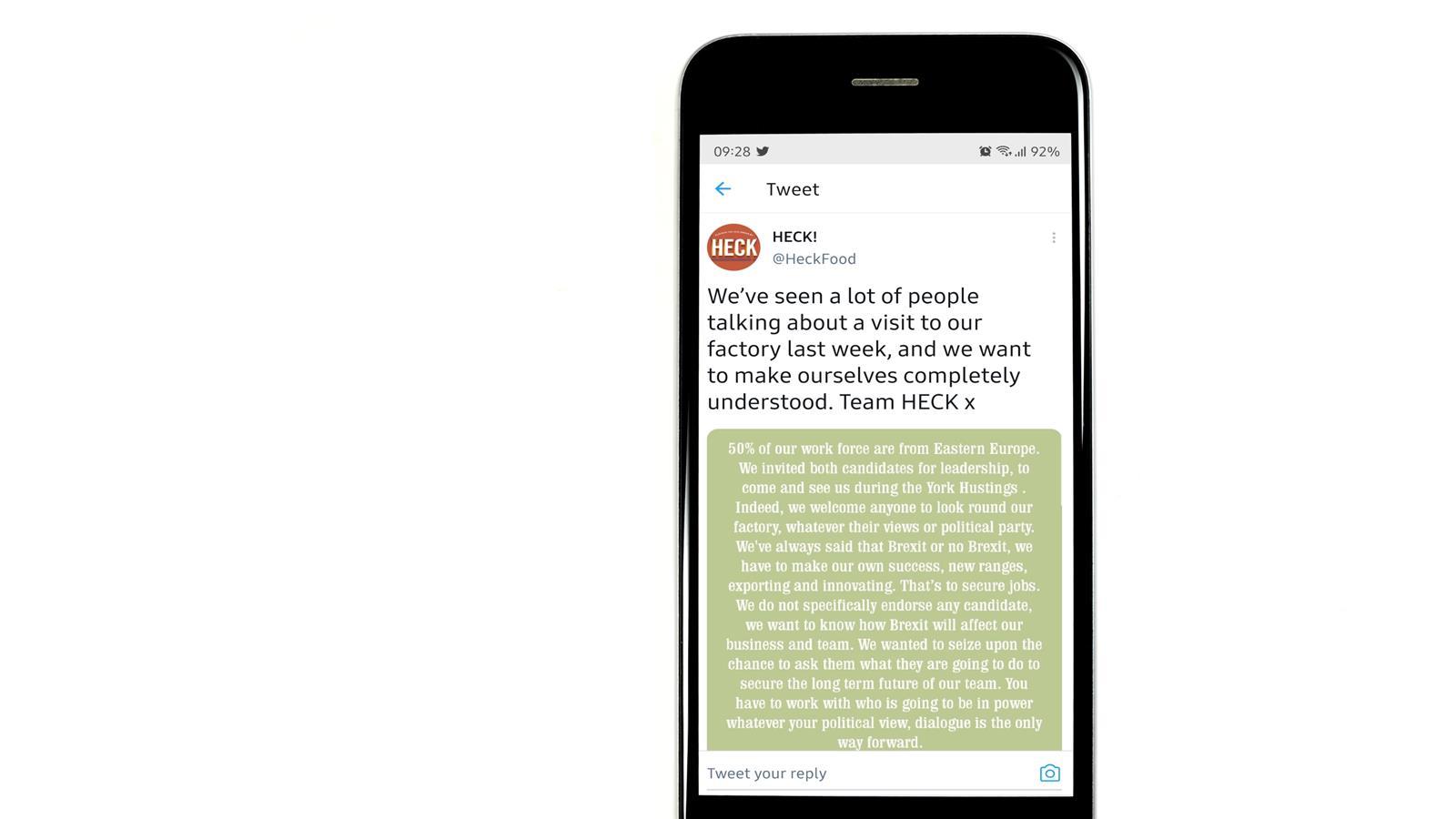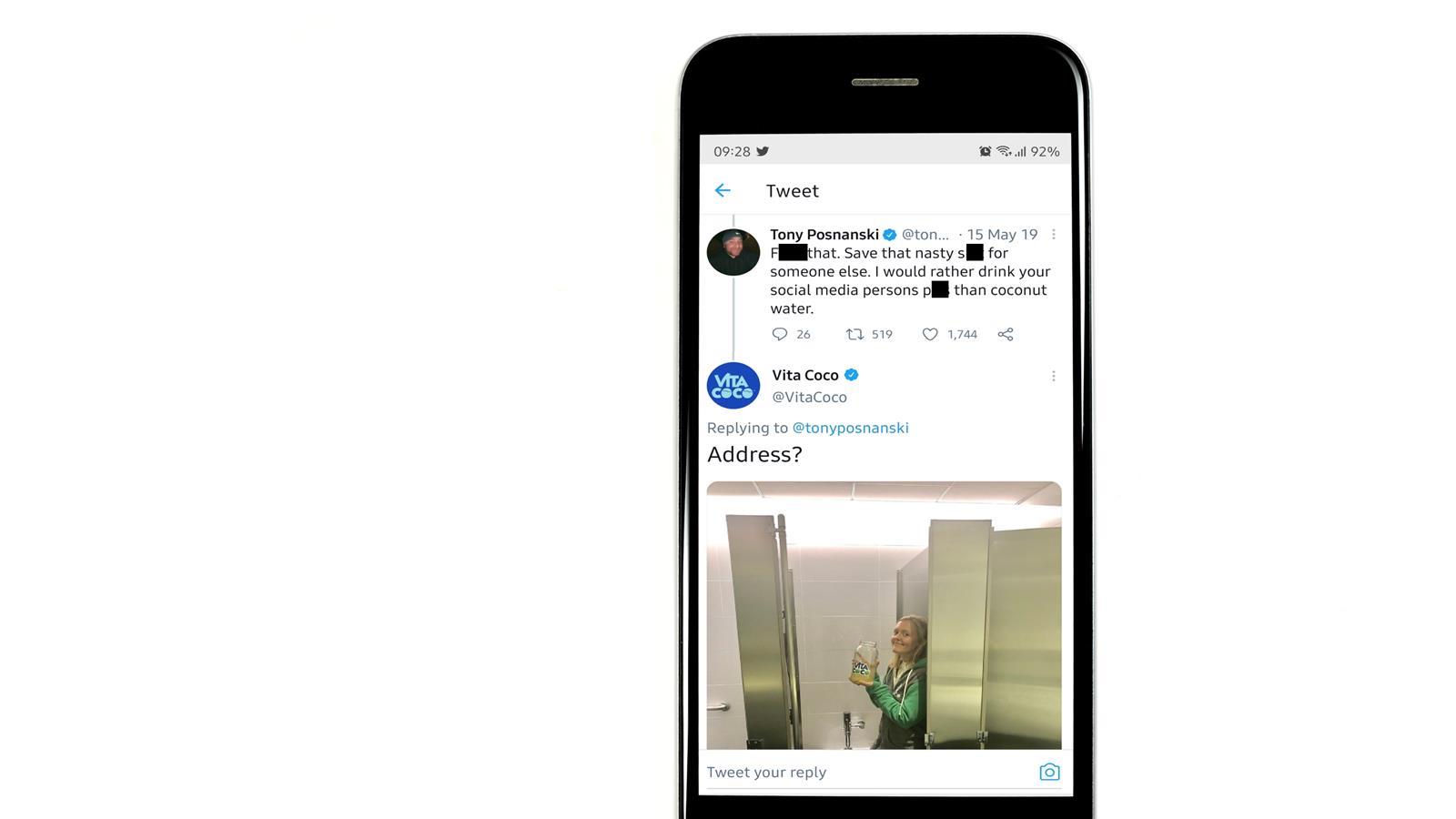 Yorkshire Tea took a direct tactic with a Twitter user who was angry about the brand's unofficial and unexpected endorsement by Rishi Sunak. 'Sue, you're shouting at tea' is now an immortal line.
Aldi positioned its legally challenged caterpillar cake as the underdog in its fight with M&S. The unapologetic Twitter spree has since sparked unofficial merchandise and a legion of Cuthbert fans.
British sausage brand Heck staged a rather stilted response to a Twitter storm, after a factory visit from then prime ministerial candidate Boris Johnson and the creation of a special 'Boris Banger' in his honour.
Vita Coco could hold it in no longer when responding to a troll's comment he would I would "rather drink your social media persons p*** than coconut water". Consider the gloves well and truly off.
In the case of Wild & Game, its quick-thinking tactics turned the negative comment into a positive outcome. "Ultimately, the rewards of our response were huge," Angus says. "It was the most profitable ad campaign we've ever run and generated a huge amount of positivity and support."
So encountering a seemingly irrational post isn't always a bad thing. But it's important to remember these outcomes aren't always so positive.
"Engaging with trolls is a high-risk, high-reward strategy," says Smith of Double Up. "While humorous and informal responses can increase the chance of going viral with increased brand engagement, if your responses are not clever, topical or witty, it's likely efforts may backfire with troll communities teaming up against you."
That's why brands often find themselves weighing up how they want to respond to trolls – if at all. On one end of the spectrum, there is the "nuclear option", says Ed Whitehead, associate director at Fleet Street Communications.
"People want to see trolls called out, and, dare I say it, humiliated," he says. "This is your one chance to bite back after all that self-control. So, ridicule at your heart's content. You might even make yourself Twitter famous for an hour or two. And win a few followers while you're at it."
A case in point is Yorkshire Tea. In February last year, Chancellor Rishi Sunak posted a photo on Twitter of himself making a cuppa with the brand. The associations with the Conservative party – albeit completely unprompted – were enough to make some users call for a boycott.
In some ways, the brand took a similar route to Wild & Game. To convey the human element, it reminded users the account was manned by real people with real feelings. "It's been a rough weekend," the account posted after the flurry of abuse.
But it also directly called out one particularly persistent troll in the now immortal line: 'Sue, you're shouting at tea.' The tweet quickly racked up thousands of likes.
"Ridicule at your heart's content. You might even make yourself Twitter famous for an hour or two"
It goes to show that being bold can pay off. But that risk isn't for everyone. So on the other end of the spectrum, Whitehead suggests brands could do well to adopt the polar opposite approach: ignoring them.
"Everybody knows that person in a WhatsApp group who's constantly trying to wind up their mates. Needling, digging, joshing, bantering. Anything to get a rise. That's basically what an online troll is. Except, they're not your mate," he says .
"He just wants attention. Starve him of it, and he'll soon realise you don't care about him, and go off and try his luck on some other brand.
"We're constantly told that your online reputation is absolutely key, that we live in an era when the wrong tweet or hashtag can lead to immediate cancellation," he adds. "But it's crucial to understand the difference between trolls and consumers sharing genuine concerns or flagging legitimate issues. Trolls can't harm your reputation, only waste your time."
Trolls vs unhappy customers
Whitehead makes an important distinction here. While doing nothing may be an effective way of dealing with trolls, who may never have bought into the brand and simply want to create a stir, the same can't be said for genuine grievances aired online. Although it can sometimes be tricky to differentiate between the two, the latter requires a very different approach.
Letting comments from genuinely peeved customers fester isn't an option, even if they may seem like they are unfair, says We Are Social editorial director Angharad Salazar Llewellyn.
"Leaving them unanswered almost certainly loses you a customer and it allows others to see how poorly you deal with feedback. What's more, the negative comments can continue to flood in due to growing frustration over a lack of response.
"Even the angriest customers can be defused with a strong apology and promise to get things sorted as quickly as possible," she adds.
Neither should brands delete the worst reviews received. Deepak Shukla, marketing director of vegan meal delivery service Plant Sumo, says that risks causing "an even bigger scandal".
"In all cases, brands should respond as quickly as possible, explaining the situation in a reasonable way. You limit the number of people who see the bad review without seeing your side of the story," he says.
As Shukla suggests, timing is an equally important factor here. The earlier brands can respond, the better. "We try and deal with all comments immediately to stop it going any further or escalating," says Laura Jane Jackson, co-founder of Popcorn Shed. "Any negative online comment can have long-lasting impact."
That's something cleaning brand Fabulosa found out to its detriment. In March, an unsafe and unrecommended cleaning hack involving spraying a Fabulosa Shock Can down the back of a radiator hit social media. MD James Sharpe admitted the brand didn't act soon enough to warn customers against following suit – and a backlash followed.
One customer said attempting to recreate the hack caused a fireball in their living room. The post caused widespread alarm, and prompted calls for Fabulosa's products to be banned.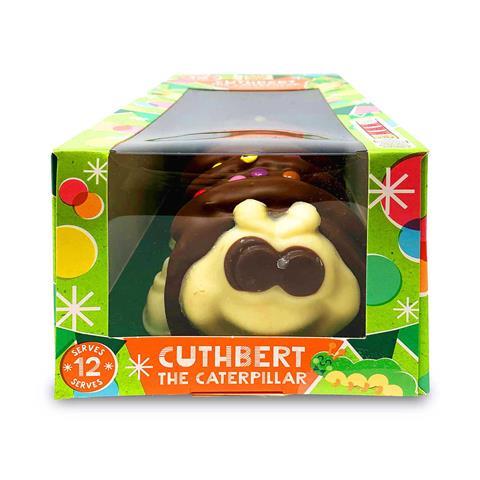 How Aldi turned M&S 'troll'
In April, M&S announced it was suing Aldi over the similarities of the discounter's Cuthbert the Caterpillar cake to its own Colin the Caterpillar.
It was hardly the first time such a claim had been levelled at Aldi. And usually public sympathy would side with the victim of the 'copycat' tactics. See the case of sausage brand Heck, when owner Andrew Keeble said it was "time to stand up to the playground bully".
But this time round, Aldi appeared to have taken inspiration from Heck's response. In Colin vs Cuthbert, the discounter savvily utilised social media to position itself as the victim, not aggressor, in the case.
Aldi – or rather global marketing agency McCann Worldgroup, which has run the discounter's social media accounts since late 2019 – started off by gently goading M&S. Tweets included "Just Colin our lawyers" and "This is not just any court case, this is…" each using the #FreeCuthbert hashtag. Soon the discounter was all-out trolling M&S: "Marks & Snitches more like," it tweeted.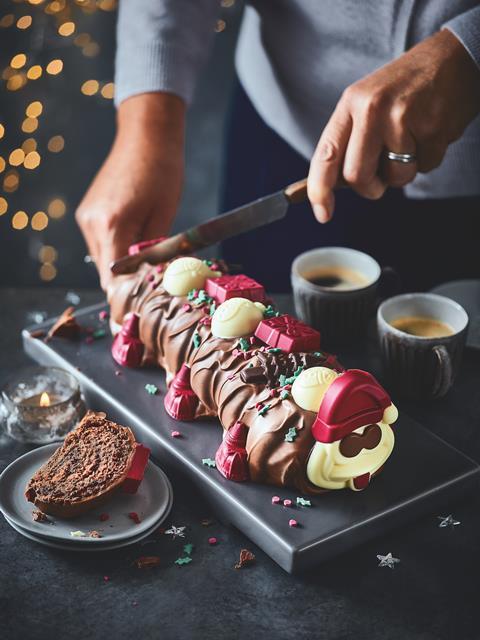 Aldi went on to enlist fellow supermarkets – each with their own version of the caterpillar cake – to join the pile on.
"Cecil, Wiggles, Curly, Clyde. We got you," Aldi tweeted to Waitrose, Sainsbury's, Tesco and Asda. Morrisons and Co-op's Twitter teams entered the fray without prompting.
M&S appeared to go into a stunned silence. First no response. Then days later came a tweet of the "this is fine" dog surrounded by a fire meme.
In a bid to up the ante, Aldi then proposed to M&S a truce before creating a special edition Cuthbert cake to raise money for cancer charities, a move considered cynical by some. M&S's answer – all for the idea but "we just want you to use your own character" – came across as awkward and slightly curmudgeonly.
When Cuthbert returned to the shelves on 17 May – with a slightly altered face design – it sold out in many stores.
The discounter had managed to turn its copycat product into the nation's favourite underdog (or caterpillar). Future mimicked brands be warned.
Monitoring platforms
For that reason, Fabulosa is now taking a more proactive approach to managing social media comments. Someone on the team is now constantly scrolling through TikTok, Instagram and Facebook. "We know we have to respond to these things," Sharpe said in an interview with The Grocer earlier this month.
It's an approach the social media experts recommend. "Brands should certainly have tools in place looking out for brand mentions or comments in the social space this enables brands to jump into the conversation, or not," says Jack Appleton, founder of social agency Relentless Media.
Davis of Brilliant goes as far as describing daily community management as "essential for brands that exist on social media" to allow for "a quick response to comments that are unjust or inciting more negative comments towards the brand".
Ultimately, it's better for brands to have their eyes open to any negative comments, so they can make an informed decision on the best way to respond. Plus, a savvy social media strategy can also create another line of defence: happy, positive customers.
These fans will often themselves respond to nasty comments, troll armies or boycott calls. "For brands that have successfully built a community of people who share the same values, a single incident is often dealt with by the community who seek to protect the brands they care about," says Davis.
That point is proven in the case of Wild & Game. Despite the late hour, "our customers all rushed to defend us" Angus says. "If you're genuinely doing the right thing and you've got a good reputation, people will support you."
So the ultimate lesson is this: treat your customers well, and they will return the favour.