Since his creation in 1967 by Rank Hovis McDougall, Mr Kipling's face has never been revealed. Nor has his (fictional) biography.
The brand's first TV ads implied he sold his "exceedingly good cakes" mainly to monied countryfolk and minor gentry. Such urbanity was further suggested by narration from plummy actor James Hayter, along with teasing shots of Mr Kipling's immaculate black brogues and ivory-handled umbrella.
But that was decades ago. Fetishising a rural idyll nowadays would be much less likely to shift Angel Slices. So, were Premier Foods to finally reveal Mr Kipling in full, what might he be like? Who would he be? We invited creative agency The Cabinet to answer those questions.
For its answer, it first took heed of some of pop culture's best-loved characters.
"You only need to listen to the outcry any time a new James Bond or Doctor Who is revealed to understand the level of passion the great British public have when it comes to messing with a long-term and beloved fictional character," says The Cabinet strategy director Elliot Wilson.
With that in mind, the agency approached the creation of Mr Kipling with "some trepidation", he adds. "Anybody who has ever eaten one of his 'exceedingly good' French Fancies has their own view of what this legend of the baking world would and should look like. This is probably the reason the people at Premier Foods have never attempted this.
"The way we approached this lies in the idea that nobody today wants to be 'put in a box', and that one of the challenges of refreshing brand characters year on year is that by the time the characters have been reinterpreted, the world has moved on," says Wilson.
"To combat this reoccurring problem, we came up with a way that eliminates the chance of the character fading away with the times. Instead of creating one Mr Kipling, we have come up with a platform which allows a new character to be born as little or as often as the brand would like."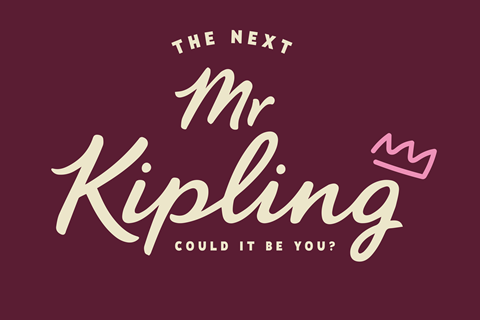 It's called 'The Next Mr Kipling', an annual baking talent show for social media. "Think 'Bake Off' meets 'The Apprentice'," Wilson advises. It will invite contestants of all genders to "reinvent existing Mr Kipling cakes as well as coming up with new ones in a fierce knockout battle". The winner will become the face of Mr Kipling for a year.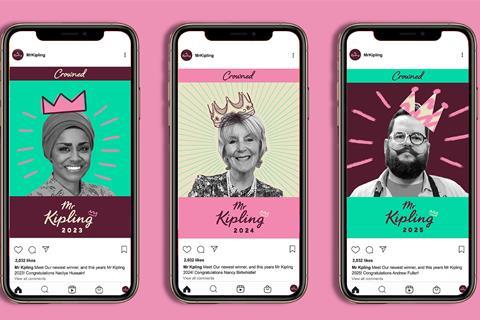 To help bring the concept to life, The Cabinet has devised visuals, including ones that showcase how the new Mr Kipling could be portrayed on pack.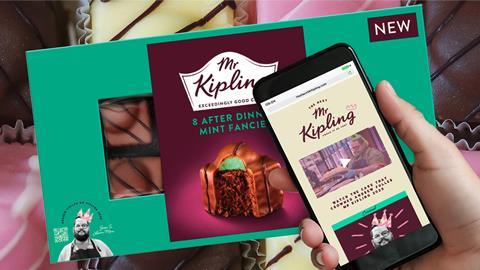 "We appreciate that it is unlikely that the packaging of the brand would be changed annually," Wilson explains. The solution is extended reality – technology that combines virtual reality and augmented reality – which would allow shoppers to use their phone camera to "see the next Mr Kipling come to life".
"Using this approach, the face of Mr Kipling can be kept with the times, and adapt to new and interesting trends through a face of one of its consumers."