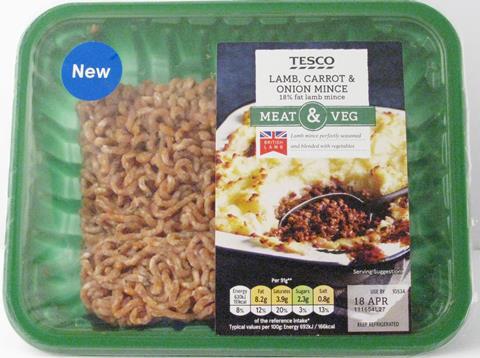 Tesco has continued its push into plant-based with the launch of a new flexitarian fresh meat range.
The retailer launched its 'Meat & Veg' range of seven products combining either lamb or beef with a vegetable blend last week.
Manufactured by Tesco's red meat food partner Hilton Food Group, the products contain more than 30% veg. They are signposted by a 'Meat & Veg' shelf barker in Tesco's red meat chiller, and are packed in green plastic trays.
The new range includes beef, red pepper & carrot koftas (rsp: £3/600g) and beef, carrot & onion bolognese meatballs (rsp: £2/336g). Other products include beef, carrot & onion burgers (rsp: £2.50/454g); lean beef mince with carrot & onion in 250g, 500g and 750g packs, (rsp: £2.19, £3.39 and £4.50 respectively); and a lamb, carrot & onion mince (rsp: £4/500g).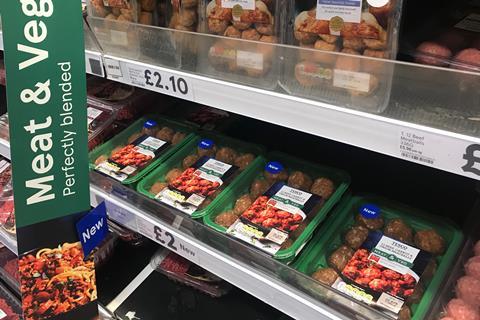 The range compares favourably cost-wise with Tesco's standard own label meat range, with the burgers, meatballs and beef mince priced the same as their meat-only equivalents.
Tesco said the products made scratch cooking easier, removing the need to buy vegetables separately to make the base of popular dishes such as bolognese, lasagne or meatballs. It also provided shoppers with one of their five-a-day, said Tesco director of meat, fish and poultry Mark Suddaby, and would help "adults and children effortlessly add more vegetables to their diets".
It comes a week after Tesco rolled out a new fixture in its fresh meat aisles to stock vegan meat alternatives.
Tesco director of plant-based innovation Derek Sarno said the retailer was seeing a "new kind of shopper" more conscious of health and the environment who was "happy to make dietary changes such as becoming vegan, vegetarian or flexitarian". Changes in eating habits were having a "massive effect" on the way customers shopped, he added. "As a result the retail industry is having to adapt."