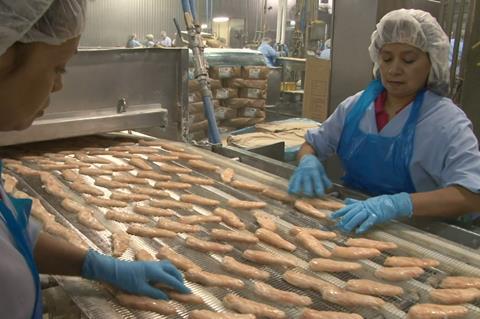 US meat giant Tyson Foods has brought its flagship Tyson brand to the UK for the first time as it pursues what it calls "aggressive aspirations" for the European meat market.
The company, which had a turnover of $42.4bn in 2019, has made the move following its acquisition of major Brazilian meat firm BRF's European and Thai business last year.
It has used the infrastructure it inherited as part of that deal – including two meat plants in its "core markets" of the UK and the Netherlands – as a launchpad into both the UK and continental market. Tyson said it would source meat locally from Europe and from its global supply chain, including Brazil and Thailand.
Its initial offering of 28 foodservice-focused frozen chicken products began to hit the market in early May. But they could move into the retail sphere "over the next year" according to Tyson Foods Europe president, Brett van de Bovenkamp.
"The products are developed to be retail friendly. Their size is a bit big but we [initially] expect to have presence in the independent retail class as many of our foodservice customers service that channel," he told The Grocer.
"Retail is not a heavy share for our business right now so we're not rushing into it – although we have obviously connected with all of [the retailers]. As things settle down into a new normal, we will revisit it and ensure the portfolio is positioned more appropriately for retail."
He added that a small retail trial was about to take place "on the continent".
The products, which include raw chicken breast fillets as well as added-value products such as chicken skewers, will be mid-market to premium offerings. While Tyson does not operate a vertically-integrated model in Europe, it promised to meet its customers' animal welfare and environmental demands.
Van de Bovenkamp said the decision to enter the market under the Tyson masterbrand came about because of the Tyson name's "equity" in the global meat industry.
"For 85 years, it's a brand that has been delivering trusted, innovative products that are safe, high quality and delicious. With our broad and aggressive aspirations to be a protein leader in Europe, there's no better place to start than with a brand that has such strength and heritage globally," he explained.
Tyson's UK plant is based in Wrexham, which has been a hotspot for food manufacturing coronavirus outbreaks.
However, Van de Bovenkamp said there had so far been no cases in any of its European operations and that the firm had implemented new practices, such as temperature checks for employees upon arrival at work, social distancing measures on its production lines and regular education for team members.
Asked about how Tyson is preparing for Brexit and a potential UK-US trade deal, Van de Bovenkamp said it is in the process of putting investment into increasing its "local capacity and production".