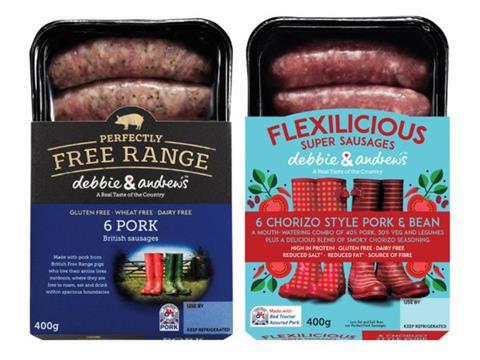 Sausage brand Debbie & Andrew's faces an uncertain future after owner ABP announced plans to close its Kent-based sausage subsidiary WA Turner.
The red meat giant launched a collective consultation process at the company's Tunbridge Wells site last week, following a "comprehensive review of the business". It employs about 185 staff.
The move follows the widespread delisting of all the brand's chilled lines during the autumn of 2017 after several years of declining sales.
The brand did pick up listings for a new frozen range at around the same time. However, it lost its final frozen listing in Tesco last September and was delisted by Amazon Fresh in mid-December [Edge by Ascential].
ABP declined to comment on the long-term future of the Debbie and Andrew's brand, with a spokesman stating: "At this time, our focus is on the consultation period and supporting our employees."
However, The Grocer understands the planned closure of WA Turner – which ABP acquired in 2008 – had been influenced in part due to the current high cost of pork and a desire by ABP to focus on its core beef and lamb businesses.
It comes as the effects of African swine fever on global pork prices helped push the AHDB SPP pork price up to 159.92p per kilo on 15 February. This was up 18% on the same period last year and represented the highest price since September 2017.
Debbie & Andrew's was established in 2000 by the Yorkshire-based Debbie & Andrew Keeble, who went on to launch Heck in 2012.
It was sold by the couple to JJ Tranfield in 2005, which was subsequently acquired by Vion in 2007. However, the Keebles retained an involvement with the brand until they resigned as directors in 2012.
ABP then acquired the business in 2013 for about £300,000, beating a rival bid by the Keebles to buy the brand back.