From beer, wine and spirits to vegan treats, we see what's behind the doors of this year's fmcg Advent calendars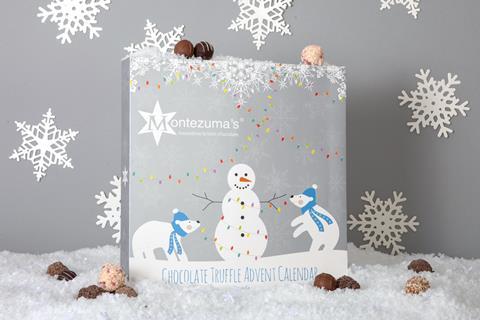 Montezuma's
British chocolatier Montezuma's is adding to its existing Advent range – which includes options for vegans and children – with this truffle calendar (rsp: £24.99). It contains a selection of milk, dark and white truffles in tempting flavours such as The Secret Squirrel (praline), The Colombian Cappucino (coffee) and The Sweet Summertime (white chocolate & raspberry). Available in Montezuma's stores and online from 1 October.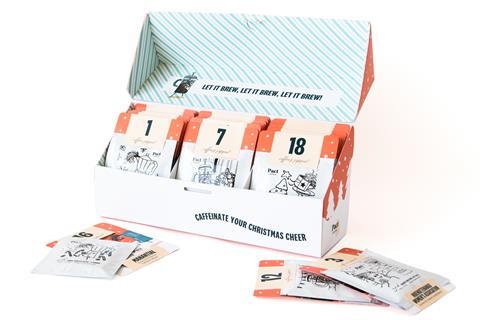 Pact Coffee
DTC coffee company Pact is aiming to 'caffeinate your Christmas cheer' with its new Advent calendar (rsp: £39.95). The box contains 25 sachets, all containing different blends of 'omnigrind' coffee, which is suitable for all brewing methods except espresso. Launching on the Pact website in September, the calendar also contains a tea towel as an extra gift.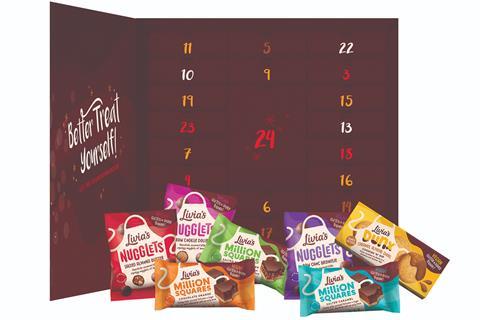 Livia's
Promising a Christmas countdown free from dairy and gluten, Livia's Advent calendar (rsp: £39.99) is packed full of the vegan brand's sweet snacks. These include various flavours of Million Squares, Nugglets and Dunx – a cookie and nut butter dip product that recently underwent a packaging overhaul. Available online and at Selfridges from 7 October.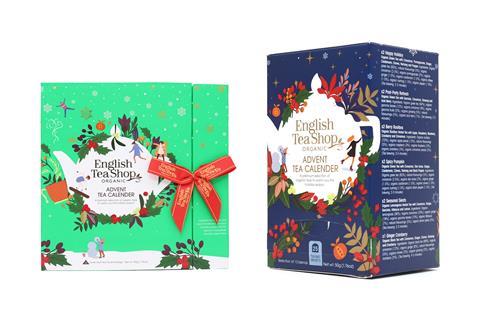 English Tea Shop
Premium tea brand English Tea Shop is launching two Advent options this Christmas. The Book Style Calendar (rsp: £9.80) is available in blue or green, and contains 25 pyramid teabags in 13 different flavours. For the eco-conscious, the teabags, box and outer packaging of the Advent Calendar Sachet Box (rsp: £4) are all fully compostable, and the sachets can be recycled. Available from Amazon and Liberty London, the calendars offer festive flavours such as Spicy Pumpkin, Super Star Anise and Ginger Cranberry.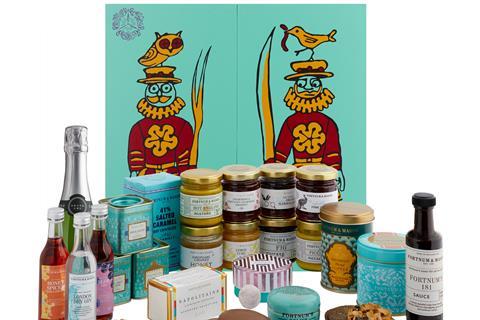 Fortnum & Mason
From its famous tea and biscuits to bottles of bubbly, Fortnum & Mason's Feasting Advent calendar (rsp: £200) is bursting with high-quality essentials and extravagant treats for Christmas. The attractive calendar is decorated with illustrations from the retailer's cookbook.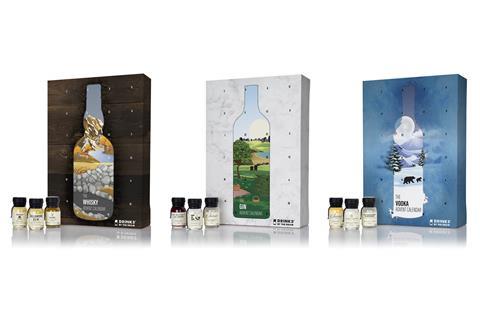 Drinks by the Dram
For the eighth year running, online retailer Drinks by the Dram is offering an extensive range of boozy Advent calendars. A new addition this Christmas is The Explorer Collection. The vodka, gin and whisky calendars (rsp: £100) allow consumers to discover a new brand of their favourite spirit each day of Advent.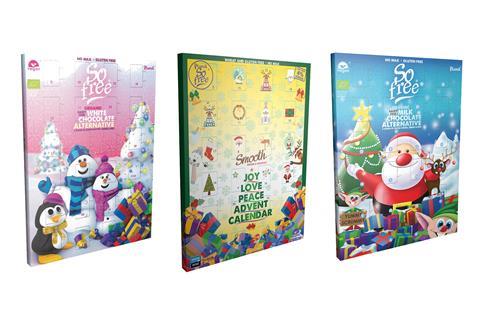 Plamil So Free
This range of free-from chocolate Advent calendars (rsp: £4.95) is available from Suma, The Health Store, Tree of Life and CLF. The vegan and gluten-free calendars come in Organic Milk Chocolate Alternative, Organic White Chocolate Alternative and Smooth Cocoa & Coconut flavours.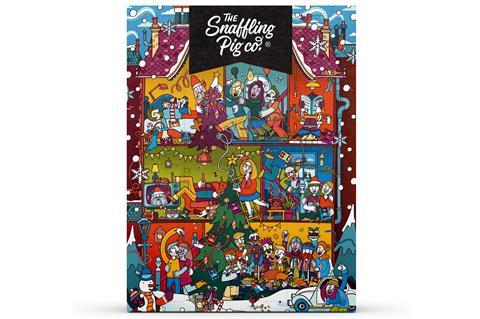 Snaffling Pig
Snaffling Pig has joined forces with illustrator Allan Deas for this year's range of eye-catching calendars (rsp: £17.50), which are all decorated with the same chaotic Christmas scene. As well as its standard pork crackling calendar, the brand has added its first gluten-free option, which contains free-from versions of its Perfectly Salted, Low & Slow BBQ and Salt 'N' Vinegar snacks. For those who like it hot, there is also a new Pig of Doom calendar, containing 24 packets of its Pig of Doom Super Hot pork crackling.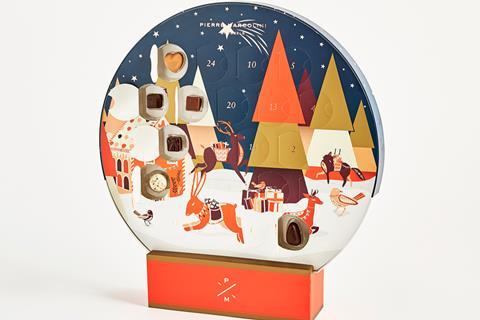 Pierre Marcolini
Belgian chocolatier Pierre Marcolini is launching this snow globe-inspired calendar into Selfridges, Harrods and its Marylebone boutique at the end of October. Depicting trees and animals in a snowy winter scene, the 24 Notes of Sweetness calendar (rsp: £49) contains decadent confections such as the pistachio praline, passionfruit heart, and almond marzipan.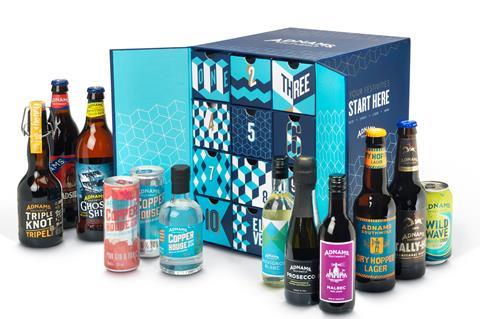 Adnams
There are plenty of Advent calendars out there offering beer, wine or spirits. But with Adnams' 12 Day Xmas Box (rsp: £59.99) consumers don't have to pick just one of those options. The calendar contains some of the brewer's most popular tipples spanning wines, ales and gin, and comes in neat and RTD formats.