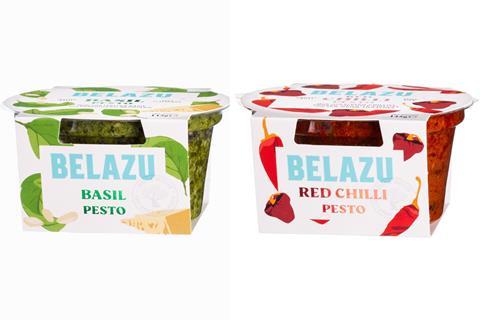 Belazu has launched a "chef-grade" chilled pesto range into Sainsbury's.
Three variants – Red Chilli, Basil, and Red Pepper (£3/135g) – have rolled into the retailer.
Red Chilli features Aleppo chilli with sun and semi-dried tomatoes, Basil stays true to the original Italian recipe, while Red Pepper is made with premium piquillo peppers and semi-dried tomatoes.
They were developed using the same methods as Belazu's pesto for foodservice – which it has been selling to chefs in small batches for the past two decades.
It used high pressure processing methods to "lock in the fresh colour, flavour and aroma" and extend shelf life without the need to pasteurise or add any artificial colours or flavours, according to Belazu.
"Having evaluated the market and researched current trends, we're confident that this range will give home cooks the chance to… replicate restaurant-quality dishes in their own kitchens," said Belazu head of product development Andrew Ritchie.
It comes after Belazu gave its extensive portfolio a radical makeover in March, axing its former olive-green lids and detailing in favour of a sky-blue logo and black lids.
The brand last year launched 'Ve-Du-Ya' – its vegan alternative to Italian 'nduja paste.