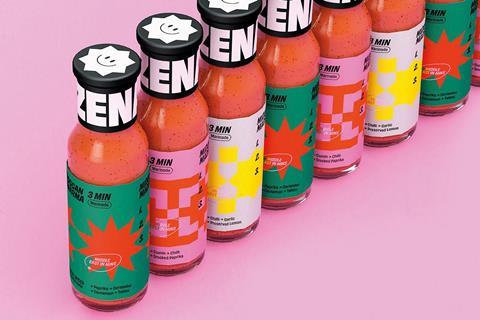 Cuzena is launching a trio of marinades inspired by Middle Eastern cuisine.
They are: Harissa & Lemon, Sahara Barbeque and Moroccan Shawarma.
Harissa & Lemon will roll into the Co-op on 17 October – all three flavours will roll into the brand's webstore on the same date, and various e-commerce sites in November (rsp: £2.99/250g).
The marinades promised "Middle Eastern in minutes", said Cuzena CEO Shadia Al Hili, adding that she wanted to make the cuisine accessible to the masses.
Al Hili – who was raised in Manchester and is of Yemeni and Moroccan heritage – said her intention with the range was to "take on Nando's'" range of convenient cooking sauces with "these really quick, simple three-minute marinades".
"Growing up, I would remix ancient family recipes to suit the speed of modern life. Today, I've put everything I learned into Cuzena: Hidden Arabic flavours, perfected over millennia, but ready to eat when you are."
The brand, which debuted its Chip & Dip houmous pots in 2018, is also planning to launch a new line of chilled snack pots into grocery by January 2023.
It comes as retailers and fmcg brands have been hedging their bets on Middle Eastern cuisine becoming a profitable trend.
Nestlé, for instance, launched MezEast – its own dedicated brand of meal kits, seasoning mix sachets, squeezy sauces, spreads and pastes – in July 2021. Waitrose debuted an Middle Eastern Levantine Table collection in April 2021.
Even drinks suppliers are getting in on the action. Take Opihr Gin, which added a Black Lemon variant in September 2021, said to be inspired by the flavours of the Middle East.