Christmas staples have undergone a radical rewrite this season. With just four weeks to go, here are 24 new products vying for basket space
This Christmas won't be easy for British grocers. Though a damp squib of a festive season in 2020 has left consumers chomping at the bit to stock up on all the Christmassy food and drink they can get their hands on, the industry continues to face major challenges across its supply chain with predictions of bare shelves and higher prices galore.
Thankfully, what shoppers aren't likely to be disappointed by is the creativity and imagination packed into this season's range of new products (assuming they all make it to stores, that is). New releases are full of clever twists on Christmas flavours – including baking camembert with sprout pesto from Aldi, Christmas gyoza from Itsu and Mince Pie Digestives by McVitie's. There's also a raft of on-trend additions, each catering to growing concerns around health, provenance and sustainability. Plant-based is (inevitably) a major element of that, with This launching its first festive range and Higgidy adding to its selection of veggie-friendly winter warmers, among others. So too is interest in booze-free tipples like Belvoir's Peach Bellini and lighter alternatives to Christmas classics like Morrisons' side of salmon.
With all that to tuck into, perhaps the supermarkets are hoping Brits will simply be too bloated to notice a few gaps on shelves. Here's our pick of those most likely to keep them distracted.
1. Higgidy Very Merry Veggie pie
Higgidy, £3.70/250g, Sainsbury's and Tesco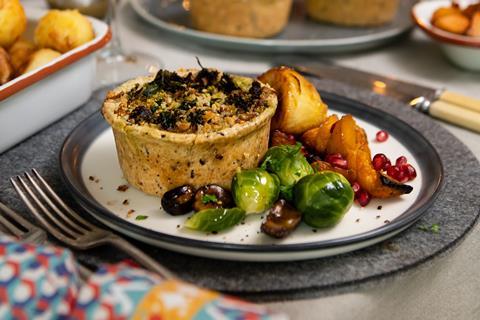 Upmarket pastry manufacturer Higgidy is bringing back this seasonal special. It's made with root veg and chestnuts in a creamy crème fraiche and white wine sauce, a layer of braised cabbage, topped with a sprout, kale and chestnut crumb.
2. Popcorn Shed Maple Bacon Mini Popcorn
Popcorn Shed, £2/100g, Sainsbury's
Popcorn Shed has created a low-cal snacking alternative for health-conscious consumers. These maple bacon sharing packs come in at only 108 calories for a quarter of a bag, are gluten-free and vegan, and are made with half-size popcorn kernels.
3. McVitie's Mince Pie Digestives
Pladis, £1.59/243g, nationwide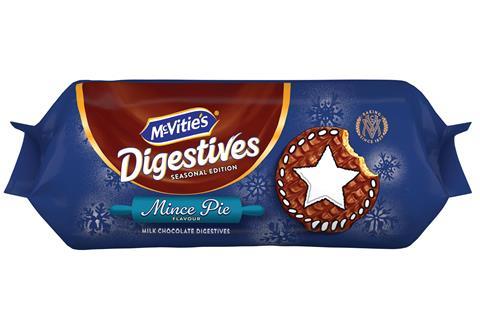 McVitie's has kept the NPD coming. Following the success of its Gingerbread Flavour Milk Chocolate Digestives in 2020, McVitie's has sprinkled some festive flavouring on its classic biscuit once again this year, with a new Mince Pie Flavour Milk Chocolate version.
4. After Eight Mojito & Mint
Nestlé, £3/200g, nationwide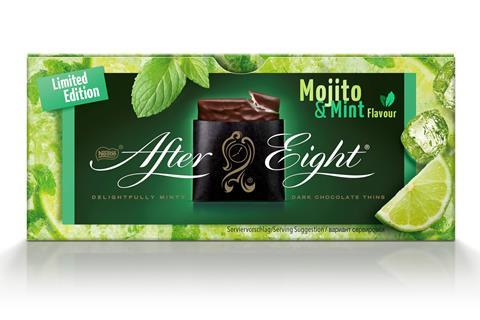 This limited-edition After Eight flavour offers a novel and "refreshing" take on the brand's signature thins. "A sophisticated take" on the classic fondant, the variant is part of a series of twists added in 2021 that include new packs and formats for its classic products.
5. Primo Aperitivo Americano
Primo Aperitivo, £28.75/50cl, Ocado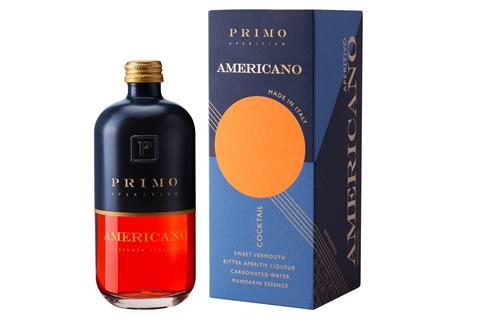 Primo Aperitivo is an Italian company that creates contemporary versions of classic cocktails in ultra-sleek bottled packaging. New for Christmas is an Americano version, made with sweet vermouth, a bitter aperitif liqueur, mandarin water and carbonation.
6. Belvoir Peach Bellini
Belvoir Farm, £2.70/750ml, Sainsbury's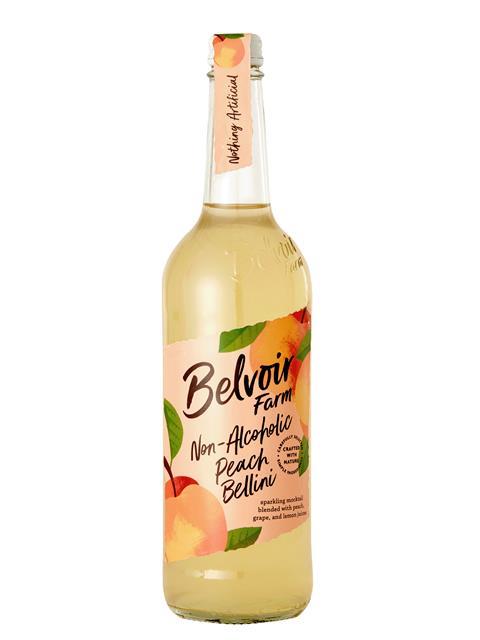 With the low & no market dominated by versions of spirits, beers and wines, Belvoir has tapped into a space less explored: the RTD mocktail. This Peach Bellini drink joins its Passionfruit Martini on shelves, designed to be "full of cheer and hangover-free".
7. Itsu Christmas Gyoza
Itsu, £3.75/12 dumplings, Waitrose and Ocado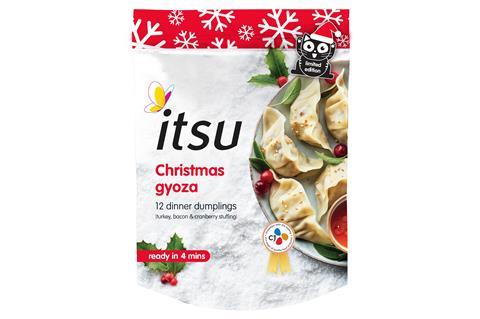 Sales of its grocery brand have soared in supermarkets, surpassing £20m in 2020. Now Itsu wants to grab a piece of the festive peak with these limited-edition gyoza filled with "juicy turkey", pork, bacon, sage and cranberry. They're ready in minutes, on a party platter or as an alternative Christmas Day starter.
8. Gü Chocolate Orange Cheesecake
Gü, £3.30/two cheesecakes, nationwide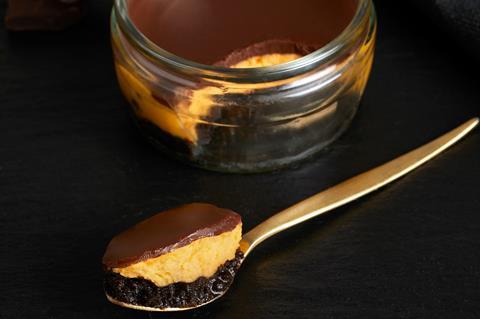 Demand for Gü's decadent puds soared in lockdown with the brand logging the biggest growth in the dessert category in 2020. Off the back of its success, the brand is flexing its development muscles with this Chocolate Orange Cheesecake, a flavour pairing synonymous with the festive season.
9. Baker Street Stollen Cookies
Baker Street, £3/270g, Tesco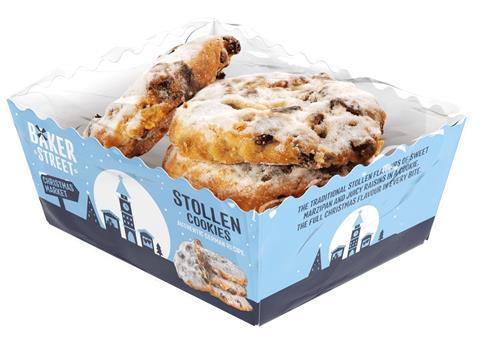 Reframing the famous German fruit bread as a cookie is a clever play by Baker Street, allowing consumers to enjoy the Christmas classic as an easy, on-the-go snack. Other than its format, though, these Stollen Cookies are made to a traditional recipe, combining marzipan, raisins and a generous helping of powdered sugar.
10. Rude Health Crunch Granola
Rude Health, £2.60/400g, Ocado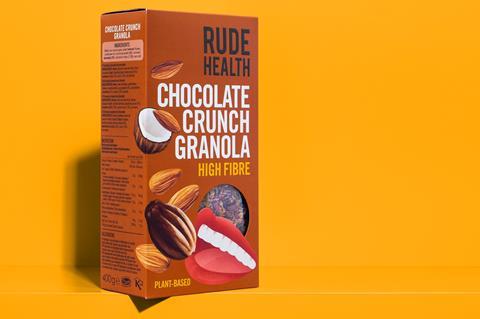 A lighter alternative to the Christmas fry-up, this Chocolate Crunch Granola by Rude Health is vegan, kosher-certified and HFSS-compliant. But despite its appealing health credentials, it doesn't skip on the indulgence, combining cocoa powder, roasted almonds and coconut chips for a decadent bowl of cereal perfect for a cold winter's morning. "We're all about making healthy a celebration, not a sacrifice," says the brand.
11. Moo Free Olivia the Bear
Moo Free, £2.99/80g, Ocado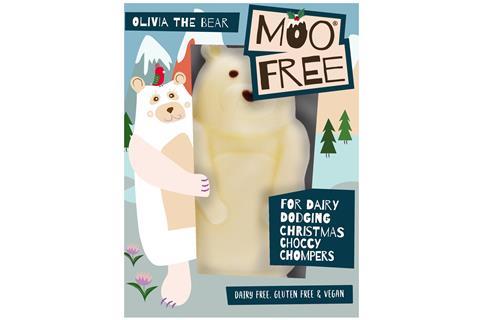 This white chocolate bear is billed as a treat for "dairy-dodging Christmas choccy chompers" and was introduced following the popularity of the brand's milk chocolate counterpart, Oscar the Bear. It's made using Moo Free's own dairy-free white chocolate, "creamy in both taste and texture", and manufactured in the brand's dedicated factory for peace of mind that absolutely no 'moo' has made it into the recipe.
12. Sauce Shop Brussels Sprout Ketchup
The Sauce Shop, £3.49/260g, Whole Foods Market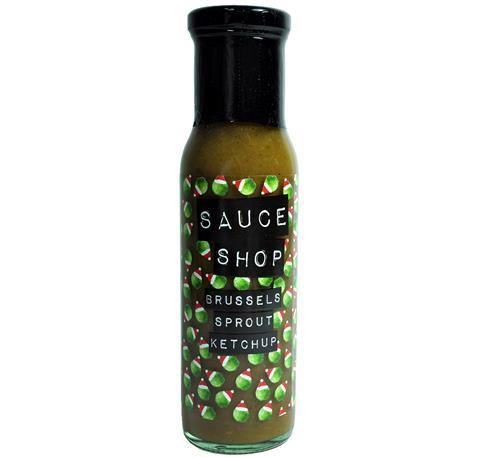 Arguably the most contentious condiment ever developed, this Christmas ketchup contains no less than 61% sprouts and makes for a "very unexpected flavour that just works", insists the brand. Sharp, sweet and lightly spiced, its controversial hero ingredient has already seen it feature on top TV shows, and it can also be bought as part of a Christmas-themed condiment gift set.
13. Elf gin
Manchester Drinks Company, £7.99/500ml, Home Bargains and Quality Save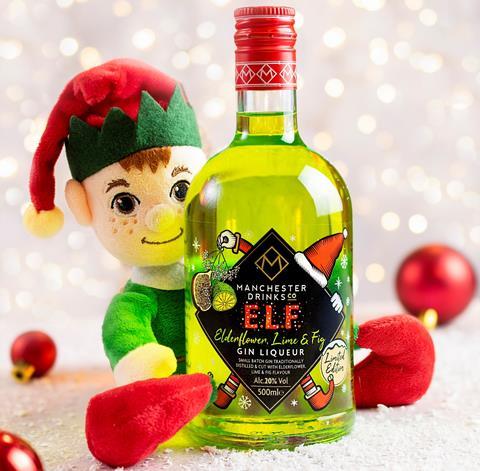 Gin does not come more Christmassy than this launch by the Manchester Drinks Company: a playful gin liqueur packaged in a red and green bottle, perfect as a stocking filler thanks to its accessible price point. Featuring "soft notes of elderflower with the sharpness of lime and balanced by the sweet lingering earthiness of fig" the tipple (20% abv) is also billed as perfect to leave out for Father Christmas.
14. Rudolph's Night Before Christmas Feast Sandwich
Sainsbury's, £3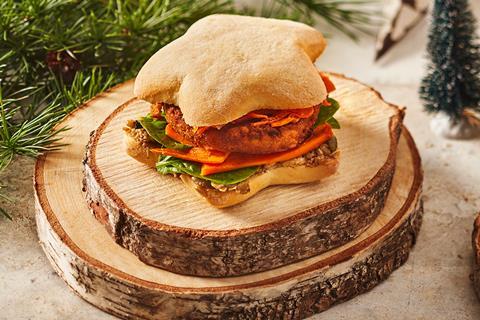 Each year the contest for the best Christmas sandwich heats up between UK supermarkets. This year though, Sainsbury's has kept its finger on the latest trends, going all out for its fast-growing plant-based consumer base. The result is this decadent star-shaped creation, featuring a fresh carrot and root veg patty with umami glazed carrot ribbons, slathered in a caramelised carrot chutney.
15. Snowdonia Cheese Company Cave-Aged Rock Star Cheddar
Snowdonia Cheese Company, £4.50/150g, Waitrose, Ocado, Boots and independents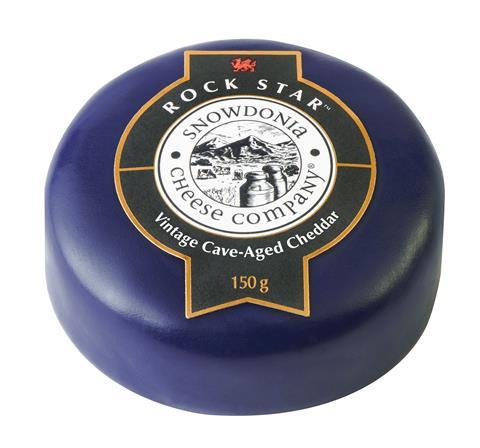 This Rock Star Cheddar from the Snowdonia Cheese Company completes its 18-month maturation in caves in a former slate mine. The result is a "deliciously savoury aroma", with a "smooth and creamy texture" occasionally interrupted by a crunchy crystal. Great for the festive cheeseboard.
16. Flipz Gingerbread Flavour Coated Pretzels
Pladis, £1.50/90g, nationwide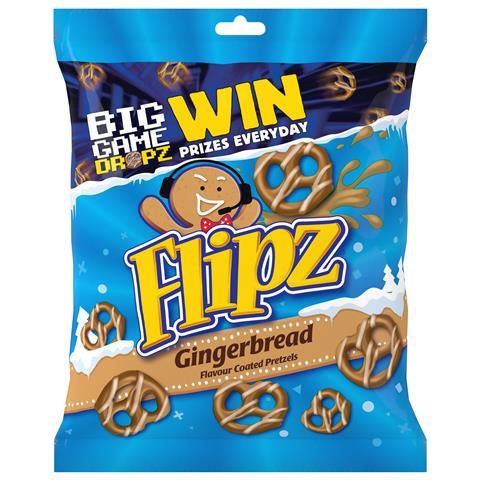 Pladis has said its mini pretzel brand Flipz enjoys a loyal following but it has sought to entice in new demographics with new flavours, including a strawberry cheesecake variety in 2020. The latest addition to the range is this Christmas variety, the same bite-sized pretzels but coated in a layer of gingerbread flavouring for a convenient on-the-go festive snack.
17. Fox's Chocolatey Winter Desserts Assortment
Fox's Biscuits, £4/250g, nationwide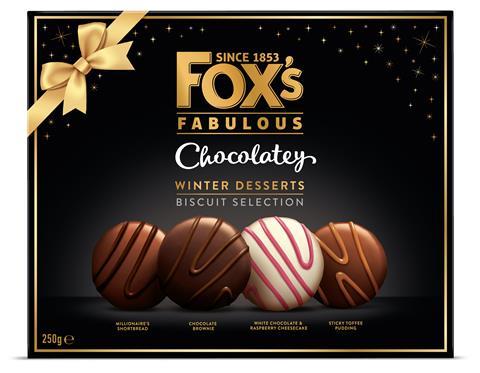 Fox's says its Chocolatey sub-brand has achieved double-digit growth over the past year and this latest addition seeks to fuel that further. Taking flavour combinations from popular desserts including millionaire's shortbread, chocolate brownie, white chocolate & raspberry cheesecake and sticky toffee pudding, this assortment delivers "deliciously sumptuous treats with melt-in-the-mouth flavoured cream centres".
18. Walkers Sausage Roll Crisps
PepsiCo, 65p/single pack, nationwide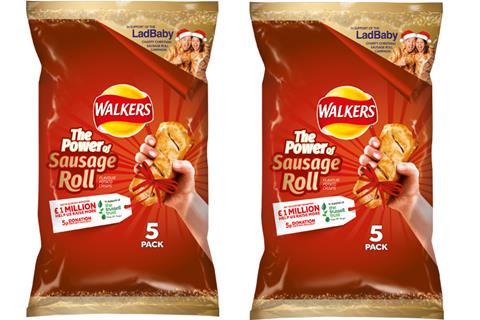 Walkers has had a tricky spell in 2021 after an IT system upgrade disrupted supply of its products and left core SKUs temporarily out of stock. But the brand isn't going to let that glitch ruin its Christmas and has launched a limited-edition sausage roll flavour over the festive period. Even better than its novel flavour is the fact that 5p from every pack sold will be donated to food bank network The Trussell Trust.
19. This Isn't Pork Sage & Apple Stuffing
This, £2.95/240g, Tesco and Waitrose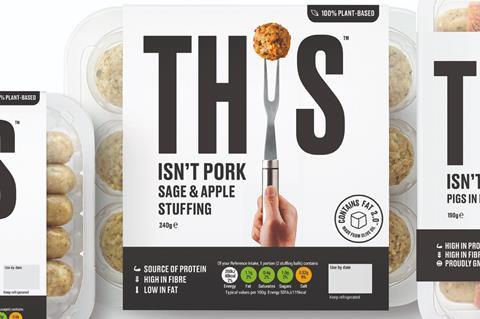 Meat-free brand This is targeting Christmas for the first time in 2021, with a trio of SKUs including this meat-free stuffing "aimed at tempting even more meat eaters to trial and adopt plant-based food". This may not find it easy to cut through the plant-based options in the grocers' own private-label ranges, but coming off the back of a solid year of growth (and an £11m cash injection this summer) it has a great shot.
20. Aldi Baking Camembert with Sprout Pesto
Aldi, £2.99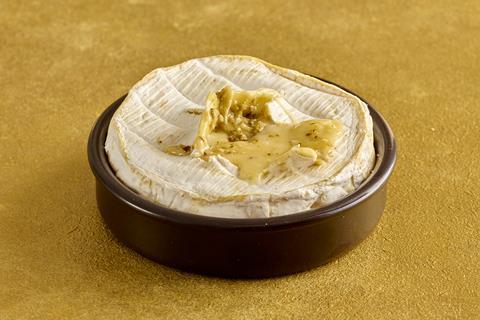 Within its bulked-up Christmas range this year, Aldi has launched a dozen new cheeses from heritage cheesemakers. But it hasn't shied away from adding novel twists to a few Christmas classics either. Rather than settling for a standard baking camembert, it's served the cheese with what the retailer has described as a "unique" basil-based pesto made from sprouts for a "quirky Christmas twist".
21. Tesco Finest 3D Giant Xmas Tree Stuffing
Tesco, £5/400g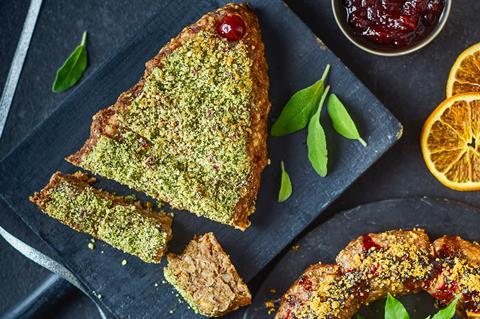 Stuffing has long been confined to a side event on the Christmas plate, buried beneath slabs of turkey, ham and chunky roast potatoes. But Tesco has given the festive staple its due here, with an eye-catching centrepiece of pork, plum, date and brandy stuffing shaped into a Christmas tree and garnished with herby crumb and cranberry hearts. It's part of a big focus on lavish centrepieces by the retailer in this year's Christmas range.
22. Co-op Christmas Dinner Spring Rolls
Co-op, £3/148g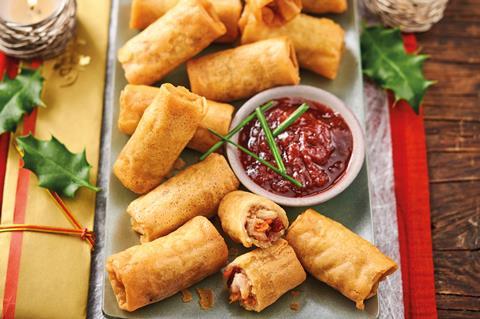 Not everyone loves a roast potato. More detest brussels sprouts. So there'll be plenty of households avoiding traditional fare on Christmas Day. Enter Co-op and this culture clash of a dish, combining key flavours of a Christmas dinner with a Chinese takeaway. Spring rolls are filled with British turkey in a gravy sauce with cabbage and carrot, while the standard hoisin dipping sauce is replaced by sweet cranberry.
23. Tyrrells Nut Medleys
KP Snacks, £6.50/300g, Sainsbury's and Waitrose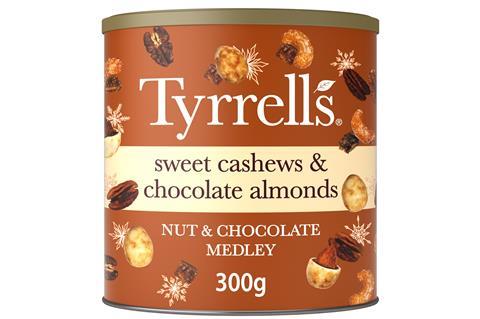 Tapping into the lucrative sharing segment in snacks is this festive launch from Tyrrells. The two premium mixes are sold in a caddy that makes them ideal for sharing. Sweet Caramel is "packed full of sweet honey roast cashews, chocolate coated almonds, pecans and dates" while Cranberry & Pistachio contains "honey roasted cashews, dark and white chocolate pearls, dried cranberries, jumbo dark raisins, and pistachio nuts".
24. Morrisons Lightly Smoked Scottish Salmon Side with Cranberry & Orange
Morrisons, £15/1kg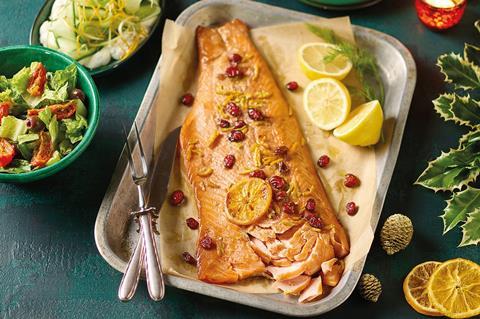 This alternative to turkey was flagged by the retailer as one of its favourite launches this Christmas. The salmon side is decorated with cranberries, orange segments, and orange & cranberry butter, with a sprinkling of orange zest and spices. The fish is reared off the west coast of Scotland and smoked in Morrisons' own kilns in Grimsby.