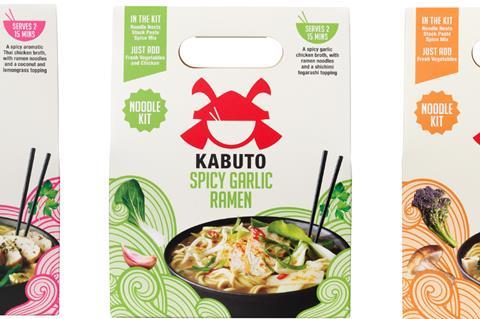 Kabuto Noodles is to make its first foray beyond instant pot meals with a three-strong range of meal kits.
Three ramen SKUs for two – Chilli & Lime Leaf, Spicy Garlic and Mellow Miso – will roll out to Tesco at the end of the month. Each contains two noodle nests, stock paste and spice mix (rsp: £3.50), and is meant to be prepared with protein or vegetables.
The result of about nine months' development, the kits were aimed at expanding Kabuto into new meal occasions, said founder Crispin Busk. "Most of our consumers eat our instant noodles at lunchtime. We wanted to move into the evening but with the same ethos of grown-up Asian flavours."
Influenced by street food trends, the new range would suit fans of instant noodles who "wanted to cook more" at the end of the day, he added. The meal kits were "accessible but still at the premium end of the market".
The original plan had been to include Vietnamese rice paper rather than noodles, but Kabuto "struggled to find the right wrap" Busk said. Each option "either didn't have the right shelf life or it was messy to use". The brand switched to wheat noodles, choosing them over a rice variant because they were the more popular option in Kabuto's pot meals.
The kits also include popular Japanese seasonings shichimi togarashi and furikake – to "add value" and "give people a really good quality meal" Busk added. They provided flavour and gave Kabuto "a point of difference".