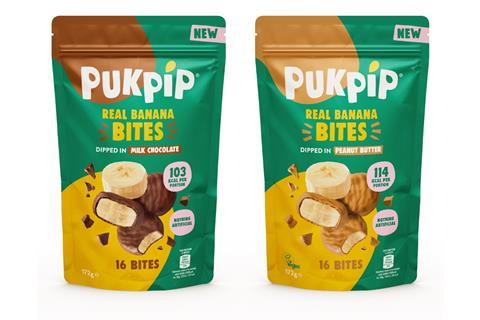 Frozen chocolate-dipped banana brand Pukpip is to expand its portfolio with a snacking range.
Real Banana Bites (rsp: £3.99-£4.50/176g) comprise 16 slices – or 'bites' – of frozen banana, dipped in either chocolate or peanut butter, packaged in a resealable pouch.
Three variants – Milk Chocolate, Dark Chocolate and Peanut Butter – will launch to market in March 2024.
Launched by Ecuadorian ingredients supplier Semvra, Pukpip made its UK debut in January, launching a duo of whole wonky bananas dipped in milk and dark chocolate.
Pukpip then added a third white chocolate variant in July.
Its products are listed by Planet Organic and Whole Foods Market.
While Pukpip has not yet confirmed listings for Real Banana Bites, UK MD Zara Godfrey she was in discussions with major retailers.
Indulgent frozen fruit was already growing "massively" as a category in the US with the UK market likely to follow suit, according to Godfrey.
"Consumers are really receptive to the product," she said, adding "once they try it, they love it".
It comes after reduced-calorie ice cream brand Oppo Brothers last month launched a trio of chocolate-coated frozen fruit snacks into Ocado and Sainsbury's.
Oppo's Dipped range comprises: Strawberries & Raspberries in Milk Chocolate; Banana & Caramel in Milk Chocolate; and Pineapple & Coconut in White Chocolate (all rsp: £5/150g).