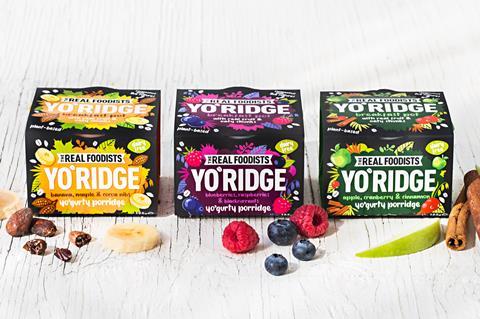 Real Foodists, the 'clean label' startup backed by Müller and Bel Group, has made its UK debut with Yo'ridge.
The NPD is billed as a cross between yoghurt and porridge, but is completely plant-based, combining bio-live cultures and a blend of oats, lentils, sesame and coconut, as well as fruit and maple syrup (rsp: £1.99/125g).
Three breakfast pot flavours - Banana, Maple & Cocoa Nibs, Apple, Cranberry & Cinnamon, and Blueberries, Raspberries and Blackcurrants - have rolled out.
"Our product is really versatile, we're ticking a lot of great boxes," said its CEO Steve Grun.
The brand was "developing more products in the dairy alternative categories – cream cheese, soft fresh cheese, ice cream, frozen yoghurts" which would be "stable without adding a lot of strange ingredients", he added.