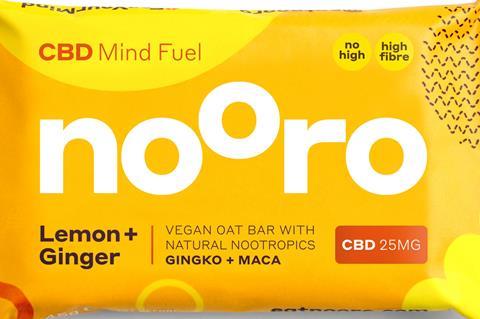 Grocery's burgeoning edible cannabis market has been joined by the Nooro CBD snack bar – which its makers claim is a UK first.
The lemon & ginger snack rolled this week into Planet Organic, offering 25mg of cannabidiol per 45g portion (56mg per 100g). This was "your daily dose of CBD" Nooro said. It is mixed with plant-based nootropics gingko and maca, which are "great for cognitive function". Other ingredients include peanut butter, cacao nibs, and oats for slow-release energy.
Vegan and high in fibre, the new bar (rsp: £2.49/45g) is aimed at providing "clarity and balance to fast-paced lives".
It brought something different to the functional snacking category, claimed Nooro CEO JD Furlong. "We are focused on mind health, not protein or energy for the body. It's a disruption to the fixture that has been threatening to explode for a year or so.
"Consumption of CBD in its various forms is steadily on the rise, and we're incredibly excited to launch the UK's first CBD snack bar."
While Nooro does not create a high, it would "help a generation reaching the point of burnout to find some much-needed balance and live a healthier life" Furlong added.
Nooro is just the latest of a raft of cannabis products launched in recent months by food and drink makers. Last week, London startup The Hashtag Company unveiled hemp-infused Cannacoffee for the hot beverages market. This followed the likes of Jackpot's cannabidiol peanut butter and Drink 420, the CBD soft drink created by Simplee Aloe co-founder Alex Lai.
In January, exclusive research commissioned by The Grocer found that a third of UK consumers would buy food and drink products containing CBD.
However, later the same month, the Food Standards Agency announced a clampdown on the growing cannabidiol grocery market. Once categorised as a supplement, CBD is now classified as 'novel food' and is subject to stricter regulations.