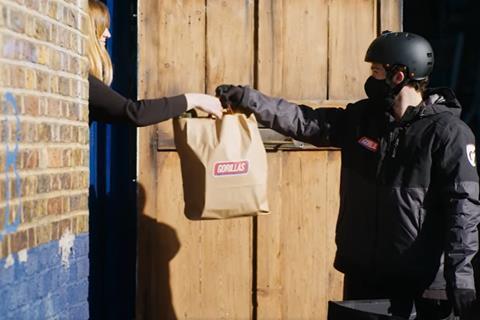 German delivery startup Gorillas – which promises grocery orders within 10 minutes – has launched in London.
The delivery service – which offers a full range of groceries delivered from its own distribution hubs at "retail prices" – is now delivering to Angel, Shoreditch and the surrounding areas, The Grocer can reveal. The tagline for the company is 'faster than you'.
The London launch comes after several months of rapid expansion into new towns in Germany and the Netherlands.
Gorillas – which in December raised $44m in Series A funding – says it is "on a mission to redefine convenience retail".
"With our 10-minute grocery deliveries we are disrupting the supermarket space, one of the biggest markets still in the hands of traditional players," the company said.
The company is currently advertising for several roles to lead its UK operation, including general manager, brand partnership manager, warehouse heads and head of operations.
Riders are employed directly and paid an £11.50 an hour salary plus tips.
To mark the launch, app users are being offered £10 off their first order and a £5 bonus for inviting friends onto the app.
Gorillas is the latest in a slew of ultra-rapid delivery services offering groceries in less than 15 minutes, fulfilled from distribution sites in residential areas. Two former Deliveroo executives this month launched Dija, promising groceries within 10 minutes to customers in South Kensington, Fulham and Hackney. The company will serve customers in more than 20 locations by summer, it said, providing access to around three million Londoners.
Turkish rapid delivery firm Getir announced its arrival in the UK in January, offering a range of groceries to customers in London zones 1 and 2.