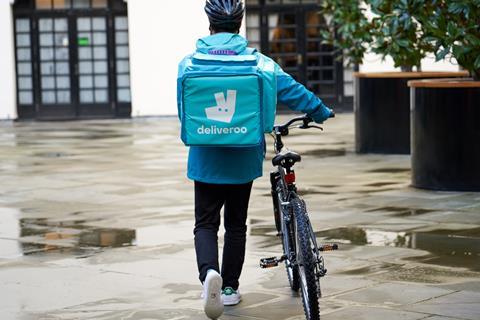 Deliveroo plans to expand its service into 100 new towns and cities in the UK this year, giving four million more Brits the ability to access food on its platform.
Yeovil, Bangor (Northern Ireland), East Kilbride, King's Lynn, Scarborough, Llanelli and Exmouth are among the towns due to get access to the platform this year in response to customer demand.
Deliveroo will also be extending the reach of its services in all 150 of the towns already served, with an initial focus on Glasgow and the home counties. Eventually, approximately two thirds of the British population would be able to order on the platform, the company said.
Over the past year, 20,000 new restaurant partners have joined Deliveroo and the company has launched 36 new grocery partnerships, including with Aldi, Morrisons, Sainsbury's and Waitrose. Through 2020, the company doubled its rider count from 25,000 to more than 50,000.
"With further lockdown measures now in place across the UK, we want to do everything possible to help households get the food they need and want, and play our role to make sure families across the country have a wide selection of amazing food, drink and household products to order in as little as 30 minutes," said Carlo Mocci, chief business officer UKI, Deliveroo.
Deliveroo is expected to launch an IPO this year, with some reports indicating it could come as soon as the first quarter. The move comes after the the Competition & Markets Authority in August cleared Amazon's 16% investment in Deliveroo, ending a 15-month investigation into the deal. The clearence came with a significant caveat, however, with CMA inquiry chair Stuart McIntosh warning an increase in Amazon's stake "could trigger a further investigation".
Grocery is a key focus of the courier, with the new deals with supermarkets providing cushioning against the closure of many restaurant partners in the pandemic.
"The expansion will allow households facing the new lockdown measures across the UK to access a wide selection of essential food, drink and household products from local restaurants and major grocery brands," the company said.
As well as its expansion across the UK, Deliveroo will this year more than double the number of Editions 'dark kitchen' sites it operates worldwide, it said.