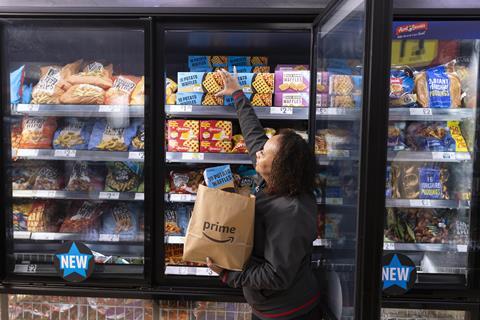 Iceland has launched on Amazon.co.uk offering thousands of SKUs to Amazon shoppers, picked and delivered from its own stores.
The discounter joins Morrisons and Co-op as a third-party supermarket partner on the Amazon marketplace, as the e-commerce giant "doubles down" on its grocery ambition in the UK.
The available selection will include Iceland's own-label fresh and frozen items, and brands including Greggs, Heinz, Myprotein and TGI Fridays. Items are sourced directly from a local Iceland store and delivered by Amazon couriers.
"Teaming up with third-party retailers we know our customers already love gives us the opportunity to offer customers even more choice and delivery options from their product ranges directly from our website," an Amazon spokeswoman said,
Amazon said it hoped to offer shoppers "all their grocery needs served through one relationship, one app, and a familiar experience".
Same-day delivery of Iceland goods with two-hour scheduled time slots will be free with Prime membership on orders over £60, £2 for orders between £40 and £60 and £4 for orders between £15 and £40. There is a minimum order value of £15.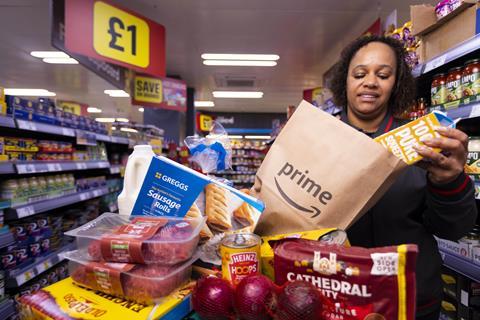 "We're committed to helping our customers shop the way they want and access our great-value products whenever they need them most. Partnering with Amazon is yet another way Iceland customers can get their hands on our exclusive brands and freezer favourites," said David Devany, Iceland's chief customer & digital officer.
"This is also an exciting opportunity for us to introduce new shoppers to the benefits of shopping with Iceland," he added.
Initially, shopping Iceland on Amazon will be available in selected postcodes within Greater Manchester, but the offering will be "expanded to more Amazon Prime members across the UK in the coming months".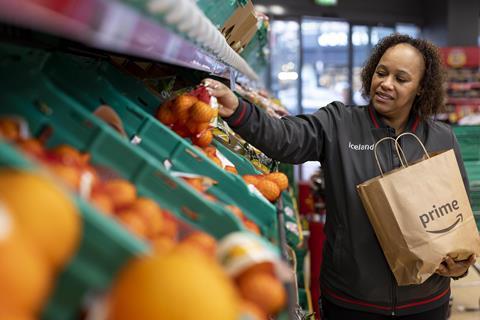 Amazon's relationship with Morrisons goes back to 2016, when a wholesale supply deal was struck which saw the supermarket supply fresh and frozen groceries to customers on what was then known as Amazon Prime Now and Amazon Pantry. By 2019, the partnership evolved with Morrisons becoming a retailer on the Amazon marketplace, and the following year a dedicated Morrisons online store front was unveiled.
Co-op made 10,000 SKUs available to buy on Amazon in 2021, giving Prime members the ability to do "their full Co-op grocery shop" on the site.
"We've seen how much our customers value the choice provided with Morrisons and Co-op, and our partnership with Iceland continues to grow the wide grocery selection available through Amazon," said Russell Jones, director, Amazon grocery partnerships.
"Our new partnership offers customers an even bigger selection of great value groceries on Amazon, with lots of delivery options available for Prime members," he added.