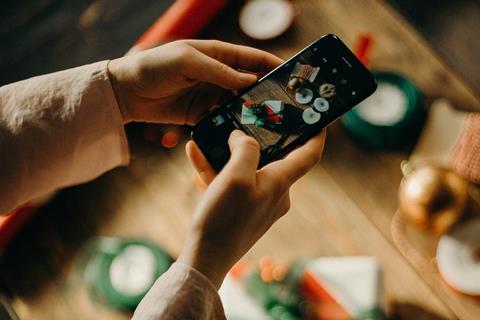 As we head into one of the most unique Christmases many of us have had, we sit on the cusp of not only the UK's first wholly digital Black Friday event, but also grocery retail's most digital Christmas ever. Over the months of the pandemic I've taken a look at the variety of changing behaviours that we've seen. In that vein, we've identified a number of key shifts in online shopping behaviour during the pandemic, which may help retailers reach consumers during this all-important period:
1. UK consumers are ready for Christmas
In the UK, Google Search Trends data shows searches for 'Christmas shopping' are up 1,800% compared with the same period last year.
Google Search Trends data shows that the UK has the highest search interest for Christmas worldwide.
2. Consumers are using their purchasing power for the greater good, and are open to change
Seventy-six per cent of UK consumers say they're open to buying from new retailers.
Global searches for 'available near me' have grown 100%-plus year on year, indicating a significant rise in the purpose-driven shopper.
Fifty-five per cent of UK consumers who plan to shop this Christmas have said they will shop more at local small businesses.
Based on new research by Google and YouGov, 88% of consumers who are now shopping more locally say they're likely to continue to do so.
3. Digital newcomers are driving retail growth
Over 50% of consumers globally have discovered at least one new form of online shopping and claim they plan to continue.
Seventy per cent of UK consumers are planning to shop online more than they did in previous years during the Christmas holidays.
Some of these shifts are truly transformational for a huge amount of retailers and businesses who can take advantage of them, and obviously tracking how these behaviours continue to change will be vital.
Taking a more granular look into the Christmas-ready consumer, with many of us still unsure where and who we'll be sharing it with, it's been remarkable to see how early our planning seems to have started as search interest in traditional Christmas categories surges.
During the four weeks leading up to 26 September this year, search interest for the term 'Christmas tree' increased 32% compared with the same period in 2019. 'Christmas stocking' (+26%), and 'Christmas decoration' (+32%) have also seen spikes in search interest, as consumers look ahead to a festive season conducted mostly at home.
This time of year is also when consumers start planning their Christmas food to order and we've seen surges in growth across many retailers, in particular for 'M&S Christmas hampers' and 'Tesco festive food' alongside both 'Lidl Christmas food range' and 'Aldi Christmas party food'.
This might well be shoppers looking for ways to send some festive spirit to friends and loved ones now they're socially distanced, as indicated by search interest in 'hampers' up 91% year on year and food gift baskets appearing in the top 10 of the monthly Rising Retail Categories, a tool that can help businesses keep track of what's proving popular and capture unexpected demand.
It's going to be a very different sort of Christmas season, but still a special one for millions of people hosting what looks like anywhere between one and three households and buying gifts and connecting with loved ones. Digital will play a bigger role than it ever has before for many families, in particular when it comes to food and drink. Helping them find what they need is more important than ever this year.