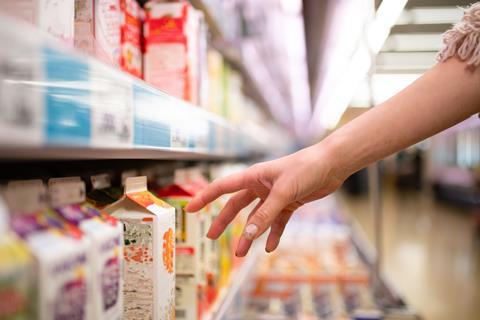 Consumer demand for food and drink with additional health and wellbeing benefits has grown significantly over the last decade. Functional products – from protein-infused Weetabix to chickpea-based chocolate snacks, kombucha drinks and "destressing" beverages such as Driftwell from PepsiCo – have spiked in popularity, offering benefits beyond just taste and experience.
The functional wellness drink market is now worth £240.2m, totalling 2.7% of the soft drinks market, and 31% of consumers are now interested in purchasing premium soft drinks with additional functional benefits. Unilever estimates the fortified food and drink marketplace will be worth $235m by 2031.
The demand is also borne out by consumer research. In recent polling commissioned by Xampla, over half of 18 to 24-year-olds said they do not get enough vitamin D in their regular diet or through sunlight exposure. Meanwhile, nearly half of the 4,000 consumers surveyed preferred to increase their vitamin intake through food and drink, rather than tablet-form supplements.
This creates a whole host of opportunities for the products people know and love to be re-engineered towards wellbeing. But brands in this space must be sure to make clear claims about nutrient content.
A decade ago, it might have been commercially adequate to say a drink simply "contains vitamin C". Today, manufacturers want to be clear that a drink would provide, for example, 50% or 100% of the recommended daily allowance.
Crude plant materials do not contain high concentrations of active ingredients, so it is necessary to add a disproportionate amount to make valid claims about the nutritional benefit of a product. Stability is also a factor – for example, oil-based solutions tend to separate from the beverage into which they're mixed.
Brands are therefore looking for new ways to control the stability and effective dosage of added ingredients within liquids. When it comes to vitamins, there has traditionally been a choice between natural sources or synthetics, and between dealing with these as solids, water or oil-based liquids, or as spray dried powders.
Similarly, in the growing added botanicals market, there are lots of different ways to add the material, from using ground plant material to steam extractions or oil-based extractions. But all have downside in terms of stability, flavour and potency.
Technological advances are now pushing forward new solutions to overcome traditional barriers such as the pasteurisation and degradation of vitamins by UV rays.
In partnership with Britvic, for example, our scientists in Cambridge are trialling vitamin fortification technology, which protects the added ingredient inside a microscopic, plant-based capsule. In turn, this will see customers able to increase their vitamin intake from everyday products they already know and trust. In addition, a raft of food and beverage companies are also going back to fundamental research to develop new, more clearly evidence-backed health claims for existing stable ingredients.
The range of innovation in the market shows companies are responding not just to consumer demand but to ever more discerning consumers, who will hold wellbeing claims firmly up to the light. Those investing in solutions that will stand up to intense scrutiny are those best positioned for the future.