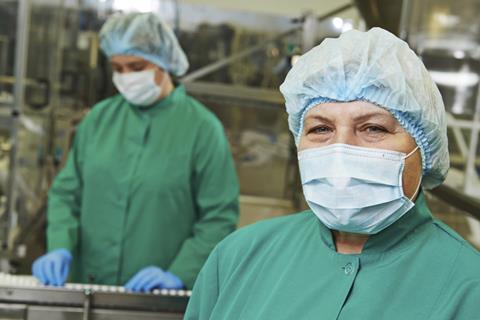 The government today unveiled plans to start carrying out mass Covid testing of food workers in an effort to avoid a workforce crisis over the winter.
Former Sainsbury's CEO Mike Coupe, now director of Covid-19 testing at England's Test and Trace agency, presented plans to supplier and retail bosses this morning, which if successful will see hundreds of thousands of food workers face tests everyday.
Codenamed Project Enable, the scheme comes after Prime Minister Boris Johnson yesterday laid out plans for food workers to be prioritised in the testing process in the fight against the disease.
Trials of the testing programme have already begun.
Coupe is understood to have told those at today's meeting that "the food industry is high on the priority list" and "mass testing is ramping up".
It is understood Project Enable will be scaled up to go nationwide across food production plants from next month and it is hoped it will avoid another spike in absenteeism, which in the first wave of the virus saw more than a fifth of the workforce in many factories off at any one time.
"The testing programme is something that has been piloted with a few companies and the aim is it will be rolled out as daily tests as a bridge for the industry between now and when vaccination becomes available," a source involved in the talks told The Grocer.
"The idea is it could drastically cut down the amount of people that could have to self-isolate because colleagues of those who test positive would be able to carry on working if they themselves tested negative."
"Used in conjunction with other measures such as the splitting of teams into different shifts as well as social distancing measures, hopefully it will prevent a second spike in absenteeism."
Under documents released by Downing Street yesterday, workers at food manufacturing plants were identified as a high priority for rapid testing, along with NHS front line workers, care home staff and prison workers.
Coupe is understood to have told industry leaders: "We want to co-create a mass testing program with the food industry."
"This is a positive step forward for the food and drink industry," said another source in the talks. "We need an effective testing programme to minimise absentee rates which inevitably rise during the winter months.
"The fact that the project is being run by someone familiar with the industry can only be a positive thing.
"Having Mike Coupe head this up is reassuring in a sense because we know he has experience of working on the front line in the food and drink industry and understands the issues it is facing," added another source.
However, The Grocer also understands there has been scepticism over the ambition of the scheme, following previous failed targets on testing and problems plaguing the rollout of apps which had been billed as a key weapon in stopping the spread of the virus, which were also trialled with the industry.
The government yesterday announced it was spending £7bn to support increased testing as part of its Covid-19 Winter Plan.