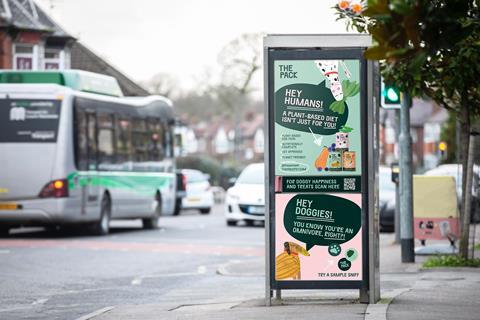 Vegan petcare startup The Pack has launched its first advertising campaign plugging plant-based diets for dogs.
Splashed across phone boxes in London's "dog-friendly neighbourhoods", the campaign features 'split messaging' targeted at dogs and their owners.
The top panel of each phone box, targeted at dog owners, states: 'A plant-based diet isn't just for you!', while the bottom panel, positioned at "perfect pavement height" for dogs, reads: 'You know you're an omnivore, right?!'.
Called 'Hey Humans! Hey Doggies!', the campaign aimed to drive awareness of the brand and "get people thinking about vegan dogfood", said The Pack.
The campaign launched on 20 January and will run for one month.
"We know consumers are applying environmental and healthy diet principles to their pets," said The Pack co-founder Judy Nadel. "The Pack is here to help them along the way.
"As thousands sign up to Veganuary this month, we want to turn heads and get tails wagging across London with our latest campaign and let people know that eating a plant-based diet isn't just for them, it's for dogs too."
It comes as The Pack this month partnered with casual dining brands including Biffs, BrewDog, Purezza and Vurger to offer its vegan dogfood to pups dining with their owners.
The brand claimed a world first last September when it debuted with a trio of wet plant-based dogfoods designed to simulate meat.
However, it's certainly not the only petcare brand that has been busy innovating in plant-based petfood over recent months.
Take Lily's Kitchen, for example. In December it launched 'Plant Power', a dedicated plant-based range for dogs.
Brighton startup W'zis launched its own range of premium plant-based chews and mini-treats in November.