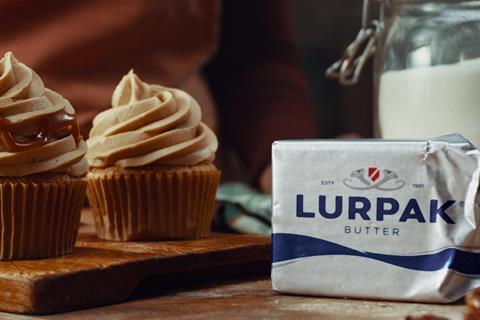 Arla Foods will launch a plant-based variant of its market-leading butter brand Lurpak in 2024, The Grocer can reveal.
The dairy co-op is keeping the ingredients of the product, its format, and the launch date under wraps, but said it was already in discussions with the market over the launch.
Arla was confident the new variant would "deliver on the high quality and good taste that Lurpak stands for", said its executive VP for Europe Peter Giørtz-Carlsen. And he stressed the product would, like its dairy-based cousin, contain only natural ingredients with "no emulsifiers or stabilisers".
The new variant would also offer the same versatility as standard Lurpak, would be the "same kind of premium product" and would "fit into the price positioning you see today", he added.
Lurpak has long been the UK's biggest-selling butter brand. Last year it racked up sales of £375m, according to NIQ data for The Grocer's Top Products report [52 w/e 10 September 2022].
This figure was almost five times larger than the sales of its nearest plant-based rival, Upfield's Flora. However, it also represented a fall of 4.7% in value on the previous year. Volumes dropped by 17.7% – while inflation drove an average price hike of 15.8%.
Launching a plant-based version of the butter, which Arla hopes will also carry vegan-approved status, would enable Lurpak to retain its long-held status as a "category captain", Giørtz-Carlsen said.
Arla research showed 80% of Lurpak's global customers were over the age of 45, while 80% of UK customers who consumed dairy also consumed plant-based alternatives, he added.
"It's important to us to continue to cater for customers and give them a choice to keep them in our brand," he said.
The launch of a plant-based variant comes amid signs of a downturn for plant-based alternatives to both dairy and meat.
The likes of Nestlé announced it would delist its milk alternative Wunda earlier this year, while brands such as Innocent and Benecol have also pulled away from the dairy-free category. Veganuary sales for alt milks rose by just 0.9% this year, compared to 28.8% for conventional milk during the same period, according to NIQ data published last month.
However, Giørtz-Carlsen was relaxed about any signs of a downturn, pointing to how other big dairy brands such as Saputo have successfully launched plant-based extensions to key brands such as Cathedral City last year – which it followed up with a soft cheese alternative last month.
Arla also has previous experience of branching out into plant-based, after it launched its oat-based alt milk Jörd in the summer of 2020.
"We're now seeing some change, with established brands coming into the category. We didn't want to come in unless we could prove it could live up to the brand," he added. "We believe it is unique… we have cracked the code on taste."
The news comes in a busy week for Arla, which announced dairy industry stalwart and UK MD Ash Amirahmadi was leaving the business after almost two decades on Wednesday.
He will join Karro and Young's Seafood owner Sofina Foods Europe in August as its new CEO.