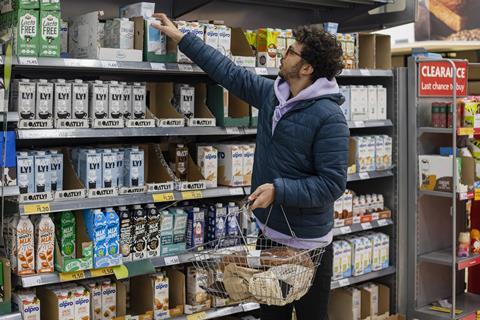 Plant-based categories are struggling for growth due to the cost of living crisis, new data from NIQ has revealed.
Veganuary unit sales in 2023 declined for chilled meat alternatives by 16.8%, with sales of frozen meat alternatives falling by 13.5% compared to 2022 figures, NIQ said.
Meanwhile, plant-based milks saw marginal growth (up 0.9%) compared with a 28.8% jump in sales for conventional milk during the same period.
Plant-based alternatives still cost significantly more than standard ranges despite slower inflation, with NIQ suggesting it was likely shoppers were becoming more price-sensitive.
"UK consumers are being faced with challenging economic pressures, and price is an important factor dissuading flexible eaters from buying into meat and dairy alternatives in the current climate," said Katrina Bishop, UK thought leadership activation manager at NIQ.
Price messaging
She added that the retail focus on overall price messaging had impacted sales during the period.
NIQ's data found that 73% of plant-diet shoppers were actively trying to make savings on their grocery bills, with their preferred method being buying via promotions (62%).
The data also showed Aldi and Lidl's shares of dairy and meat alternatives have risen to 7.7% and 5.4% respectively, compared with other grocery retailers where sales either remained the same or declined.
However, NIQ said there was still a market for plant-based products and its data showed 38% of the UK's population were replacing meals containing meat with alternatives at least once a week.
At the same time, plant-based dessert brands like Magnum vegan and Little Moons performed well, up by 7% and 2168% respectively.
Messaging was key to supporting the category, said Bishop: "Bringing the out-of-home occasion inside can save money, even with premium products, and consumers are still willing to spend on occasional indulgent treats.
Sustainability
"It's also crucial to pay closer attention to your target consumer – messages around health and sustainability resonate strongly with shoppers who are regularly eating a more plant-based diet, so focus on ensuring these are clear when promoting such products to shoppers," she added.
According to plant-based brand Future Farm's EMEA APAC sales director Jack Read, taste and texture was key to creating "loyalty to the category and loyalty to the brand as well".
However, he did recognise that it was more of a "premium category" and that "price is going to be super important – the more that price gap closes between meat and plant-based, that will continue to help the category to grow".
It comes as The Grocer reported in March that there had been broad supermarket rationalisation in the meat-free categories, with brands such as Nestlé's Garden Gourmet being axed in recent months and the likes of Heck scaling back its plant-based options.