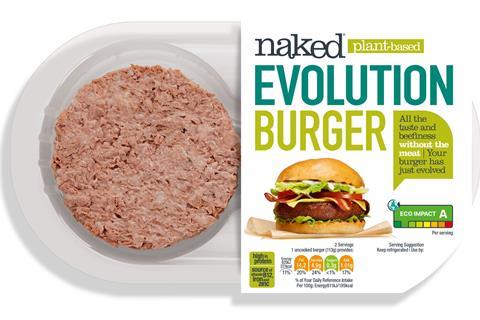 Finnebrogue has launched a vegan meat-free burger under its Naked brand, which it claims will rival the Beyond Burger in terms of both price and taste.
The pea-protein-based Evolution Burger, which went on sale last week in Waitrose, Ocado and Dunnes Stores, has a recommended sales price of £3 for a 226g pack containing two patties. A pack of Beyond Meat patties, of the same weight, currently cost £5 in Tesco..
In terms of taste and texture, the NPD was said by Finnebrogue to be "bursting with chargrilled flavour" with all the "succulence, texture and beefiness" expected from a meat burger.
According to blind taste tests carried out by a panel of experts at UK food science and technology centre Campden BRI, the new burger matched the Beyond Burger in terms of overall eating enjoyment, with a score of eight out of 10.
Billing the nascent rivalry as a family-owned business taking on a multibillion-dollar plant-based giant – a PR tactic successfully deployed by Glebe Farm Foods during its court battle with Oatly this summer – Finnebrogue claimed its NPD was the first in a new wave of meat-free burgers.
"The Naked Evolution Burger is a next level burger, and the result of many months of research, trials and flavour tasting," said Finnebrogue Artisan head of new product development Sarah Savage. "Our vision was to create a succulent 'beefy' burger that would taste amazing, but without the meat.
"What we have created is an evolved plant-based burger, suitable for vegetarians and vegans, that is high in protein, contains less saturated fat than a real beef burger, and is priced competitively without compromising on quality, flavour or sustainability."
Savage said the patties would be packaged in a fully recycled and recyclable tray and would carry a grade A Foundation Earth enviro-score – on-pack trials for which began in earnest last week on products from brands including Meatless Farm and Mash Direct.
She added the NPD would be followed in "the coming weeks" by a meatball-style product also bearing the Naked Evolution name.
It comes as Finnebrogue has extended its seven-year supply partnership with Asda own-label with a deal that would see it produce six new products that are to roll out into 250 stores nationwide.
Three of the new SKUs would form part of the retailer's plant-based range. The NPD included Extra Special Vegan Halloumi Balls, a Plant Based Fish Fillet and a Plant Based Katsu Kiev.
Meanwhile, the other three meat-based products would include Extra Special Currywurst Sausages and Extra Special Limited-Edition Pork, Cheddar, Chilli & Leek Sausages as well as a Butchers Selection Maple Breakfast Squares product.