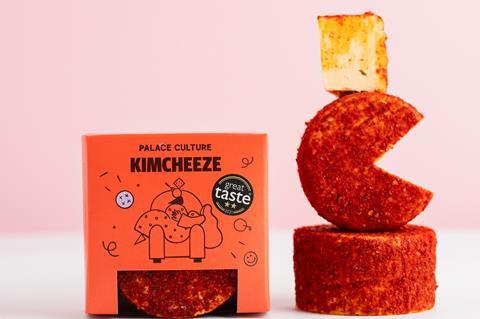 Palace Culture has announced a first major retailer listing for its range of vegan cheese alternatives.
The plant-based Compleat Food Group-owned brand launched three products into Waitrose on 15 November: Kimcheeze, Mouldy Goaty and Holy Smokes, which it claims to be more than a match for their dairy-based equivalents.
Kimcheeze (rsp: £5.99/120g) is made using semi-soft cashews with a creamy texture and an earthy sweetness from kimchi brine, taken from the kimchi created by Compleat's pickles brand Vadasz.
Mouldy Goaty (rsp: £5.99/100g) is made from cashews and almonds, reminiscent of a creamy, soft goat cheese and aged to deliver a clean and tangy flavour.
Holy Smokes (rsp: £5.99/120g) completes the range with a cashew base and the addition of cayenne pepper, garlic and smoked paprika to give it a smoky kick.
"There is consumer demand for a genuinely delicious [vegan cheese] that doesn't compromise on the taste and texture of the real thing, and that's readily available at supermarkets," said Charlie Holland, head of marketing at Palace Culture.
"This is exactly what Palace Culture provides by producing really tasty cheese, that just so happens to be plant based."
The range launched into Waitrose following success with independent shops and distributors, the brand said.
"Our three products are set to challenge the misconceptions around plant-based cheese, and we're looking forward to continuing to support Palace Culture with even more listings in the pipeline," added Holland.