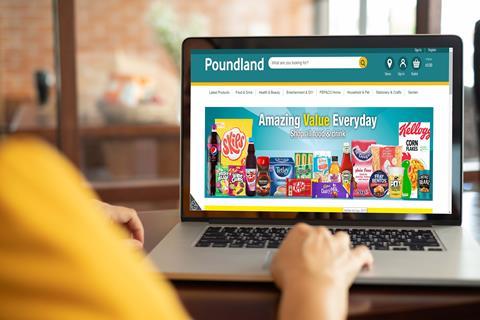 Poundland has launched its long-awaited online service, delivering general merchandise and ambient food and drink to customers in selected postcode areas.
More than 2,500 products are available to order now at shop.poundland.co.uk, spanning gardening, DIY, Pep&Co homewares, health & beauty, household, pet supplies, stationery & crafts and ambient food.
The food and drink section includes biscuits & cakes, breakfast & cereals, confectionery, jams & spreads, soft drinks and canned food.
Prices are the same as in Poundland shops, according to the variety discounter, while the delivery charge is a flat £4, with no minimum basket spend.
The service is available in selected postcode areas in Birmingham, Walsall, Wolverhampton, Derby, Dudley and Stoke on Trent. Orders are picked from a former Poundland store in Cannock and delivered by Hermes.
As revealed by The Grocer in April, Poundland 'soft launched' the online service earlier this year, offering delivery initially to the business's 18,000 staff. The online plans were first announced in July last year, when Poundland said the pilot would launch early in 2021.
"We're delighted with this initial phase of testing and we're now excited to open up poundland.co.uk to lucky customers in the Midlands where we began life 30 years ago," said Poundland retail & transformation director Austin Cooke.
"As we learn from the pilot, we'll open up the new service to more of the UK over the year."
Rival variety discounter Home Bargains also sells online, including ambient food, while B&M does not.
Nick Wharton, CEO of Poundland parent Pepco, said in April this year the business's plans also included sharing an online marketplace with third parties, an approach taken by The Range on its website.
"In the balance of 2021 we will be trialling both in Pepco and Poundland a series of online models and these will test a variety of approaches to online," said Wharton as Pepco confirmed its intention to float on the Warsaw Stock Exchange.
"We'll test home delivery as well as click & collect in-store. And we'll also have our own e-commerce platform, our own transactional website, but also test the benefits of being on a shared marketplace, essentially to share the costs of that operating base."
Shopfloor Insights founder Bryan Roberts said of Poundland's online launch: "The assortment looks fairly decent in grocery, although there is some cross-over with mainstream supermarkets and only a limited presence for exclusive lines or private label.
"It might make sense to shoppers as a specific destination for events like Halloween, birthdays or Christmas, but I'm not sure that it would be a regular port of call for that many customers on a frequent basis."
Poundland is in the midst of a major transformation programme, which in the past two years has seen it shake up its store proposition, introducing new price points and more grocery and fmcg. It is also rolling out frozen and chilled food to hundreds of stores, aided by the acquisition of Fultons Foods last October.
Last month, two 'Poundland Local' stores opened, both in former Fultons branches. It's the first of two new Poundland convenience formats, also revealed first by The Grocer, the second being 'Poundland Go', intended for shops near travel hubs.