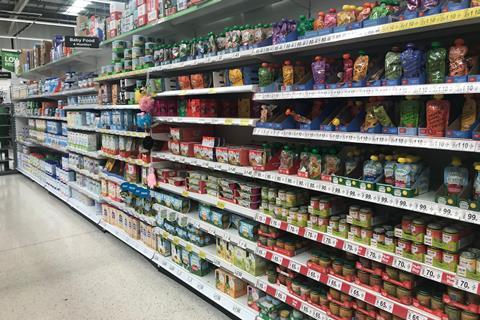 Asda has told suppliers it plans to take the fight to Aldi and Lidl with a new strategy of reduced range and everyday low prices.
The retailer announced at its annual suppliers conference last week that it wanted to reposition itself as a discounter platform with fewer SKUs and an increased focus on everyday low prices (EDLP).
Asda's move on price and ranging comes with the founders of petrol forecourt operator EG Group and private equity firm TDR Capital poised to complete a deal for a majority stake in the supermarket, in a £6.5bn deal with US giant Walmart.
In its presentation Asda said it planned to achieve "SKU reduction, not sales decline" with "increased volume to drive operational efficiencies for Asda and suppliers".
It added: "Price is our number one strategic imperative aligned to our discount platform ambition.
"We will be increasingly choiceful in the areas that matter most for our customers.
"Asda has an opportunity to disrupt the market via discounter prices and a relevant range of products and convenience services under one roof."
The Retail Mind founder Ged Futter said: "Asda have decided they are going fully down the discounter route. They are saying they are going to cut their range and increase volumes. How many times do retailers have to try this before they realise it doesn't work?"
Read more:
Asda moves follows Tesco's announcement in the summer to suppliers that it was moving to a fully EDLP position, as it tried to match the discounters on price ahead of an expected coronavirus recession.
However, suppliers sounded dubious that the new strategy could work for Asda, regardless of what happens with its ownership.
"This is a message we've have heard many times before," said a supplier source. "Despite all their intentions, I don't believe that any of the big four are able to make an EDLP strategy stick. The fact remains that you can't out Aldi, Aldi."
He added: "What Asda need to be really concerned about is Aldi's encroachment into the online grocery market. This could allow them to boost market share much faster than building new stores."
Another supplier added: "We've thought of Asda from day dot as the value player and all about EDLP. However, they kid themselves because us suppliers don't really want that. We like to have the opportunity to promote.
"Instead what we've ended up with its Asda turning to a strategy which is not really EDLP, but bursts of price reductions lasting a few months, combined with traditional promotions.
"What they are saying now is that they are going to down fully EDLP but I'm not so sure they can do it. What is an Asda store going to look like if it is fully EDLP? I would say that is a pretty boring experience for a shopper, and are they really going to get better prices than at the discounters?"
"Whether they get bought or not they are going to need sales volume. At the end of the day volume is key."
Asda chief merchandising officer Derek Lawlor told The Grocer: "We have a long heritage in saving customers money. It is more important than ever to provide outstanding value and our suppliers are vital partners in delivering this to our customers.
"Alongside everyday low prices, we have a number of other mechanics to deliver great value including our regular rollbacks and the return of Asda Price and the iconic pocket tap. In tandem with this, we continue to refine our product range to deliver the best value and choice for customers in the areas that matter most to them.
"We are also focused on meeting a range of customer needs under one roof by partnering with complementary brands and services to make our stores even better places to visit."