We talk about reaching customers with Alessandra Bellini, Tesco's chief customer officer, and how this much-loved brand is back at the heart of everyday life
A sense of humbleness was central to the way founder Jack Cohen grew the business, however, by 2014, the public perception of Tesco was less so.
At the time Tesco's scale, combined with its continued expansion, had stirred up anti-Tesco feeling among consumers, leading to phrases like 'Tescopoly' being used as a catch-all by critics concerned about the growth of supermarkets at the expense of independents.
So when Dave Lewis took over in 2014 he faced a number of challenges. From a marketing perspective, resurrecting the brand was always going to be a big one to overcome, but at least Tesco knew what had gone wrong.
"The times when Tesco thrives as a business are when it puts its customers at the centre of it," says Tesco's chief customer officer Alessandra Bellini. "And when we haven't done that, things haven't gone so well for us. And 2014 was probably the worst time, though it started a couple of years earlier."
All the consumer tracking Tesco did at the time showed it "wasn't putting our customer at the centre of everything we did, we were just forgetting. And I think the brand went from being part of everyday life to becoming big and arrogant, cold and distant."
The sheer size of Tesco fed into that, she suggests, saying scale is "always viewed with a little bit of suspicion". But she also says when Tesco uses its scale to make a "positive impact in our communities, when we use our scale to work with our suppliers in a collaborative way to improve the quality and value of the product we bring to our customers, that scale is an asset".
Essentially, how Tesco leveraged its bulk for the benefit of its customers just had to be communicated better.
Bellini joined in 2017, and things had already improved on the branding front. Not that the job was finished, which was reflected in what Bellini says was the "very clear brief" she was handed on day one. "We needed to rebuild the brand, and the trust in the brand. There were priorities I was given to achieve that."
The first was to "relaunch the own-brand portfolio. How do we relaunch the three tiers of good, better, best? What do we do with the packaging on 12,000 lines, and how can we do it even better and in a fun way?"
"The times when Tesco thrives as a business are when it puts its customers at the centre"
The second was to "keep stretching Food Love Stories, which had just launched. How do we keep it relevant and push the boundaries of the communication so it engages people, and how do we communicate value?"
On top of that, Tesco wanted to make the brand more consistent in terms of personality whether "in store, in digital, in social, in PR, in marketing and every single touchpoint for our customers. So it was a small brief, no pressure! Within that there were lots of other things, but these were the priorities, so that is what we set out to do".
But the overarching priority was to regain trust in the brand, she says. "Brands are only powerful and strong when they have credibility, relevance and trust. Tesco will always be relevant, because it's part of everyday life in the UK, but if you're not credible, and you don't have the trust of your customers, then it's very difficult. It's very easy to lose the trust of your customers. Two strikes and you've lost it, and it's taken a while to get it back."
To get it back, Tesco itself had to get back to "being humble, being proud of what we do well and communicating it confidently, but being careful not to come across as arrogant". And it was also vital to "make sure the experience in the stores, with our products and prices, was understandable, clear, solid, positive and consistent. Consistency was a big piece of the challenge we faced. Great marketing and communication can only help if the shopping trip works for the customers. Thanks to the support of our colleagues, we've seen great improvement".
It's why Tesco has made big changes in all areas to make sure the second half of this decade is a world away from the troubles it experienced in the first. And customers are responding, says Bellini.
"Though it's been a long journey, we have seen a small improvement every month. We are at a point where the YouGov Brand Index, which is how we measure trust, is at its highest level since we started tracking it in 2011."
So she says Tesco will "keep driving the perceptions of quality and value. It's tricky, you can normally do one or the other, and it's very hard to do both, but we must do both. Like any company with 100 years of history there will be times when it's done better than others. But I feel we are at a place now, with the centenary campaign, where we have gone back to being cheeky and humorous and we have license to do that because people are feeling better about the brand".
"I feel really confident about what we have done so far, the positives are starting to outweigh the negatives. Today, we can really feel that customers are in a different place."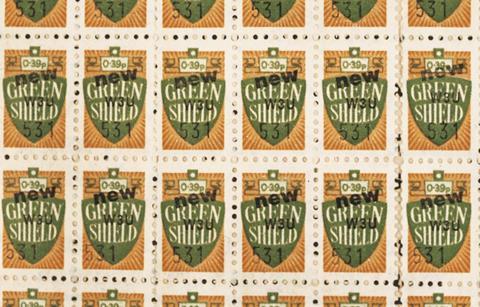 1963 Green Shield Stamps
Like everyone else, Tesco used predominantly print-based ads and offers to drive footfall into its stores, but in 1963 it decided to team up with Green Shield Stamps. It was simple, Tesco shoppers earned stamps when they paid for their shopping, which could be spent on a range of items from the Green Shield catalogue. It was also the start of Tesco's first TV campaign, starring Sir Save-A-Lot, the price-cutting armoured knight on a "mission to keep prices low", who handed out Green Shield stamps while his sword 'slashed' the price of Bacofoil and Pledge. Green Shield Stamps were eventually phased out – to the vocal displeasure of Cohen – and Operation Checkout was then launched.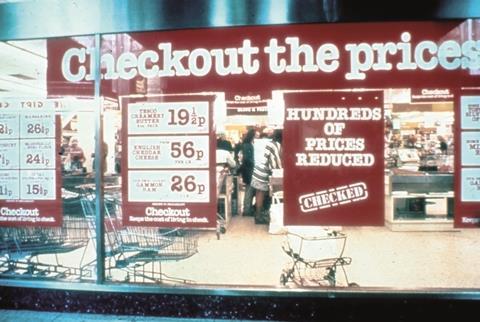 1977 Checkout
Tesco invested the money it saved on Green Shield Stamps straight into prices, reflected in the TV ad for the Checkout campaign, which was handled by McCann Erickson with a £1m budget. Alongside hundreds of double page spreads in newspapers, the TV ad simply listed a succession of price cuts, with every price ending in 1/2p. It was a phenomenally successful campaign, with Tesco attracting an additional two million shoppers, often resulting in queues to enter the shops. Between the launch and February 1978 turnover increased by 43%. Less welcome was the impact on margins, which took a bashing. Nevertheless, it was considered a masterstroke by MacLaurin, who resurrected the campaign in 1982.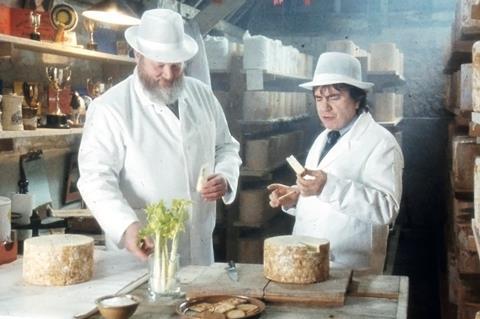 1990 Dudley Moore
Teaming up with the pint-sized Oscar winning comic was the first time Tesco turned to outright humour to sell itself – and it was a smash hit. Tesco was seeking to build its quality credentials with the Quest for Quality campaign and Moore, a Hollywood star and household name, played a Tesco buyer heading round the world to secure quality produce, mixing with everyone from the Mafia to French free-range farmers, on a hunt for chickens. Tesco say the campaign, which was produced by Lowe, was "hugely successful". It ran for two years and ended on a genuinely moving note – having finally tracked down the elusive free-range chickens, a misty-eyed Moore ends up setting them free.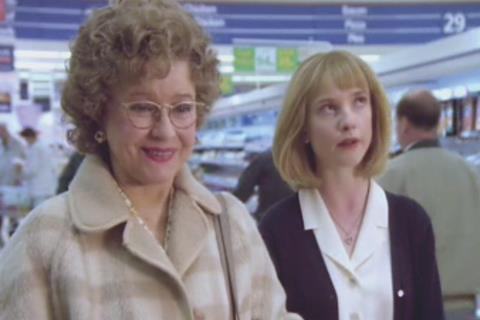 1995 Dotty and Every Little Helps
Signing Prunella Scales was a coup. The much-loved actress starred in Fawlty Towers, regularly voted the best British sitcom of all time, and after playing the hectoring and never-satisfied Sybil Fawlty she was the perfect choice for the central concept of the campaign – that the never-satisfied Dotty could never find anything to complain about at Tesco. As a bonus her daughter was played by Jane Horrocks, who was hugely popular thanks to her ditzy role in Absolutely Fabulous. Designed to boost the Every Little Helps strapline introduced two years earlier, the campaign ran for 20 ads and was voted Britain's favourite advert in 1999. During this time Tesco overtook Sainsbury's as the UK's biggest supermarket.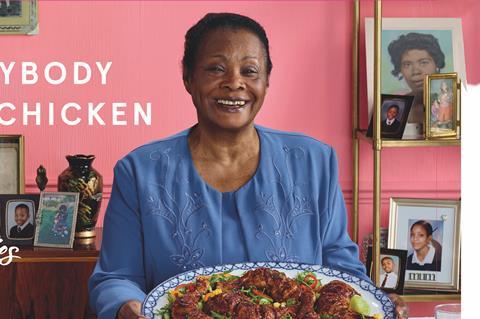 2017 Food Love Stories
Food Love Stories turned to real people to tell stories about their love for food and quality ingredients, with the latest ads featuring a voiceover by stand-up comedian Sarah Millican. It recently won a Cannes Lion advertising award for effectiveness. "The great campaigns Tesco is famous for always married what Tesco did for customers, its services and its products in a very engaging way," says Bellini. "Food Love Stories bought that back. For a long time we hadn't communicated on a brand level, just our deals – which were good, but not enough to engage customers. It's an extraordinary campaign. People relate to it – it has driven our brand perception in a powerful way."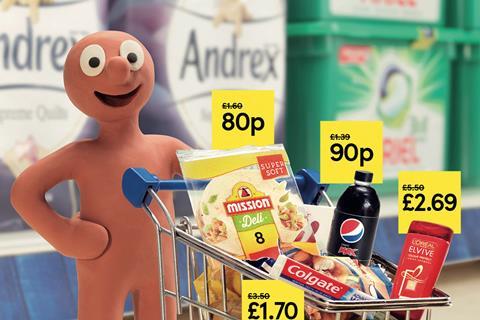 2019 Prices That Take You Back
Tesco's campaign to celebrate 100 Years of Great Value at Tesco highlighted reduced prices, or Prices That Take You Back, but cleverly used iconic cultural moments and characters from the last 100 years, such as Anneka Rice, Morph, the Gladiators – and even the likes of Mr Blobby – to create a sense of nostalgic affection.
"I have a soft spot for the centenary campaign, I think it's fun," says Bellini. "It creates a connection with the past, it's upbeat and it allows anyone of any age to find something that they remember from the last 100 years. "It's done in a very engaging way," adds Bellini. "And for a promotional campaign it's very brave and larger than life."
Celebrating 100 years of Tesco
1

2

3

4

5

6

Currently reading

Shaping the Tesco brand

7