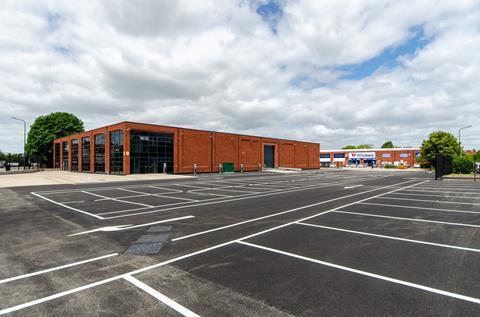 Ocado has signed a lease on a 32,600 sq ft warehouse in Merton, south London, which will serve as a spoke in its distribution network.
The lease on the 1.6-acre site, formerly occupied by Homebase, is with Aviva Investors and lasts for 10 years. Aviva said Ocado took occupancy of the refurbished site last month. Merton Council approved changing the use of the site from retail to industrial and storage in early June.
The site has been fitted with dock levellers for truck loading, fuel pumps and a bike shelter, and an entry road has been widened.
"We are delighted to have taken occupancy of this site in Merton. We're the fastest growing UK retailer and this site is a critical part of growth ambitions. We're tremendously excited about expanding our reach and serving more customers in the area," said Ocado Retail director of operations Richard Locke.
Robert Bradley-Smith of Aviva's advisors Altus Group said the site – which is adjacent to major road networks and shared with Amazon – gave Ocado access to "a considerable amount of chimney pots" in south London.
"This letting shows the strength we have seen in the last mile logistics and home food delivery sectors over the past few years," he added.
According to planning documents, 17 HGV loads of goods will arrive at the site each day, which will go out to customers on 75 vans twice daily. Around 90 people will be at work on the site at any time, which will operate 24 hours a day. It adds to Ocado's network of around 16 spoke sites across the UK.
Ocado Retail is seeking to establish several new locations across London, many of which will serve its expanding Ocado Zoom service.
The rapid grocery service launched in March last year, serving customers within a five-kilometre radius of its first hub in Acton, West London. The micro fulfillment centre – less than a third of the size of the new Merton spoke – is replenished daily from Ocado's Hatfield CFC. Surging sales as a result of coronavirus saw Ocado Zoom hit "end game capacity" a year ahead of plan.
Speaking this month at Ocado's half year results, Ocado CEO Tim Steiner said: "There's clearly demand for a dozen or two dozen Zooms just in London alone."
The second site will "look quite different from the first" Steiner said. "In that it can be built on a much smaller footprint and will be fully automated in the ambient and chilled side using our own robotics. It will have significantly higher throughput per square foot and significantly higher productivity, so we're excited to get that open," he explained.
The company's property teams are currently seeking further potential Zoom locations.
"If the space is right in terms of its floor loading, ceiling height and location then we could look at using it," Steiner said.
As well as London sites, Ocado Retail has several CFCs under construction, including a mini-CFC in Bristol. When Ocado Retail formed as a joint venture between Ocado and Marks & Spencer last year, the company committed to capacity equivalent of a further eight CFCs over the next 12 years.