The nights are drawing in and the festive season is upon us. Well, at least in the high street food chains it is. Here's what to expect from their Christmas ranges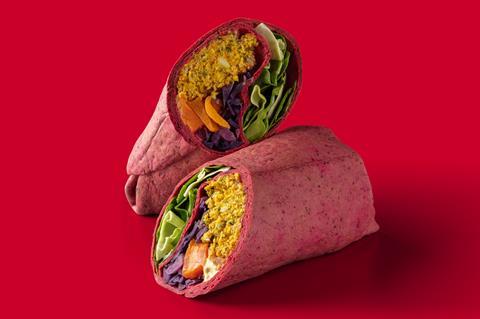 Starbucks
Along with returning favourites such as the Festive Feast Panini, Starbucks is bringing a new vegan option to its Christmas range this year. The Very Merry Vegan Wrap (rsp: £2.99) contains crumbled butternut squash fritters, roasted red cabbage and maple mustard mayonnaise, all contained in a beetroot wrap. To wash it down, the chain is introducing a Toasted Marshmallow Hot Chocolate (rsp: £3.10). The decadent drink contains marshmallow syrup and is topped with marshmallow flavoured cream.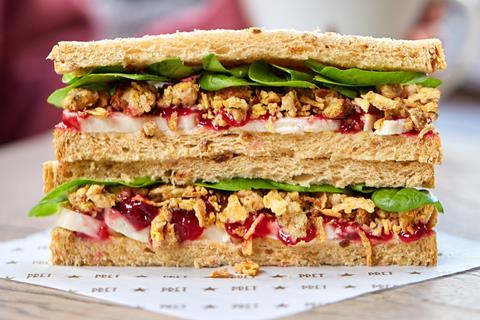 Pret a Manger
Pret is giving free-from customers the chance to enjoy one of its popular Christmas sandwiches for the first time this year. The eatery is putting its Christmas Lunch sandwich (rsp: £3.75-£3.95) – which contains free-range turkey, pork stuffing, port & cranberry sauce and mayo – onto seeded gluten-free bread, which was introduced in April.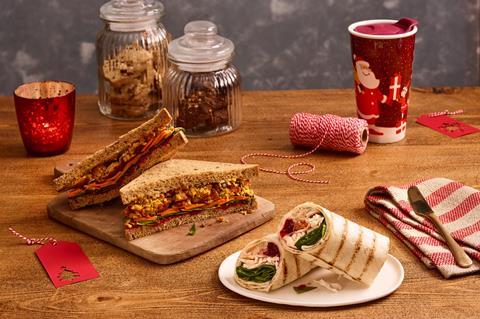 Costa
For many, Christmas wouldn't be complete without an Irish cream or two. Costa is bringing the classic festive flavour to stores with its new Irish Velvet range, which includes a latte (rsp: £3.30), cappucino (rsp: £2.95), hot chocolate (rsp: £3.35) and Frostino (rsp: £3.45). Other drink additions include a Festive Spiced Cappucino (rsp: £2.85), Hazelnut Praline Frostino (rsp: £3.45) and Christmas Tea (rsp: £2.30).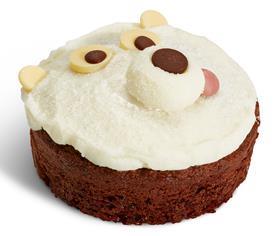 There are new sweet treats such as Terry's Chocolate Orange Muffin (rsp: £2.25), White Chocolate & Honeycomb Trillionaires (rsp: £1.95), vegan Rocky Road (rsp: £2.25) and Black & White Forest Wreath Cake (rsp: £2.95). The sweet range also features new Christmas characters: Penelope Polar Bear Cake (rsp: £2.75), Peter Penguin Shortcake (rsp: £1.75) and Father Christmas Mallow Gingerbread (rsp: £1.95) will all make an appearance.
New in savoury this year are the British Turkey & Trimmings Toastie (rsp: £3.95), British Turkey, Bacon & Stuffing Wrap (rsp: £3.50) and British Turkey Feast Baguette (rsp: £3.95). Plus, vegan customers can enjoy the Veggies Under Vest Sandwich (rsp: £3.20), which is packed with falafel and parsnip stuffing, carrot, cranberry sauce, spinach and vegan mayo.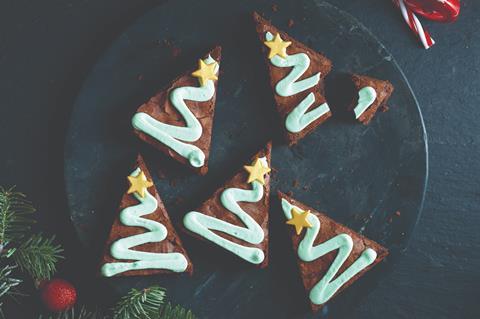 Eat
As well as its existing festive sandwiches, pigs in blankets and even a Yorkshire pudding wrap, Eat is offering a range of new hot and cold options for the festive season. The Christmas Dinner Hot Pot (rsp: £6.25) contains a warming mix of turkey, parsnip, carrot and leek in a creamy white wine sauce, served with braised red cabbage and mash. Vegans have the option of a Spiced Cauliflower, Houmous & Harissa Grains salad (rsp: £4.99), featuring lentils, pomegranate and a tahini dressing. This is joined by a Smoked Salmon, Beetroot & Horseradish Bloomer on dark rye bread (rsp: £4.50) and there is a Festive Peppermint Brownie to finish (rsp: £1.99).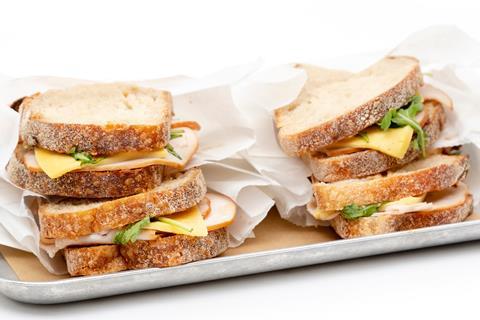 Gail's
Gail's is tackling bread waste with its Christmas offering this year. The Turkey & Cheese sandwich (rsp: £5.10) is served on the bakery chain's Waste-less Sourdough, which it claims is the UK's first loaf made with leftover bread. The festive sandwich contains smoked turkey, Mayfield Swiss cheese, chipotle aioli and homemade bacon jam.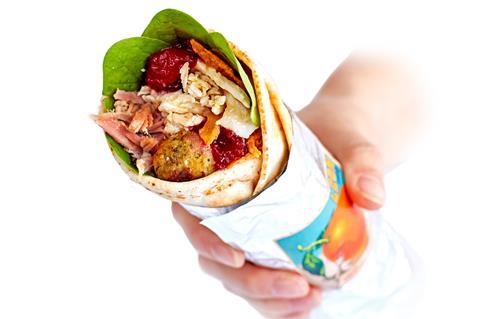 Leon
Healthy fast food chain Leon has a number of new additions this festive season. For breakfast, customers can try the Pigs on a Blanket Muffin (rsp: £3.95) which contains British Cumberland sausages, a bacon 'blanket' and cranberry & clementine sauce. The Christmas Wrap (rsp: £5.65) is packed with turkey, ham hock, pork, sage & onion stuffing, tarragon mayo and cranberry & clementine sauce, finished with crispy onions. And for vegans, the Festive Falafel Wrap (rsp: £4.95) features sweet potato falafel, cranberry & clementine sauce, crispy onions, toasted pine nuts and vegan sage & onion mayo.
Other seasonal additions include a Turkey Curry (rsp: £6.45) and Mince Pie (rsp: £2), and to wash it down, there are Winter Warmer drinks in Spiced Apple and Mulled Cherry flavours (rsp: £2.45).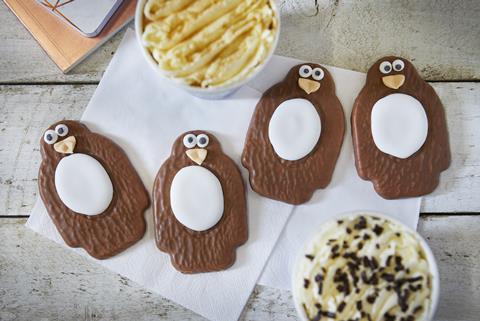 Greggs
As well as bringing back its popular Festive Bake, Greggs has two sweet additions to its Christmas range this year. The new items include a two-pack of caramel-flavoured Penguin Biscuits (rsp: £1.50), which are coated in chocolate and finished with icing features. Tiffin Bites (rsp: £1.50) are also joining the lineup. The bitesize treats combine biscuit, shortbread and sultanas with Belgian dark chocolate and come in packs of six.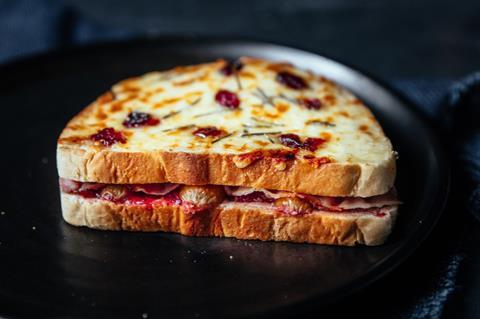 Caffè Nero
The coffee chain is once again putting its Italian twist on Christmas this year. For veggies, there is a Vegan Roast Dinner Ciabatta (rsp: £4.55) containing parsnip fritter, spiced butternut squash, kale and cranberry sauce. A Festive Mixed Grain Salad (rsp: £1.90 as a side or £3.80 as a meal), studded with butternut squash, chestnuts and cranberries is also on offer. Meaty options include a Christmas Beef Pastrami & Horseradish Deli Sandwich (rsp: £5.25), Brie, Bacon & Cranberry Panini (rsp: £4.45), Pigs on Blankets Tostati Melt (rsp: £4.35) and Turkey Feast Ciabatta (rsp: £4.45).
Desserts include a Star-Topped Vegan Mince Pie (rsp: £2) and Sparkling Red Velvet Bauble Cake (rsp: £3.35), which is festively decorated with cream cheese frosting, sparkling balls, white chocolate curls and sugar snow.