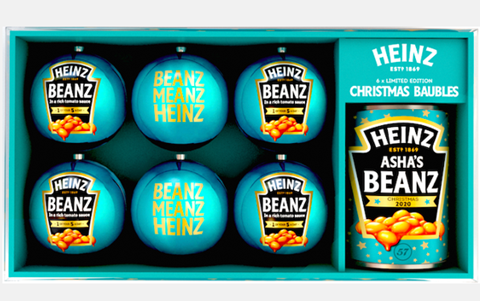 Heinz has launched a Christmas gift range on its Heinz to Home online store.
The gifts include Heinz Beanz Baubles; Heinz Tomato Ketchup Crackers; a Heinz Tomato Ketchup gift set containing a festive apron, oven gloves and tea towel; and festive editions of its mayonnaise, ketchup, beans, tomato soup and hoops.
The products can be personalised by adding the recipient's name to the labels, and can be delivered in branded wrapping paper for an additional fee.
Heinz's direct-to-consumer operation was launched in April, offering an 'Essentials' 16-can mix bundle, as well as sauces and babyfood packages. It gave customers the opportunity to personalise items for Father's Day in June.
"We said at the time that we would keep the channel live post Covid-19 as this will become a key insight, data and test and learn channel," Jean Philippe Nier, Kraft Heinz head of e-commerce ,told The Grocer. "The next big gifting occasion is Christmas so we have been working on this project for the last few months. This has really been done in the spirit of testing the appetite from our consumers for a Heinz gifting range.
"It's a real test and learn for us and we will take some huge learnings if successful on how we can scale this in the future," he added.
Nier said there was potential for the brand's personalised gifts to be rolled out in retail stores.
"Building this project through our own platform gives us the ability to test at small scale, look at the data and get direct feedback from consumers. This channel gives us the ability to test new concepts quickly and we will accelerate this in the future," Nier said.
The range is limited edition and orders need to be made by 18 December for deliveries to be made before Christmas.
The personalised cans and bottles cost £5.49 each. The Heinz Tomato Ketchup gift set is £25; Heinz Beanz Baubles are £25; and the Heinz Ketchup Christmas Crackers are £19. All items incur a £3.50 delivery fee.