What does Aldi want for Christmas? Two new customer bases, by the looks of it. To draw in high-end shoppers, it's added a lot of super-premium lines similar to products you'd find in the food halls of high-end department stores. To tempt vegans, it's laid on a formidable plant-based spread. In total, the retailer is launching 136 brand new lines and changing 200 existing ones. Here's our pick of the most interesting products coming to Aldi shelves this Christmas.
Check out our other Christmas 2019 range previews.

Aldi has not yet revealed rsps for its Christmas range.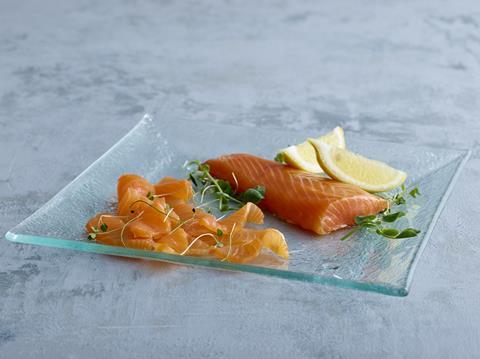 Specially Selected Salmon Loin Fillet
Hoping to pull in some more high-end shoppers, Aldi has secured supply of the tsar-cut fillet aka the "filet mignon of salmon". Taken from the most tender, centre fillet of the fish, this cut was so highly prized it was a delicacy once reserved for Russian tsars. Despite its royal credentials, the retailer is hoping to get this on shelf for an accessible price – likely in the region of £4.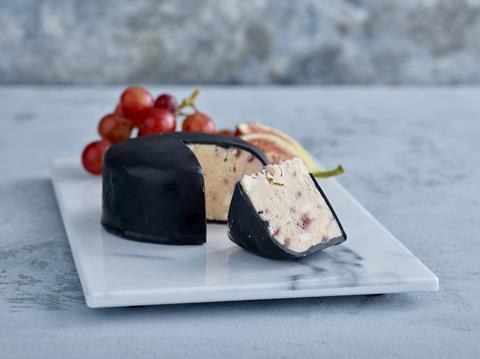 White Chocolate, Prosecco and Raspberry Truckle
To say Aldi is getting experimental with cheese this Christmas would be an understatement. The retailer has combined Wensleydale with white chocolate chunks, raspberry and prosecco (pictured); red leicester with Bombay-spiced chutney and nigella seeds (which we're told works well melted on top of a mini naan bread); and camembert with a thick winter spice sauce.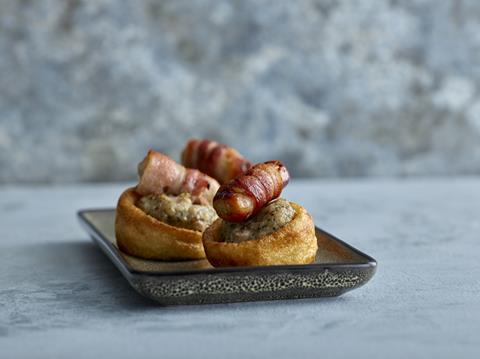 Loaded Yorkshire Puddings
Joining last year's three pigs in a blanket, Aldi has ramped up the indulgence factor with these mini Yorkshire puds. The festive sides come in a pack of six and comprise a mini Yorkshire filled with pork stuffing, topped with a pig in a blanket. This move is bound to stir up the debate surrounding the appearance of Yorkshire puddings on the Christmas dinner plate.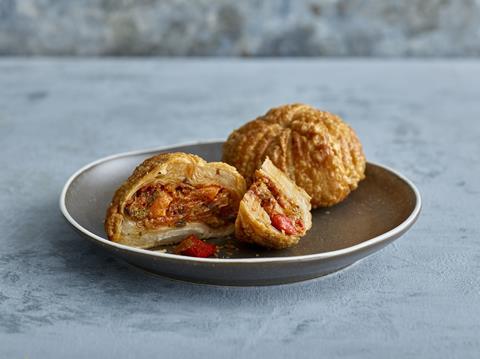 Specially Selected Vegan Parcels
One of the retailer's many vegan launches this Christmas, these parcels are made with dairy-free pastry, which has been flash-fried for a blistered effect and crispier texture. The frozen parcels come in a pack of two and are available in Firecracker Vegetable and BBQ Jackfruit varieties.
Specially Selected Vegan Party Food
For a festive fiesta, here's a Mexican-style party pack comprised of mini tacos filled with vegetable pibil, BBQ jackfruit tortilla rolls and chipotle tofu flautas (Spanish for flutes). One of several meat and dairy-free launches, it will be joined by a dim sum selection (pictured), which includes mushroom bao buns, a mini bites selection that includes mock duck rolls and pumpkin dumplings, and finally, a tempura vegetable nest pack. Of the 23 chilled party food lines, 13 are brand new for this year and four have been significantly changed – Aldi's most significant shake-up yet.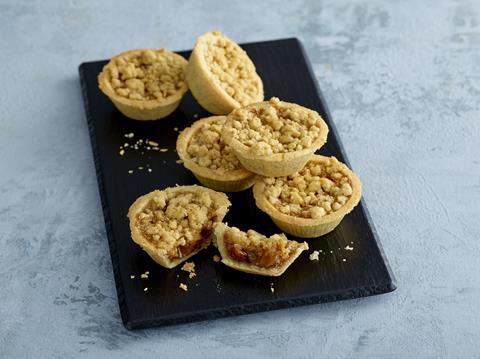 Specially Selected Crumble-topped Mince Pies
We're in the midst of battle between the supermarkets to see who can launch the most interesting (and least traditional) mince pie. Hoping to take the cake (or should we say pie?) this year are these biscuit-topped offerings, which will be hitting shelves in Salted Caramel & Ginger and Black Forest varieties.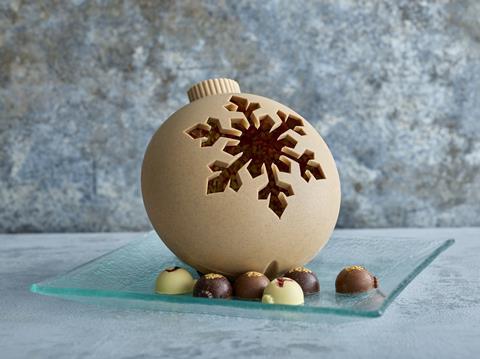 Specially Selected Exquisite Chocolate Bauble
The snowflake design on this chocolate bauble was created using "water-cutting technology" - a technique which uses a high pressure stream to carve out intricate designs. Made with gingerbread flavoured white chocolate, the bauble has a fruit and nut centre and will come boxed with a selection of filled chocolates. In case there's demand for an even bigger chocolate centrepiece, Aldi is launching a 50cm tall, hand-decorated, Belgian milk chocolate nutcracker which weighs in at a mighty 1kg.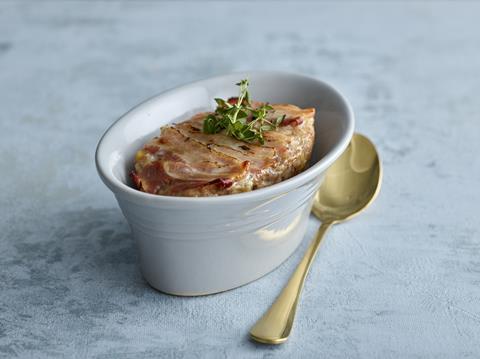 Specially Selected Merry Sherry Stuffing
This British pork and sherry stuffing is topped with bacon and comes packaged in a Mason Cash ceramic dish. The reusable dish comes in a neutral grey shade and is suitable for both cooking the stuffing in the oven and serving it on the Christmas table.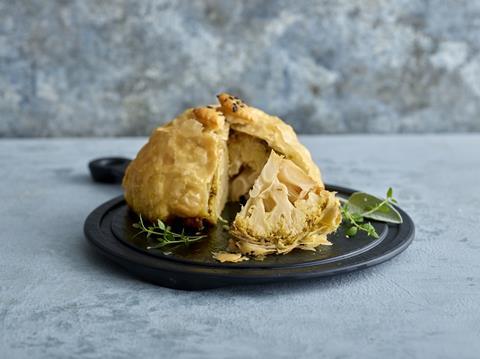 Specially Selected Cauliflower Wellington
For the occasions when there's more than one vegan at the Christmas table, Aldi has launched two new plant-based centrepieces. The Cauliflower Wellington (pictured) is topped with turmeric, garlic and ginger for a warming, Indian-inspired flavour. It's joined in the frozen aisle by a tearable Mushroom Roulade, which is wrapped in dairy-free flaky pastry.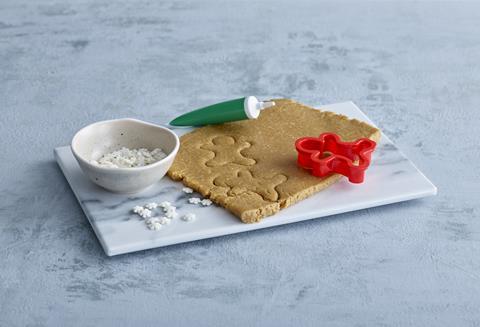 Gingerbread Dough Kit
One to keep the kids busy over the Christmas break, this kit comprises all the key elements to make and decorate mini gingerbread figures.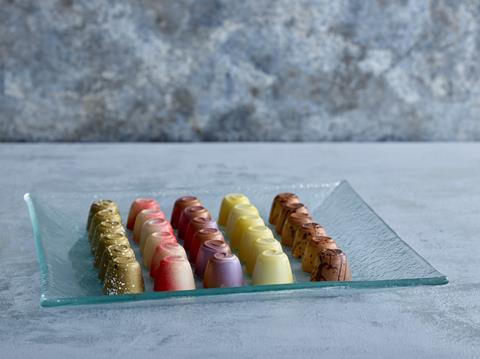 Moser Roth Artisan Collection
Drawing in those high-end shoppers, the Artisan Collection (pictured) includes chocolate domes with luxury centres including orange gianduja, kirsch ganache and Maldon salted caramel. Other new selections include a fruity Winter Desserts box, which includes cinnamon crème brûlée, jam roly poly and blackcurrant pavlova chocolates. There's also a Festive Favourites box, which is heavily inspired by the Hotel Chocolat Classic Christmas H Box. It includes Christmas pudding, Christmas mess and clementine-filled chocolates, alongside milk chocolate reindeer.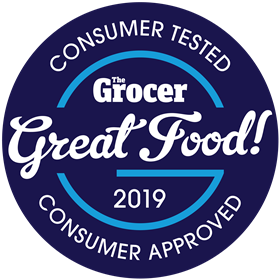 How do you know if the own brand product you're buying is as good as the big brand version? By looking for our Great Food and Great Drink labels, of course. Supermarket products with these on let you know that they have been tried, tested and loved by an independent panel, which is made up of hundreds of shoppers from across the UK.
Look out for the logos in store now.