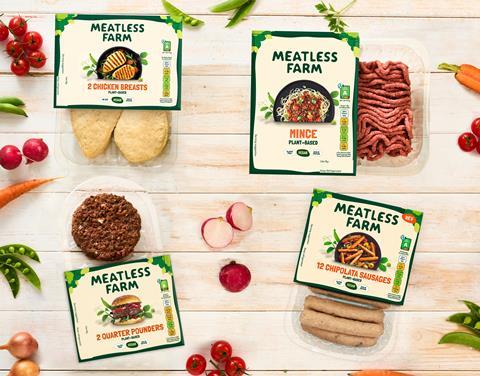 Meatless Farm is locked in a desperate race to find a buyer to save the lossmaking plant-based brand, with crowd investors facing millions of pounds in potential losses, The Grocer has learned.
The Leeds-headquartered business has hired advisors at restructuring and insolvency specialist Kroll to run an early options process amid a wider contraction in demand for the alternative meats category.
The Grocer understands Meatless Farm, which employs about 100 staff in the UK, Europe and the US, is close to running out of cash and is set to file a notice of intention to appoint administrators with the courts any day.
A teaser sent to potential buyers by Kroll – seen by The Grocer – set deadlines for expression of interest at 5pm on 31 May.
It follows Meatless accumulating combined operating losses of close to £50m in the past three years, with turnover declining in 2022 from £12.5m to £11.2m, according to the Kroll teaser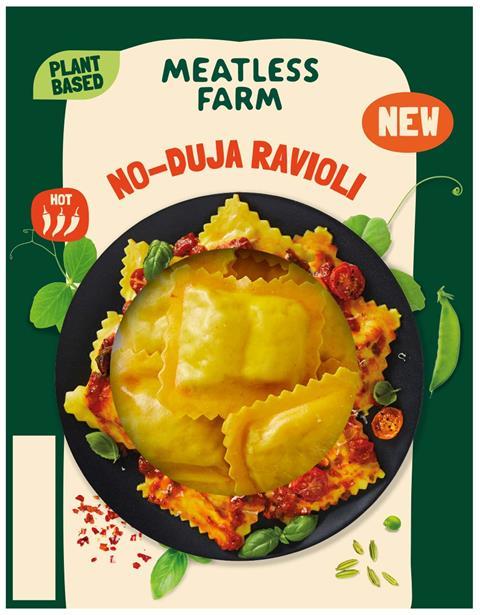 An industry source said the business needed more than £10m to keep it going and was "rapidly burning through cash".
"It also has next to no stock and is running out of packaging," the source added.
Analysis of Assosia data shows many of the brand's products are already out of stock in the major mults.
Out of stock
The brand had 10 SKUs on sale in Sainsbury's a week ago but, as of this morning (30 May), just two frozen lines were available. Only three out of nine lines were available in Morrisons, while one out of three were listed as out of stock at Asda. The brand's solitary product in Tesco (a mince SKU) has also been out of stock since 23 May.
Meatless Farm founder Morten Toft Bech told The Grocer in a statement that a "big investor" withdrew from a commitment to inject a large amount of cash into the business.
"This caught the board and the management team of MF by surprise because our cash runway was timed to this anticipated incoming investment," he said.
"It has put the company into a very difficult situation that we are trying to solve.
"Operationally Meatless Farm is doing really well but the cashflow squeeze is proving hard to manage given the short notice we have been given from the investor to solve it. It is a very sad situation for an otherwise good and healthy company with strong growth, and it is very stressful for our employees and existing investors.
'The company needs a fresh cash injection of more than £10m to secure its long-term goals'

Meatless Farm founder Morten Toft Bech
"We are looking in the short term for a quick investment solution at very favourable terms, but the company needs a fresh cash injection of more than £10m to secure its long-term goals for profitability."
Founded in 2016, Meatless Farm has raised about £40m in funding across several rounds from a range of private and family office investors, including Channel 4 and South Korea's SK Inc.
In June 2021, the company, which has partnerships with football club Real Madrid and cyclist Mark Cavendish, allowed the public to get involved, raising £3.3m from 4,403 crowd investors on the Crowdcube platform.
At the time, Meatless Farm highlighted plans to raise a further £75m in a future private round and signalled interest in a possible IPO.
Revenues at the business have grown quickly – with some slowdown during lockdown on the foodservice side as hospitality venues closed – but losses have also mounted rapidly.
Pre-tax loss
The group made a pre-tax loss of £23.5m on turnover of £12.5m in 2021, according to the most recent set of accounts at Companies House for The Meatless Farm Ltd. It followed a £15.6m loss in 2020 on sales of £7.5m.
Despite the brand investing heavily in NPD and marketing, its growth was eclipsed in 2022 by larger brands in the meat-free space, particularly Richmond, according to The Grocer's most recent Top Products Survery.
Meatless Farm's plant-based mince, burger patties and sausage are stocked in the big four, with the group also supplying Brakes and Gousto, and foodservice operators such as Itsu, Pret and Yo Sushi. It is available in 20 countries in Europe, Asia-Pacific, the US and the UAE.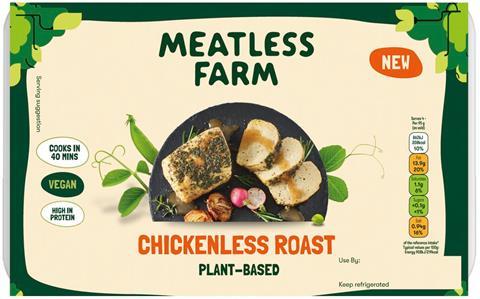 Earlier this month, the brand released four new lines to be launched in Sainsbury's, including chorizo-style sausages and the UK's first branded pasta products filled with plant-based meat.
In 2021, the business opened a European production hub in the Netherlands to scale up distribution to retailers and restaurants across Europe, adding to a factory in Canada to serve the North American market.
It comes amid a wider contraction in consumer demand in the crowded alternative meats category as shoppers have looked to make savings.
Earlier this month, NIQ data revealed Veganuary sales for chilled meat alternatives declined by 16.8% and by 13.5% for frozen compared with 2022.
It also follows Nestlé pulling its Wunda and Garden Gourmet plant-based brands from the market as it struggled to make a dent in the competitive category.