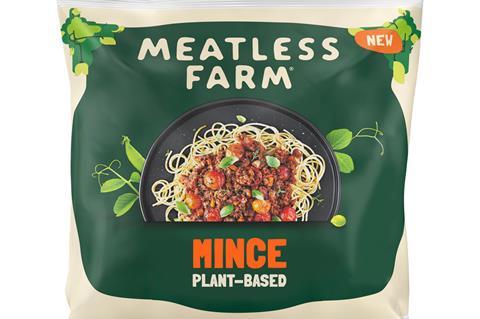 Meat-free startup VFC, launched by Veganuary and Veg Capital founder Matthew Glover, is close to securing the rescue of the Meatless Farm brand in the UK out of administration, The Grocer has learned.
VFC told Meatless customers and suppliers that the deal was a "golden opportunity" to merge the businesses, "ultimately propelling our continued growth and sparking innovation in the plant-based food category".
Meatless Farm collapsed earlier this month – as revealed by The Grocer – following a failed attempt by advisors at Kroll to source new investment.
The rescue would lead to the brand returning to supermarket shelves and in foodservice sites, but is not expected to see new positions for the majority of the 50 Meatless staff in Leeds who lost their jobs prior to the collapse.
VFC – launched in 2020 by Matthew Glover and Adam Lyons as Vegan Fried Chick*n, a meat-free rival to KFC – is backed by Veg Capital and recently raised £6m seed investment for expansion in the UK and overseas.
Read more:
The business has agreed exclusive terms to acquire the UK Meatless Farm business and brand from administrator Kroll. The rescue deal is still in the final stages of legal sign-off, but could complete as early as this afternoon (20 June), The Grocer understands.
"The Meatless Farm brand boasts high consumer recognition, a dynamic range of products, robust R&D capabilities, and a mission that dovetails perfectly with that of VFC," according to a letter, seen by The Grocer, written by VFC CEO Dave Sparrow and sent to customers and suppliers.
"We firmly believe that this development will yield considerable benefits for our valued customers, suppliers, and consumers. Please rest assured that our collective leadership and all team members are wholly committed to maintaining business as usual."
York-headquartered VFC launched in Tesco in 2021 and has since won distribution with Sainsbury's, Asda, Morrisons, Ocado and Waitrose.
Last year, VFC launched its first product targeting children's dining, Chick*n Stompers. The brand is also available in Marston's pubs across the UK following a national foodservice rollout.
Its reach also spans across Europe and the US, with plans to target the Nordics, Belgium and Spain, and further expansion into France, Germany and Australia to follow.