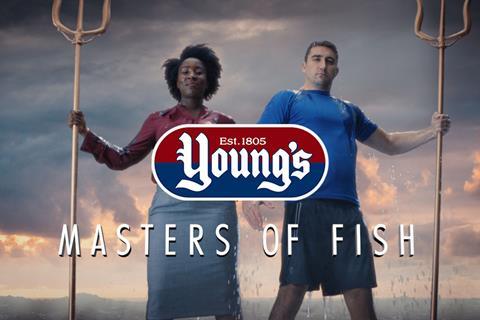 Young's Seafood and Karro posted significant increases in turnover in their first year under the umbrella of 'surf and turf' food group Eight Fifty, latest accounts filed at Companies House show.
Young's sales leapt by a third to £815m while Karro's sales rose to £842m from £638m.
But Young's overall results – which covered a 78-week period running to 28 March 2020, as opposed to Karro's 65-week one – showed a pre-tax loss of £13.7m (up from £8.3m in 2018) despite operating losses narrowing 27% to £7.8m.
The seafood supplier – which has returned to TV screens this month with the revival of its Masters of Fish campaign – put the losses down to restructuring costs and interest payments in its accounts.
Eight Fifty CEO Di Walker said Young's ongoing transition into the food group since its purchase in 2019 "continues to progress well" and stated that the results demonstrated the "potential for future growth" at the supplier.
Meanwhile, Karro registered a turnaround in its fortunes with pre-tax profits of £12.1m across its divisions. Walker put this down to its "great progress" in penetrating premium markets as well as its securing of accreditations in the lucrative Chinese market.
Karro revealed its two abattoirs were now fully certified to supply pork to the country, which has continued to battle African swine fever in recent years.
"We are confident the remainder of this year and next will bring further improvement in profitability through revenue growth and additional operational efficiencies driven by investment, management initiatives and strong international pork markets," Walker added.
Overall sales for the Eight Fifty Food Group over the 65-week period were just shy of £1.3bn thanks to "strong consumer demand" in UK retail. The group posted pre-tax losses of £26.3m due to the costs associated with absorbing Young's into the group.
The accounts also revealed the group drew down a £60m revolving credit facility during the final week of the accounting period, as it sought to shield itself from the coronavirus lockdown. This was then repaid at the beginning of June 2020.
Looking ahead, Walker said Eight Fifty was "well placed for significant and sustainable growth over the medium to long term" and floated the potential for further M&A.
The latest activity on this front came through the purchase of Irish cooked meats supplier Carroll's Cuisine.
Announced on 29 December, the acquisition of Carroll's for an undisclosed figure means the group will have sales of approximately £1.9bn once the deal is closed. The group said the supplier would be integrated into its pork division.
It follows a spate of M&A by the group in 2020, including the buy-out of European own-label seafood supplier Greenland Seafood and the expansion of its pork portfolio through the purchase of Irish meat processor M&M Walshe Holdings.