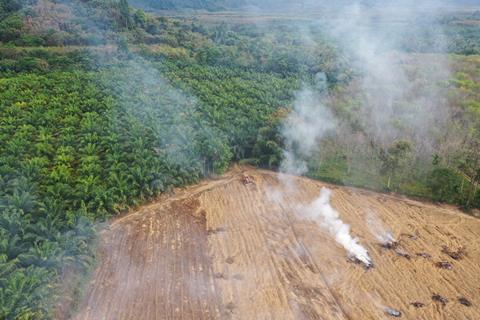 Defra has launched a consultation into which commodities and sectors should be covered by new due diligence laws aimed at slowing deforestation by stopping tainted goods from reaching supermarket shelves in Britain.
According to the government, the measures, once fine-tuned, "will make it illegal for larger businesses in the UK to use commodities whose production is associated with large-scale forest loss such as cocoa, beef, soy, coffee, maize and palm oil, where they have not been produced in line with relevant local laws."
The consultation, which will run until 11 March, is aimed at drafting secondary legislation following the passing into law last month of the Environment Act, which includes provisions on tackling deforestation overseas.
It follows an agreement at the COP26 climate conference in Glasgow last month between Boris Johnson and Joko Widodo, president of the world's biggest palm oil exporter, Indonesia, to launch a 28-country plan "to break that link between deforestation and agricultural commodities".
Commenting on the consultation, international environment minister Zac Goldsmith said on Friday that protecting forests "is essential to our survival".
A similar exercise last year received almost 64,000 responses, almost all of them in favour of the government enacting laws to protect far-flung forests and jungles.
Now businesses will have a say in who and what is to be covered by the rules, which might not become law until near the end of the decade.
The consultation document suggests it could be two years before the measures could be applied to two commodities, with "four to five years" needed for a more expansive remit of up to seven commodities.
If and when implemented, the rules will require affected businesses "to undertake a due diligence exercise on their supply chains and to report on this exercise annually" with "fines and other civil sanctions" possible for non-compliance.
Friday's announcement comes as environment secretary George Eustice this week said British farmers would be paid up to £58 per hectare for "taking actions which generate environmental benefits, such as improving grasslands or soils" as part of the government's new Sustainable Farming Initiative, itself designed to help farmers adjust to life outside the EU's Common Agricultural Policy.
Gareth Morgan of the Soil Association described the subsidies as "a welcome step in tackling the climate and nature emergencies" but NFU VP Tom Bradshaw said farmers could face "significant costs" in meeting the requirements needed to get the payments.
Craig Bennett, CEO of The Wildlife Trusts, said the measures showed "a shocking lack of ambition" and were likely to do "very little" about "the climate and nature crisis".