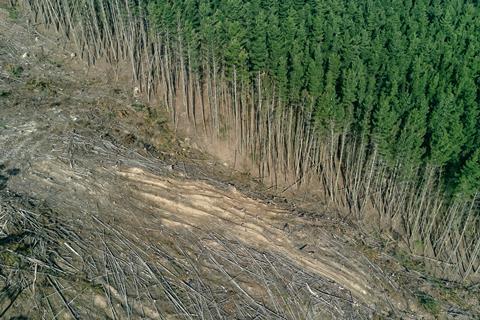 Brazilian meat giant JBS this week hit back at a new report by environmentalists that claimed its greenhouse gas emissions jumped by over 50% in five years.
A spokeswoman for JBS said the report, which was published by a coalition of campaign groups, used "flawed methodology and grossly extrapolated data to make misleading claims, including the use of our processing capacity to estimate our emissions".
The document, which included contributions from NGO Mighty Earth and the Institute for Agriculture and Trade Policy (IATP), was based on what the authors labelled "UN-approved methodology".
This was used to show JBS had "increased its greenhouse gas emissions by a staggering 51%" in the half-decade to 2021, from 280 million metric tonnes (mmts) to 421.6 mmts, making it "responsible for greater emissions than Italy's annual climate footprint", or an amount equivalent to fossil fuel giant Total's 2020 emissions.
The campaigners claimed JBS' emissions could end up "even higher" due to its "aggressive expansion plans" and "possible listing on an American stock exchange".
The JBS spokeswoman said "while we do not agree with their methods and were not given the courtesy of contributing to, nor responding to, the report's findings prior to publication, we have outreached to the NGO to review their findings in full in pursuit of our mutual goal"
But IATP Europe director Shefali Sharma said in turn that "we stand by our numbers and maintain that they are likely a conservative estimate".
JBS added that it welcomed the "scrutiny" provided by the report, in which it was also accused of "an estimated 1.5 million hectares of deforestation in its indirect supply chains in Brazil since 2008".
Last year JBS said it would take steps toward "becoming net zero by 2040", including by making its beef cattle supply chain "free of illegal deforestation".
'Greenwashing' accusation
But campaigners alleged JBS had already tried to "greenwash" its commitments to cut emissions, which they said largely come from the tens of millions of cattle and pigs JBS and its companies process worldwide each year.
They in turn demanded retailers and investors cut ties with JBS, which owns Moy Park and Pilgrim's Pride and supplies giants including Burger King, McDonald's, Costco and Tesco.
Calling for "a massive scale-up of plant-based and cultivated protein", Mighty Earth's Alex Wijeratna said "no company that buys meat from JBS can claim to be serious about climate change".
JBS, which is described in some quarters as the world's biggest meat business, has in recent months invested in artificial and plant-based meat substitutes and related research in Spain.
Last month it announced a new in-house fertiliser plant in Brazil, which it said was opened partly in response to record world food prices and soaring fertiliser costs, both of which were made worse again by the recent Russian invasion of Ukraine.
The global food and inflation crisis, which the World Bank on Thursday labelled "catastrophic", has increasingly pitted climate campaigners, who want no let-up to environment-based food supply chain changes, against farmers and producers, who say rising input costs and supply shortages will be exacerbated unless a balance is found.
Speaking at a UN Security Council meeting on conflict and hunger on Thursday, UK ambassador Barbara Woodward said the crisis could "directly result in 1.7 billion people, in 107 economies, being severely exposed to at least one of rising food, or energy prices, or tighter finance conditions".
In the UK, where consumer price inflation last month hit a thirty-year high, AHDB recently lauded the health benefits and sustainabilty credenttials of eating British-produced meat and dairy. However pork sector representatives earlier warned of more farmers quitting due to soaring costs of production.