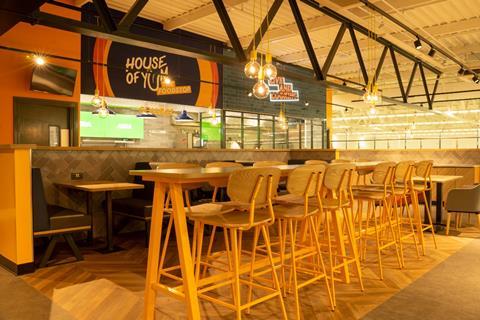 Asda has gone into partnership with online restaurant Twisted London, with a trial of a new concept that will see the trendy food brand take over one of its biggest cafés and launch new counter and delivery services across a wide area of the capital.
As well as running the café at the Asda store in Clapham Junction, the chain, whose business model sprung from taking on underutilised kitchen space in places such as hotels, will offer click & collect orders.
Delivery will be available from both Uber Eats and Deliveroo when the facility opens on 7 December, with Just Eat also in talks.
The company will also run a development kitchen used to trial new food-to-go products, to add to its existing lineup of burgers, salads and spicy chicken dishes.
Once lockdown measures lift, a new counter service called House of Yum will open, with Asda customers able to enter a QR code to order food to either eat in or take away, or order from their table.
The tie-up is the latest is in a series of trials Asda has conducted with food chains since it announced a plan to build partnerships at the start of the year, as it looks to repurpose excess space at its stores and move away from traditional counters.
Read more:
Asda has already rolled out partnerships with Greggs, KellyDeli brand Sushi Daily and Just Eat, with those that are successful likely to be expanded across other stores.
Twisted London launched in 2017 as an offshoot of company that began as a Facebook page and opened its first 'dark kitchen' in Bethnal Green in November of that year..
Asda in Clapham Junction will be the chain's first to also offer counter services and click & collect, along with another café and food-to-go site in King's Cross.
The delivery service will cover locations including Brixton, Balham, Fulham, Tooting, Chelsea, Putney and Wandsworth.
Asda's move comes as competition hots up between supermarkets to take on a bigger slice of the out-of-home and delivery markets.
Last month Morrisons launches its third Market Kitchen format store, in Edgbaston, Birmingham, after a makeover to turn the store into part-supermarket part-fresh food takeaway.
"We know there is a huge demand for local delivery," said Faraz Nagree, co-owner of Twisted London. "We are now looking to develop that even more by offering eat-in and counter services.
"Our business model is based around making use of underused kitchen space and taking on a site like Asda in Clapham Junction is a great opportunity for us."