In the era of social distancing, supermarket trips are fraught with stress. So stores are looking to make things easier with lo-fi and hi-tech solutions
Visiting the supermarket isn't much fun any more. Worse than that, it's become an anxiety-inducing activity. Nearly half of us find shopping during the pandemic a bad experience, according to behavioural psychology research group Spark Emotions.
It's hardly surprising. Supermarkets have, until this month, been the only indoor environment that has remained open during pandemic-hit Britain. And they were not designed for people to easily keep apart.
The industry had to address that issue almost overnight. Stores were decorated with miles of warning tape to establish one-way systems around aisles, hastily divided into two-metre segments. More tape told people where to stand and queue outside. Staff on entrances counted customers in and out. Messaging has been placed in stores to beat home safety policies.
But the sheer number of touchpoints in supermarkets means they are still seen as high-risk. Nearly a third of shoppers surveyed by Spark said they were scared by the risk of contracting coronavirus in store, and 24% now feel "anxious or nervous" navigating the aisles.
"An everyday activity has suddenly become a minefield of rules and measures," says former Tesco executive Lee Harrison, MD of Spark Emotions.
Three months into the pandemic, the mults are working to make the store experience feel safer and less arduous through the use of more sophisticated techniques – from car queuing to temperature scanning. So can they enforce safety while providing a pleasurable shopping experience? Are high-tech solutions the answer or are lo-fi fixes just as effective?
If the mults can make it work, they stand to reap rewards. "The opportunity to get this right – from a positive behavioural change angle, from a brand perspective and also from a commercial standpoint – is huge," says Harrison.
Lo-fi approach
And if the past few months have proven anything, it's that the solutions don't have to be high-tech or costly. The mults have largely employed basic interventions in the first instance.
Practically all major supermarkets have floor markings for till queues, social distancing and hygiene guidance at entrances and signage outside and within stores, according to a recent Shepper audit. About half have established a one-way system.
These quick and simple ways to ensure social distancing measures are largely accepted by shoppers. Indeed, one-way systems were the most welcome in-store safety measure after regular cleaning and compulsory hand sanitising, a BRC and Opinium consumer survey this month found.
But even these simple techniques can create complex problems. Tone is vital in helping shoppers stick to the rules without scaring them, says Kate Ancketill, CEO and founder of GDR Creative Intelligence, which works with Tesco, Waitrose and M&S. "The key is to stay as far away as possible from anything that could be found in a hospital. It needs to be brand-appropriate, but preferably conversational, reassuring, context-appropriate and light; a smattering of wit wouldn't go amiss in many circumstances," she says.
"The key is to stay as far away as possible from anything that could be found in a hospital"
Spark's Harrison highlights the problems in an overly fraught message. "We are seeing a lot of negative messaging in store, which is constantly reminding shoppers things are not normal and Covid-19 is still a threat," he says. "We are even seeing negative colours like yellow and black chevrons. These elements are always going to trigger anxiety."
Supermarkets are still trying to hit the right notes, Harrison says. "If a store puts their safety messages in the same style as their special offers, then consumers will just assume that it's promoting a specific product and potentially ignore them. In order for their messages to stand out they need to be radically different to everything else we see in a store.
"Stores really need to work on the saliency of their messages, which is something that very few stores are doing at the moment, they are more concerned about staying on brand," he adds.
Siân Novakovic, strategy director at brand and retail consultancy Fitch, points out another potential issue: information overload. "The most important thing is to prioritise only the very core messages that make people feel safe and at ease, and to do so at the right points across the customer journey, because too much communication at every turn will overwhelm and induce anxiety in even the most confident shopper," she says.
Supermarkets, of all retailers, are particularly prone to this overloading issue, Novakovic says. "This was an issue pre-Covid that's only been accelerated by the need to add in an extra layer of safety messaging. It will be key for supermarkets to prioritise their in-store messaging and look for areas in which they can simplify and streamline," she adds.
Amazon's Distance Assistant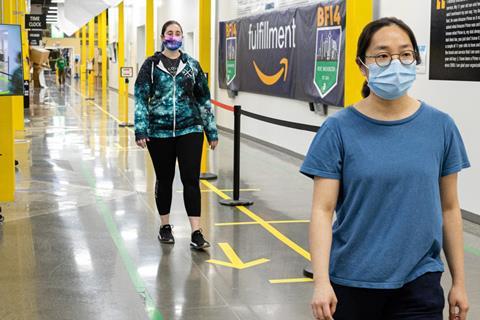 Trust Amazon to come up with the most high-tech solution on the market. This month, it revealed a whizzy new tool to help its staff socially distance. The 'Distance Assistant' uses computer vision to detect people in a camera feed, which works alongside depth sensors to determine an accurate distance measurement between individuals.
"Given social distancing isn't always natural, the team set out to use augmented reality to create a magic mirror-like tool that helps associates see their physical distancing from others," says Amazon VP of robotics Brad Porter.
As people walk past the camera, a monitor displays live video with visual overlays. Those remaining six feet apart are highlighted with green circles, while those who are closer together are circled in red.
"The on-screen indicators are designed to remind and encourage associates to maintain appropriate distance from others," says Porter.
The company plans to open source the technology so it can be quickly rolled out by others. Given that the self-contained device requires only a standard electrical outlet, it could prove a useful tool in the supermarkets.
High-tech
Simplifying and streamlining is, of course, the primary aim of the new technological solutions that have emerged in recent months.
Some are simple and intuitive. Aldi is putting traffic lights at store entrances. Automatic doors only open when the lights are green. "It requires no extra steps on the part of the consumers," Harrison says. "This makes it far more likely that the consumer is likely to accept it."
The same simplicity is at the core of the proposition by Oxford Foundry-based Lanterne, which has applied an app originally designed for conflict zones to help people avoid supermarkets at their most stress-inducing.
Using a combination of open datasets and crowdsourced information, the Crowdless tool gives shoppers real-time information on how busy stores are, so they can avoid particularly crowded periods.
"Our goal is to support retailers by helping their customers discover the best times to shop," says Crowdless co-founder Alex Barnes.
"This will lead to an even distribution of shoppers through the day, creating higher revenue for retailers, and happier customers that complete their shopping without the queue," Barnes adds.
Crowdless is "actively pursuing collaborations with supermarkets and malls" and is working on using machine-learning algorithms so the app can predict less busy periods for shopping trips, rather than just observe them.
It's not alone. Because apps are emerging as a common solution to crowding problem. Ones like Crowd Solo by Holovis feature "real-time proximity alerts" that make a shopper's phone sound or vibrate when they are within two metres of another shopper – providing they too are using the app.
Meanwhile, more than 600,000 people have downloaded and used Supermarket Check-In, an app that asks shoppers to fill in how long their wait was, to provide an "indicative prediction of what queues people can expect whenever they plan to visit".
Several supermarkets are also inputting information to the app to "update shoppers on an informal basis locally" says its developer Paul Hulatt. M&S is understood to be doing so at scale.
Overseas, retailers are taking matters into their own hands. See Co-op Italy, which has developed a pre-booking app that enables customers to request and receive a set time for their shop.
It is proving a popular proposition. Coop Italy's technology partner Sopra Steria is handling more than 130,000 bookings a day through the 'Q@Home' app, across 450 of the retailer's Liguria stores.
"It's similar to the speedy boarding or queue-busting at theme parks," says Adam Trott, head of retail at Sopra Steria. "The allocation of bookable slots is under the control of the supermarket so they can see the full picture.
"Retailers are working through ways to work within the restrictions without damaging their businesses, working through scenarios from time of day to store format," Trott adds. "People are only just now adapting to the new ways of shopping and will be increasingly open to the certainty this technology offers."
Social media
Apps do, however, rely on customers making the download for each store they use. "If you require consumers to download an app before they go shopping, you're adding an extra barrier," says Harrison. "The critical issue here is: are we making the behaviour easy for the consumer?"
Novakovic also warns against creating too many extra steps in the customer's journey. "Grocers mustn't underestimate the importance of the basics, and ask themselves: do you really want to invest money in teaching people how to do things again when they have already adapted to a 'new normal' supermarket routine throughout the crisis? If you're trying to reduce anxiety, do you really want to keep changing things?"
A more straightforward fix could be for retailers to regularly share information on existing channels. For example, they could use social media to update customers on how busy stores are.
"Grocers should look to optimise all channels across the omnichannel journey, so you're not just loading the physical store with messaging," says Novakovic. "One of the things that's increasingly important to consumers is getting safety information ahead of time – for example, consumers are likely to check their social channels first before going out to see whether a particular area is busy and best avoided."
This information could prove particularly crucial once the winter months arrive. While few complain about waiting in the sunshine, cold and rain are a different matter. That's why supermarkets are taking pre-emptive action on this front, too. Asda is testing the efficacy of a virtual queuing system in Middleton, Leeds, which enables customers to join a queue remotely and wait in their cars. Tesco and Sainsbury's are understood to be looking into similar solutions.
Human element
These carefully planned systems can't control everything, though. As the saying goes, hell is other people. And shoppers won't necessarily adhere to the rules.
"A lot of it is to do with other shoppers," says Guy Redwood, founder of user experience and behavioural research agency SimpleUsability, which works with Asda, Morrisons and Amazon. "Most of the feedback we've heard about people feeling uncomfortable is when other customers are either completely ignoring the rules or are taking it to the extreme, lingering at the end of an aisle putting pressure on them to find items."
SimpleUsability research on pandemic supermarket shopping found 72% of people felt less pleasure in visiting a physical shop because of the effort and safety measures needed to stay safe.
"Shoppers are most concerned by other shoppers' behaviour," Redwood adds. "People are paranoid and everybody has different expectations of other people's behaviour, so it's really hard to stop that."
So despite all the available tech, store staff can prove the most effective way of tackling the issue. They are an often "overlooked consideration", but are more crucial than all the hazard tape in the world, argues Fitch's Novakovic. "Well-trained staff and responsive service design has huge potential to make customers feel far more comfortable and at ease within the environment in a way that a piece of messaging can't," she says.
"Businesses should start by looking at, and consulting with, staff on the measures and messaging that help them to feel in control and safe. If staff feel safe – and are well-trained in how to keep themselves and customers safe – they have the potential to lead and support new shopper behaviours," Novakovic adds.
It is important, then, that staff know what to do, can feed back, and see the knowledge of their store put to use, says Redmond. "When initiatives get rolled out across large groups there is a risk of the local team 'just doing as they're told' and it not working as well as it could," he says. "Get the team to regularly walk through the store and think about how they feel. If they feel unsafe, they need to think about why and what will fix it."
Store colleagues are key to making shoppers feel happier too, points out Harrison. "We also need to consider that as a species, we trust other humans more than we trust machines. And 'trust' is an emotion. Emotions are 3,000 times more persuasive than rational thought. So, in this instance, someone welcoming shoppers to the store can be one of the most efficient and effective methods," Harrison says.
Ultimately, a combination of simple messaging, technology and staff will ensure shoppers feel at ease. As Harrison puts it: "The need to adhere to these guidelines is a serious matter. We need to disrupt in such a way we help shoppers perform a new behaviour."
From lo-fi to high tech: the new wave of social distancing solutions
Come shine or rain
Winter is coming. And if social distancing is still in force, that means queues in rough weather. So the Central England Co-op has come up with a simple solution for customers shopping in its 260-plus food stores: umbrellas, sanitised between uses of course.
"New technology is one area we are, of course, seeing how it can help us, especially during these uncertain times," says the chain's spokesman Rob Smyth. "But this was a quick win where we would make an immediate impact."
Speedy boarding
While queueing for a week's worth of shopping is a pain, doing so when you're only popping in for a few bits is enough to make you seek out another option.
So it's no wonder top-up shoppers have migrated towards smaller format stores.
To tackle the issue, Morrisons has introduced a speedy shopping queue for basket customers, who are also given dedicated tills. CEO David Potts likens the scheme to "a speedy boarding card" used by the airlines.
Here in my car
To avoid customers having to queue outside in harsh weather, Asda is trialling a virtual system that allows customers to wait in the comfort of their own cars.
Drivers scan a QR code or text a number on arrival to join the queue and secure a place. They receive a text when it's their turn to enter, which they show to staff monitoring the entrance.
Those without a phone must "join the main queue" to be checked in. Great for drivers, but what about rain-soaked pedestrians?
Chatbot tips
One of the easiest ways to manage crowds and queues is to avoid them in the first place.
Lidl in Ireland is making occupancy data easier to interrogate with its WhatsApp chatbot. Customers can converse with the bot to find out the quietest times to shop at their local store, and plan accordingly.
Customers send the chatbot the time and day they were intending to visit and in response are told if this is a quiet, average or busy time to shop, via traffic light emojis.
Pre-book to shop
Retailers can gain some control over when customers arrive through the use of pre-booking apps. The maker of one, Sopra Steria, brands it "a quick solution to an immediate problem".
The apps are already gaining popularity, says Sopra Steria's Adam Trott. "Ours is already active in Italy, and there is an opportunity to learn from what they are doing to get the high street economy going again," he says. But turning away customers who just show up may be a step too far for many retailers.
Invisible customer counter
Handheld counter clickers have become a key tool for staff at entrances who are managing in-store customer numbers. But there are automated, digital options too.
Earlier this year, Checkpoint Systems launched SmartOccupancy, which uses overhead sensors to count people entering and exiting a store, and sends an alert to staff when it is near maximum capacity. Managers can set and change threshold levels, and create different zones.
Green means go shop
Rather than a human greeter to allow customers in, Aldi has introduced an automated traffic light system.
The lights turn from red to green when the next customer can enter, based on safe occupancy. The automatic doors only open when the lights are green, which prevents customers ignoring them.
"This new system is an accurate and effective way to allow us to control customer numbers," says Aldi communications director Richard Thornton.
Fever finder
Thailand's plush malls reopened last month but entry requires a face mask, a handwash and a temperature check carried out by a mall assistant.
At Bangkok's Central World, the scanning is done by a robot that roams the mall. While handheld temperature scanners – a high temperature being a main symptom of coronavirus – are in use at DCs and warehouses in the UK, their use is yet to be seen in retail. Will entry to stores soon be denied to those with a fever?
AI virus scanner
While a scanner pointed at your face might seem intrusive, Checkpoint Systems has an alternative that discreetly monitors customer temperature from a four-metre distance.
The technology utilises AI facial temperature measurement sensors, powered by analysis algorithms, and claims to have an accuracy of within 0.3 degrees.
It "provides users with real-time, accurate facial temperature readings to identify and mitigate risk," says Mike French, Checkpoint's UK business unit director.
Don't stand so close to me
Warning tape and 'stand here' floor decals are a hallmark of store design in the new normal. A Dutch design company has come up with a slicker solution called Aura Aware. It uses lasers to detect if anyone is within a set distance. It flashes red if someone is in breach, and there's an optional sound alert.
"The six-foot society is here to stay. Well, at least for a while. We understand and hope that our company and tools will be obsolete in the near future," it adds.
Floor decals: a sponsorship opportunity?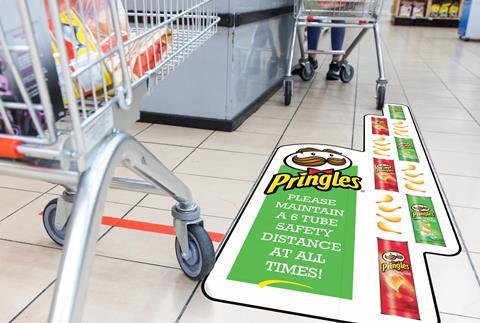 Keeping a 'six tube' distance away from the next customer could soon became a familiar message. These mock-ups, created by Marc Burnett, director of Format Digital Marketing, featuring Pringles and Dairylea, show what's possible with a little imagination. And they work.
"Floor graphics have been incredibly underutilised over the years. There's been a fear they get scruffy quite quickly, but they've been proven to add to sales and are now being seen more than ever," Burnett says. "They're now having their moment in the sun because of the crisis, and brands are taking notice of how much attention they're getting. When people are waiting in a queue, they're doing nothing but waiting – there's no better time to engage."
Branded floor decals could represent a huge opportunity for brands in the lockdown, agrees Steve Lister, head of retail performance at Konica Minolta Marketing Services, as customers have been "re-educated" over recent months to pay more attention to the ground.
"We are all now used to looking down, following instructions and moving through stores in a way that was unnatural and not required in retail. One of the most impactful pieces of shopper marketing print activations in stores is now floor graphics.
"We are now seeing versions across all retailers where they are putting their branding next to the social distancing messages. Sponsored decals are just a natural extension of this," Lister adds.
Retailers and brands will need to be cautious when implementing such signage, though.
"Some will be reluctant to install branded safety or social distancing messages as they wouldn't like to be seen to be profiteering or marketing amid such a serious situation as the pandemic. However, if done in a responsible manner – not directly linked to a promotion to 'sell them something' – it can be used to connect with brands that have been invisible over the lockdown period," he adds.