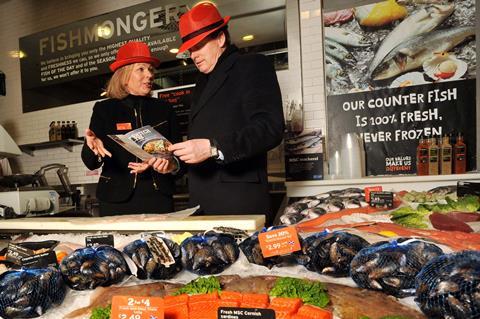 Sainsbury's is to permanently shut its in-store meat, fish and deli counters due to "reduced consumer demand".
The retailer said the move would make stores simpler to run and reduce food waste. The counters have been shut since the start of the coronavirus crisis in March, but Sainsbury's confirmed this morning they would not be reopening.
Trade union Unite said 500 staff members would be affected by the counter closures. The move echoes that of Tesco, which announced in January 2019 that it was shutting down counters in 100 large stores.
Sainsbury's also confirmed plans to close a further 420 Argos stores over the next three years as it continues to integrate the retailer into its supermarkets. Overall, 3,500 roles would be affected by the proposed restructuring, it said.
The news comes after The Grocer revealed yesterday that commercial director Paul Mills-Hicks was moving on in a shake-up of the Holborn-based retailer's commercial team.
Mills-Hicks will step down from his current role in January after 17 years with the retailer, though he will support CEO Simon Roberts in an advisory capacity until next June.
The change is part of a restructure of the commercial team that sees director of fresh food Rhian Bartlett promoted to the new position of food commercial director; while director of business development Mike Luck becomes general merchandise and clothing commercial director, also a new position.
Today Sainsbury's announced that retail sales at the group climbed 7.1%, excluding fuel, in the six months to 21 September, with like-for-like growth of 6.9% and grocery sales up 8.2%.
Digital sales at the group soared 117% to £5.8bn to make up almost 40% of total revenues, with online grocery sales jumping 102%.
Argos also reported strong numbers, with general merchandise sales up 7.4% in the period. However, GM sales in Sainsbury's own supermarkets fell 8.2% in the half and clothing sales were also down 18.3%.
Overall statutory group sales actually fell 1.1% to £14.9bn compared with a year ago as fuel revenues plummeted 45% in the half.
Underlying pre-tax profits surged 27% to £301m, but after £290m of extra costs related to Covid-19 – which were mostly offset by business rates relief of £230m – and £438m of one-off costs related to Argos store closures and other changes, Sainsbury's reported a pre-tax loss for the period of £137m.
After holding off from deciding on paying a dividend earlier in the year, the supermarket announced a special dividend payment of 7.3p a share along with an interim dividend of 3.2p.
Roberts, who took the helm from Mike Coupe earlier this year, said: "Covid-19 has accelerated a number of shifts in our industry. Investments over recent years in digital and technology have laid the foundations for us to flex and adapt quickly as customers needed to shop differently. Around 19% of our sales were digital this time last year and nearly 40% of our sales are digital today.
"While we are working hard to help feed the nation through the pandemic, we have also spent time thinking about how we deliver for our customers and our shareholders over the longer term."
He also announced a strategy update for the group, which put food "back at the heart of Sainsbury's".
The business plans to lower food prices, triple new product launches, profitably grow online groceries to meet continuing demand and increase the rate of new convenience store openings over the next three years.